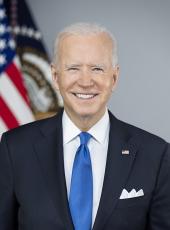 Biden Campaign Press Release - Fact Sheet: Joe Biden's Plan to "Build Back Better" for American Workers
After six months in the pandemic, we are less than halfway back to where we were — with 11.5 Million Americans not yet getting their jobs back. We're still down 720,000 manufacturing jobs. President Trump may well be the only president in modern history to leave office with fewer jobs than when he took office.
Trump thinks if the stock market is up, his rich friends and donors are doing well, and corporations see their valuations rising — then everyone must be doing well. But Joe knows from growing up in neighborhoods in Scranton, Pennsylvania and Claymont, Delaware that the measure of our economic success is the quality of life of the American people. Today, too many working families are worried about paying their bills and putting food on the table.
Joe knows we need to get serious about defeating the pandemic, dig out from the worst jobs crisis in nearly a century, and rebuild the middle class so everyone comes along. He has a plan to Build Back Better by summoning a new wave of worker power and building an economy that serves the dignity of the hard-working people who make it run. He will put millions of Americans to work in good-paying jobs with a choice to join a union to meet four national challenges: building a stronger industrial and innovation base so the future is made in America, building sustainable infrastructure and a clean energy future, building a stronger caring economy, and advancing racial equity across the board.
Build worker power, raise wages, and secure stronger benefits. We've seen millions of American workers put their lives and health on the line to keep our country going. Joe will treat American workers and working families as essential at all times, not just times of crisis — with higher wages, stronger benefits, and fair and safe workplaces, so they can live a middle class life and provide opportunity for their kids. And, he will strengthen unions and worker power.
Encourage, not only defend, union organizing and collective bargaining. Joe knows the only way to take on abuses of power by corporations and Wall Street, and to restore America's middle class, is with worker power. Joe will send economic recovery legislation to Congress that will make it easier for workers to organize a union and bargain collectively with their employers by including the Protecting the Right to Organize (PRO) Act, card check, union and bargaining rights for public service workers, and a broad definition of "employee" and tough enforcement to end the misclassification of workers as independent contractors. Joe will also hold company executives personally liable when they interfere with organizing efforts.
Raise the minimum wage to $15 per hour and end the tipped minimum wage and sub-minimum wage for people with disabilities.
Ensure that every American has access to quality, affordable health care, by providing a public option and lowering costs for care and for prescription drugs.
Provide universal paid sick days and 12 weeks of paid family and medical leave.
Pass the Paycheck Fairness Act as the next step in efforts to ensure women are paid equally for equal work, and take other steps to address discrimination and harassment in the workplace.
Ensure workers are safe from COVID-19 and other workplace hazards by setting and enforcing robust safety standards. No one should get sick, injured, or die because they went to work.
Ensure the future is "Made in America" by all of America's workers. Joe will create millions of jobs mobilizing the talent, grit, and innovation of the American people and the full power of the federal government to bolster American industrial strength and ensure the future is "Made in All of America."
Buy American. Joe will strengthen and enforce "Buy American" so that the massive amount of taxpayer money the federal government spends every year on everything from defense equipment to steel to auto fleets is used to help American manufacturers and their workers. And he'll invest $400 billion more in buying American made goods to build a clean energy future.
Innovate in America. Joe will make a new $300 billion investment in research and development (R&D) and breakthrough technologies - from electric vehicle technology to lightweight materials to 5G - to unleash high-quality job creation in manufacturing and technology.
Pursue a Pro-American worker tax and trade strategy to fix the harmful policies of the Trump Administration and give our manufacturers and workers the fair shot they need.
Bring back critical supply chains to America so we aren't dependent on China or any other country for the production of critical goods in a crisis.
Build a modern, sustainable infrastructure and an equitable clean energy future. Joe will make a $2 trillion accelerated investment setting us on an irreversible course to meet the ambitious climate progress that science demands, putting millions of people to work in good paying jobs:
Rebuilding America's crumbling infrastructure - from roads and bridges to green spaces and water systems to electricity grids and universal broadband - to lay a foundation for sustainable growth, withstand the impacts of climate change, and provide access to clean air and water.
Position the American auto industry to win the 21st century, mobilizing American workers to manufacture clean vehicles and their input materials and parts.
Generating clean, American-made electricity, creating jobs for every kind of worker from scientists to construction workers to electricity generation workers to welders to engineers.
Retrofitting buildings, weatherizing homes, and building affordable housing.
Create jobs in climate-smart agriculture, resilience, and conservation, including by mobilizing the next generation of conservation and resilience workers through a Civilian Climate Corps and creating jobs to clean up local economies from the impacts of resource extraction.
Mobilize American talent and heart to create a 21st century caregiving and education workforce. The pandemic has laid bare just how hard it is for people in this country to find access to quality caregiving they need for themselves, or to juggle the responsibilities of working and also caring for family members. Joe will make substantial investments in the infrastructure of care in our country. He'll:
Create millions of caregiving jobs by making preschool universal and high quality child care affordable and accessible for working families, and making it easier for aging relatives and loved ones with disabilities to have quality, affordable home- or community-based care
Treat caregivers and early childhood educators with respect and dignity, and give them the pay and benefits they deserve, training and career ladders to higher-paying jobs, the choice to join a union and bargain collectively, and other fundamental work-related rights and protections.
Free up millions of unpaid caregivers to pursue paid careers if they so choose.
Advance racial equity across the American economy. Joe will ensure Black and Brown small business owners, families, and workers are finally and fully cut in on the deal. His plan for achieving racial equity across the American economy covers everything from infrastructure to housing to education, and targets the racial wealth, jobs, and income gaps.
Read Joe's full plan to Build Back Better at joebiden.com/build-back-better
How Trump Has Failed American Workers
As workers struggle against a deadly pandemic, painful recession, and deep racial disparities — all worsened by Trump's mismanagement and neglect — they also face an additional burden: a union-busting president. When he isn't calling to boycott Goodyear and its thousands of union workers for petty personal reasons, President Trump is actively fighting against working people. Among many other things, Trump has:
Mismanaged the pandemic, triggering an almost unprecedented economic crisis. Unemployment has doubled since February and more than half of families have lost employment income.
Promised to veto the Protecting the Right to Organize (PRO Act) – legislation that would make it easier for workers to unionize and collectively bargain – and stripped federal workers of their right to unionize.
Provided big tax cuts to corporations, without making them bring jobs home – and raised taxes for union members, by ending deductions for union dues.
Threatened to veto a $15 minimum wage, and has questioned whether there even needs to be a federal minimum wage.
Abandoned the Obama-Biden overtime expansion, costing over 8 million workers over $3.4 billion in lost wages already.
Let federal contractors double offshoring in his first 18 months in office.
Started a trade war with China that pushed manufacturing into recession – and then wasted his so-called "phase one" deal lobbying for big banks, instead of fighting for American jobs.
Broke his promise to invest in rebuilding infrastructure. Donald Trump promised a big infrastructure bill when he ran in 2016 and every year since. Every few weeks when he needs a distraction from the latest charge of corruption in his staff — or the conviction of high ranking members of his administration and political apparatus — the White House announces it's "Infrastructure Week." But he's never delivered or even really tried.
Proposed steep cuts for job training and employment programs, including those that support U.S. manufacturing and workers dislocated by outsourcing. Trump also tried to undermine union registered apprenticeships.
Rolled back safety protections at workplaces, including by trying to weaken several occupational and safety regulations established during the Obama-Biden Administration, reducing Occupational Health and Safety Administration (OSHA) investigators to a historic low, and failing to put in place OSHA Emergency Temporary Standards to keep workers safe from COVID-19.
Weakened enforcement of American labor laws and made it easier for employers to misclassify workers by sabotaging the enforcement agencies and slashing their investigator corps.
Revoked requirements that employers follow labor and employment laws to benefit from federal contracts.
Appointed National Labor Relations Board members with long histories of anti-union activities.
Joseph R. Biden, Biden Campaign Press Release - Fact Sheet: Joe Biden's Plan to "Build Back Better" for American Workers Online by Gerhard Peters and John T. Woolley, The American Presidency Project https://www.presidency.ucsb.edu/node/345327