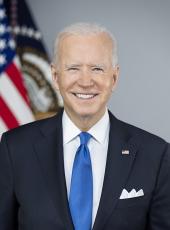 Biden Campaign Press Release - Biden for President Tackles Airwaves During NFL Games
New National Spots to Reach Millions in Battleground States
The Beastie Boys License Music for First Ad Ever
Today, Biden for President is releasing a flurry of new ads that will air during nationally broadcast NFL games, reaching millions of voters in battleground states.
During the Steelers game, "The Blind Pig" will air on CBS and tell the story of a small business owner whose bar in Ann Arbor, Michigan, The Blind Pig, attracted artists and music goers that has been crowded for 50 years, but is now just an empty room because of Donald Trump's failed COVID-19 response and shuttered economy. The ad also features the song "Sabotage" by The Beastie Boys, which has never licensed music for an ad until now because of the importance of the election.
Additionally, during the Steelers game, the campaign will air a new 0:30 spot specifically for the Pittsburgh market only called "Flex Your Power" that features former Steelers player Ryan Shazier talking about the importance of voting this election after he didn't vote in 2016.
During the Rams vs. 49ers game on NBC, a :30 ad named "Worth Fighting For" will share the story of Matt, a U.S. Army veteran from Lancaster County, Pennsylvania. He talks about returning home with PTSD and rejects Trump's reported notions that our service members are "losers and suckers," asserting that Joe Biden is the leader who will fight for our country and its families.
Tomorrow, during ESPN Monday Night Football, "Tristen Vance" will broadcast nationwide and share Vance's testimonial for supporting Joe Biden. Vance, a college student in Flagstaff, Arizona who is an aspiring professional athlete, lambasts Trump for his failed response to the virus and the reason he is missing this year's seasons — and putting his dreams on hold.
The campaign also has previously aired ads scheduled to run during the Green Bay vs. Buccaneers game on Fox and during Thursday Night Football later this week.
Biden for President continues airing ads on national cable as well as television airwaves and digital platforms in a total of 16 states of where the campaign's paid media program is active in designated markets — including Arizona, Florida, Georgia, Iowa, Maine, Michigan, Minnesota, Nebraska, Nevada, New Hampshire, North Carolina, Ohio, Pennsylvania, Texas, Virginia, and Wisconsin.
Joseph R. Biden, Biden Campaign Press Release - Biden for President Tackles Airwaves During NFL Games Online by Gerhard Peters and John T. Woolley, The American Presidency Project https://www.presidency.ucsb.edu/node/347078