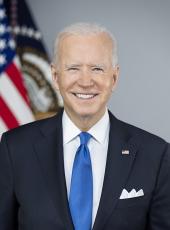 Biden Campaign Press Release - Biden for President Announces Michelle Obama's Closing Argument
With voting already underway, Michelle Obama is making her pitch to the American people, on behalf of her friend Joe Biden.
The former First Lady wanted to share her closing argument with parents, young people, and every American about why this election is so consequential. The speech is an urgent, emotional appeal to the country from somebody who truly understands what's at stake.


Watch Michelle Obama's Closing Argument HERE.
In the video, Mrs. Obama speaks about how she dislikes politics to her core but like so many Americans, she has been experiencing the chaos of 2020. She knows it didn't have to be like this, and she knows that it could get much worse if we don't make a change.
She will speak to the personal side of Joe Biden and how instead of tearing people apart, Biden will work to bring people together to deliver results — addressing the pandemic, building a stronger economy for working families, health care, education and so much more.
This speech is the latest opportunity for Mrs. Obama to speak out about the state of the country, and speak from the heart as a Black woman about the disturbing tactics we've seen from the President's campaign towards people of color.
And with only weeks left in this election, her speech directly appeals to every American to do one thing: Vote and make their voice heard in the most consequential election in our country's history.
Mrs. Obama included this caption on her social media channels:
"I understand if the last few days have felt like a whirlwind. My heart goes out to everyone touched by this virus — from those in the White House, especially the Secret Service and residence staff whose service to this country ought never be taken for granted, to all those across the country whose names and stories most of us will unfortunately only know as statistics. The truth is, the events of the past few days are a bracing reminder of the tragedy that has been this administration's response to this crisis. And I'll be very honest: This is a message I'd planned to release earlier, and after everything that's happened, I weighed whether or not to go public at all. But I wanted you all to hear what's been on my mind. Because the fact is that the drama of the past few days has only emphasized what's at stake in this election — from the coronavirus to a constant drumbeat of fear, division, and chaos that's threatening to spiral out of control. There's only one way we can pull ourselves out: By voting for my friend Joe Biden, who's got the heart, the experience, and the character to lead us to better days. So I hope you'll watch, and I hope you'll share this video with everyone you know who might still be deciding how or if they're going to vote. And more than anything, I hope you'll vote for Joe with power, with passion, and with a love of this country that cannot possibly be denied."
Earlier this summer, President Barack Obama and Vice President Biden sat down for a socially distanced conversation about the major issues facing the country. That video was viewed 25 million times and added over 40,000 thousand new supporters to Team Joe.
Joseph R. Biden, Biden Campaign Press Release - Biden for President Announces Michelle Obama's Closing Argument Online by Gerhard Peters and John T. Woolley, The American Presidency Project https://www.presidency.ucsb.edu/node/345242