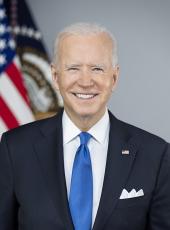 Biden Campaign Press Release - Biden Campaign Responds to Local Public Health Leaders "Incredibly Concerned" by Trump's Attempt to Limit COVID-19 Testing
Donald Trump has blamed testing for cases themselves, has failed to develop a national testing strategy, and even urged his administration to "slow the testing down." Now the CDC — in a decision reportedly influenced by political pressure — has laid out new testing guidelines that restrict access to testing, even though we're nearing six million infections and over a thousand Americans are dying from COVID-19 every day. Now public health officials leading our response to the virus are sounding the alarm in a new letter to the CDC, saying they're "incredibly concerned" by the Trump administration's guidelines.
"We need more testing now, not less, but yet again Donald Trump is contradicting the public health experts on the front lines of this fight and trying to make it harder for Americans to get a COVID-19 test," said Biden for President Deputy Campaign Manager and Communications Director Kate Bedingfield. "Simply put, we're not going to get Americans back to work and our kids back to school until we get a grip on this pandemic, but we need more testing to make that happen and Trump has failed to deliver on that at every step. Donald Trump needs to stop trying to stall testing for personal political gain, and he needs to listen to Vice President Biden and the experts who have been saying for months now that we need to ramp up testing — guided by a national strategy — and we need to do it now."
From the onset of this crisis, Donald Trump has failed to get Americans the coronavirus testing we need — bungling the development and rollout of an accurate test, which allowed the virus to spread unchecked. Even six months into this pandemic, America faces persistent testing shortages and delays, with one recent survey showing that 40% of tests are clinically unusable because of how slowly results are processed. And instead of getting help to the frontlines of this fight, state and local leaders have been left to fend for themselves, with one Republican Governor even forced to turn to South Korea to get testing supplies.
Vice President Biden has laid out a detailed plan to quickly increase testing capacity, including through the creation of a Pandemic Testing Board to help coordinate a national mobilization to double the number of drive-through testing sites, invest in next-generation testing, and guarantee regular, reliable, and free testing for all Americans.

New York Times: 'We are incredibly concerned': A group of local health departments urges the C.D.C. to pull its new guidance on testing.
Two organizations that represent thousands of local public health departments in the United States sent a letter to senior Trump administration officials on Friday asking that they "pull the revised guidance" on coronavirus testing and restore recommendations that individuals who have been exposed to the virus be tested whether or not they have symptoms.
The letter — addressed to Dr. Robert R. Redfield, director of the Centers for Disease Control and Prevention, and Adm. Brett P. Giroir, an assistant secretary of health at the Department of Health and Human Services — was sent by the leaders of the National Association of County and City Health Officials, and the Big Cities Health Coalition. The organizations' leaders wrote that their members were "incredibly concerned" about the changes.
The C.D.C. quietly modified its coronavirus testing guidelines this week to exclude people who do not have symptoms of Covid-19 — even if they have been recently exposed to the virus.
Experts questioned the revision, pointing to the importance of identifying infections in the small window immediately before the onset of symptoms, when many individuals appear to be most contagious.
After a storm of criticism, Dr. Redfield tried to clarify the agency's recommendation and said "testing may be considered for all close contacts of confirmed or probable Covid-19 patients."
The letter sent on Friday said, "As public health professionals, we are troubled about the lack of evidence cited to inform this change. CDC's own data suggest that perhaps as many as 40 percent of COVID-19 cases are attributable to asymptomatic transmission. Changing testing guidelines to suggest that close contacts to confirmed positives without symptoms do not need to be tested is inconsistent with the science and the data."
The letter went on to say that while the new guidance allows local or state health officials to make exceptions, it "will make their ability to respond to the pandemic even harder," allowing skeptical officials or members of the public to blame and question them. "This revision and its resulting impact is adding yet another obstacle for public health practitioners to effectively address the pandemic."
While typically local public health officials would inform or at least be given notice of significant changes to testing guidance, this time that did not occur, the letter said.
"We have seen over the months of the response the politicization of public health, with local health officials and staff being blamed for taking the necessary steps to keep the public safe, being physically threatened with violence, and in some cases, fired for standing up for the public's health."
Joseph R. Biden, Biden Campaign Press Release - Biden Campaign Responds to Local Public Health Leaders "Incredibly Concerned" by Trump's Attempt to Limit COVID-19 Testing Online by Gerhard Peters and John T. Woolley, The American Presidency Project https://www.presidency.ucsb.edu/node/345292