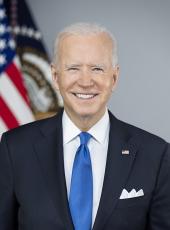 Biden Campaign Press Release - Biden Campaign: Deere & Co. Layoffs Demonstrate that in a Trump Economy, Workers Suffer
After hundreds of job losses last year, Deere & Co. announced that it is being forced to lay off an additional 117 Iowa workers — 82 in Davenport alone. These losses are a direct result of Trump's failures: his catastrophic trade war that harms American workers, his broken promises to invest in infrastructure, and his bungled response to the COVID-19 pandemic. Biden for President Iowa State Director Lauren Dillon released the following response:
"There's no question that in a Trump economy, Iowa workers and families suffer — and it's been going on well before the pandemic," said Biden for President Iowa State Director Lauren Dillon. "After a slew of promises, it's clear that Donald Trump was more than willing to use Iowa's farm economy as political collateral in his reckless trade war, and has utterly failed our workers in his incompetent response to the coronavirus pandemic. Look no further than John Deere, where our state and Davenport in particular has been bleeding jobs for months as a direct result of Trump's failures. Joe Biden will reinvigorate our agricultural manufacturing industry and has proven time and again that he'll go to the mat for our workers. That's the leadership we need in the White House — our working families are counting on it."
Joe Biden has repeatedly taken Donald Trump to task for his ill-advised trade war. Biden has also pledged to stand up for Iowa farmers and workers by revitalizing our rural economy, and to fight for policies that expand trade opportunities and strengthen workers' rights.
Read more about the recent layoffs in the Quad City Times:
Quad City Times: Deere laying off 82 in Davenport, 35 in Waterloo in early August
Deere & Co. is laying off more Iowa workers in Davenport and Waterloo.
According to Iowa Worker Adjustment and Retraining Notification Act, or WARN, filings, Deere informed workers at John Deere Davenport Works and John Deere Waterloo Works of additional layoffs on June 29.
Those layoffs affect 82 workers in Davenport, effective Aug. 2, and 35 in Waterloo, effective Aug. 3. The Waterloo facility is an agriculture equipment manufacturing facility while Davenport workers manufacture construction and forestry equipment.
This is just the latest in a string of layoffs by Moline-based Deere in the last year as the COVID-19 pandemic, and its ripple effects in the economy, compounded financial hits from a trade war between the U.S. and China that has affected both Deere, directly as a company, and its customer base.
For its Iowa-based facilities, WARN data shows that Davenport Works has lost 252 jobs in the last year; 264 jobs at Dubuque Works; and 77 in Waterloo.
Deere had paused operations at Davenport Works and John Deere Dubuque Works, both construction and forestry manufacturing sites, from May 11 to May 26. That two-week suspension was due to supply chain disruptions and "weakened demand of construction and forestry equipment amidst the COVID-19 global health crisis," Deere said in a statement back in May 2020.
Those moves at facilities comes as Deere has rolled out its second salaried employee buyout program, which was announced just days before the layoff notice for Davenport and Waterloo production workers, after completing one in January, while also having to weather the coronavirus-induced economic downturn. In a financial earnings call in late May 2020, Deere revealed it is projected $1 billion less in income for its current fiscal year.
Dave Swenson, an Iowa State University professor and economist, said that layoffs and, possibly contraction, is expected to continue for the durable goods manufacturing sector for the near future.
"Those sectors are not going to recover any faster than the rest of the national economy recovers, and the rest of the national economy is not sending out signals that it is going to recover rapidly," he said.
Swenson also said strong firms use the opportunity of economic distress to restructure administrative, technical and line operations. Deere has had layoffs across its Iowa and Quad-City facilities in the last year, combined with voluntary separation offers, or buyouts, to salaried workers.
"One side may see them laying off people, but on the other side of that behavioral ledger you might see them investing in specific kinds of technology and capital to promote their efficiencies," he said.
Those investments have been made in Deere's precision ag technology, or the use of technology on Deere's machines to allow operators to better operate in the field. That is part of Deere's push to be the Apple of the ag sector.
And as a resurgence in cases impacts consumer confidence now, it also extends the length of time for an economic recovery. Swenson said most economists don't expect a rebound until sometime in the first or second quarter of 2022.
"It's going to take a long time, from what the experts say, for the average economy in the United States to get back to normal and I don't see agricultural and farm machinery, given the weakness anticipated in the farm economy in the near future, I just don't see anything in the near future," he said.
"The stars just don't say we're going to turn a corner any time soon."
Joseph R. Biden, Biden Campaign Press Release - Biden Campaign: Deere & Co. Layoffs Demonstrate that in a Trump Economy, Workers Suffer Online by Gerhard Peters and John T. Woolley, The American Presidency Project https://www.presidency.ucsb.edu/node/345176