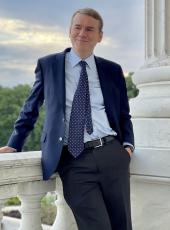 Bennet Campaign Press Release - What They're Saying About Michael Bennet at the First Democratic Debate
DENVER — Michael Bennet made clear during last night's debate that he was not afraid to speak the truth to voters — whether about the fact that Medicare for All makes employer- and union-provided health insurance illegal, or that the Biden-McConnell deal on the Bush tax cuts was a bad bargain for the American people. Michael demonstrated that his combination of thoughtful policies and toughness will make him a formidable opponent for Donald Trump in 2020.
Michael followed up his strong debate performance with an interview with Chris Matthews and an appearance on Morning Joe, where be continued to show the American people that his unique experience as superintendent of the Denver Public Schools, combined with his track record of bringing together a broad coalition for change, will best set up Democrats not only to win the White House, but also the Senate. As Michael said this morning, "My concern is that we make sure we nominate somebody who can carry the presidency but also get a majority in the Senate, which we desperately need to do. The policies we choose to run on are going to make a big difference in that calculation."
Read more about Michael's performance below.
CNN: Winners and Losers From Night 2 of the 1st Democratic Debate
Winner: Michael Bennet
Chris Cillizza: ... I thought Bennet performed well. Bennet's incredulity with Biden's belief that Senate Majority Leader Mitch McConnell would start working in a bipartisan way if the former vice president won the White House felt genuine -- and was powerful. In short: Bennet came out of this debate looking better than he went into it. Which is a win.
Denver Post: Michael Bennet Earns Kudos in Democratic Debate; John Hickenlooper, Not So Much
Colorado's Michael Bennet might have had a late start in the Democratic presidential primary, but his performance at Thursday's NBC debate just might give him enough gas to pass a challenger or two.
Washington Post
[I]t was other candidates who helped drive the debate and shape the tone. Sen. Michael F. Bennet (Colo.) came close to Harris at times, whether attacking Biden for cutting a deal that made permanent the tax cuts first passed during the presidency of George W. Bush or offering counterarguments to those candidates advocating a single-payer Medicare-for-all program that would eliminate private insurance. …
Bennet emerged as a voice prepared to challenge the progressive wing, in the way that Biden is expected to do.
Vox: A Quiet Joe Biden Debate Moment that Deserved More Attention:
Matt Yglesias: Bennet, who was one of only two Senate Democrats to actually vote no on the [Biden-McConnell] deal, recalled it differently.
"The deal with Mitch McConnell was a complete victory for the Tea Party," he said. "... That was a great deal for Mitch McConnell and a terrible deal for America.'
To the best of my understanding at the time, much of the White House staff and the Senate leadership agreed with Bennet that the deal was bad.
ABC: Sen. Bennet Gets Personal When Talking About Family Separations
A little earlier in the night, Colorado Sen. Michael Bennet invoked his mother, who was separated from her parents during the Holocaust, amid a conversation about family separations.
It was a powerful and personal moment from the Colorado senator, whose mother and grandparents survived the Holocaust in Warsaw, Poland during World War II.
WHAT PEOPLE ARE SAYING
CNBC's John Harwood: "If last night was the beginning of trouble for Joe Biden, and he starts to lose some of his support, Michael Bennet certainly put himself into position to harvest some of the support…."
Washington Post's Jennifer Rubin: "Thursday's winners: Harris, Harris and Harris. Buttigieg except on race. Bennet. Thursday's losers: Sanders, Biden and Swalwell. Buttigieg on race."
U.S. News & World Report's Dave Catanese: "@MichaelBennet came to play."
Boston Magazine's David Bernstein: "I thought Bennet was quite good tonight, and that his attack on Biden was the best we've seen."
The Atlantic's Ron Brownstein: "Imagine an up down arrow for Democratic voters watching this: whose performance makes you more confident about their ability to debate Trump and who has made you less confident? Harris, Buttigieg maybe Bennet in first group; Biden, Bernie in latter."
Former South Carolina Democratic Governor Jim Hodges: "#democraticdebate2019. @KamalaHarris particularly memorable tonight. @PeteButtigieg and @MichaelBennet having good nights as well."
Former Chief Marketing Officer of Wenner Media Gary Armstrong:
"Important to remember: Obama's last interview as president with The New Yorker, he named three people as the future of the Democratic party.
-Kamala Harris
-Michael Bennet
-Pete Buttigieg.
In December 2016--he knew then, and they all did great tonight."
Former Chief Speechwriter for President Bill Clinton David Kusnet: "@MichaelBennet starts strong on economic inequality. Speaks emphatically. #DemDebate"
New York Times Contributing Opinion Writer Wajahat Ali: "Michael Bennet keeps bringing up Trump's reckless decisions and positions, which is a good reminder for voters and sharp contrast to Dems on the stage."
Democratic Legislative Campaign Committee Executive Director Jessica Post: "Thank you @MichaelBennet for discussing the challenge of partisan gerrymandering. More than 4000 state legislators elected in 2020 will draw Congressional and legislative lines. We are here to put more Democrats in those seats @TheDLCC #DemDebate"
The Young Turks' Cenk Uygur: "[Michael Bennet] made a great point about Obama-Biden tax deal with Republicans- it made most of Bush tax cuts permanent! He was right, @JoeBiden was wrong again. #DemDebate2"
Author and Activist Sally Kohn: "Bravo to Bennet for bringing up gerrymandering. Disastrous court ruling today with MASSIVE implications and 1:14 into the debate no questions on redistricting or campaign finance, etc. #DemDebate2"
POLITICO's Carla Marinucci: "So far, @KamalaHarris showing the focus -- and the passion -- that has made her a standout in the #DemDebate lineup..@PeteButtigieg and @MichaelBennet also delivering concise, well-delivered answers to complex issues like healthcare."
Washington Post's EJ Dionne: "Kamala Harris gambled & won. She was dominant before she went after Joe Biden & then took control of the night. Pete Buttigieg did well, Michael Bennet got notice & Bernie Sanders is running his 2016 race all over again. My take on the #DemocraticDebate"
Wall Street Journal's Richard Rubin: "Reminder that Bennet, unlike almost anyone else, has cred on [Biden-McConnell deal]. He voted against the deal that day. It passed 89-8."
MSNBC's David Gura: "President Trump and many Democratic candidates call it a 'border crisis.' @MichaelBennet just referred to it, rightly, as a 'refugee crisis.' #DemDebate2"
New York Times's Sarah Kliff: "Bennet is right here - the Sanders plan would indeed ban private plans that compete against the government one…."
Michael Bennet, Bennet Campaign Press Release - What They're Saying About Michael Bennet at the First Democratic Debate Online by Gerhard Peters and John T. Woolley, The American Presidency Project https://www.presidency.ucsb.edu/node/364670