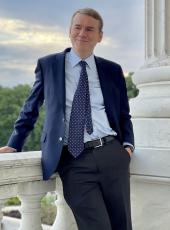 Bennet Campaign Press Release - Michael Bennet at the First 2020 Presidential Debate Tonight
Bennet Goes Toe-to-Toe with Sanders and Biden
Bennet Shows Leadership on Health Care, Fixing Washington
MIAMI — Michael Bennet set himself apart from the other candidates during his first 2020 presidential debate tonight, demonstrating that his distinct experience and track record of winning tough races uniquely prepare him to beat Donald Trump in 2020. He also showed that he is effective, thoughtful, and genuine — and that he has the spirit to fight for the American people.
Michael on His Healthcare Plan
"Health care is a right. We need to get to universal health care. I believe the way to do that is by finishing the work we started with Obamacare and creating a public option so that every family and every person in America can make a choice for their family.... [Medicare-for-all] will ban — make illegal — all insurance except … for plastic surgery. Everything else is banned under the Medicare-for-all proposal."
Michael made clear tonight that his Medicare-X public option healthcare plan is the fastest, most effective and affordable way to achieve universal coverage. Michael's plan builds on the Affordable Care Act by creating a true public option so every family can choose for themselves what's best — whether that's a plan through their employer or union, or a government plan administered by Medicare. Michael's proposal will also lower costs and improve the quality of care.
During the debate, Michael drew a clear distinction for why his plan is better than the restrictive "Medicare-for-all" idea supported by Elizabeth Warren and Bernie Sanders. The Warren-Sanders plan makes private insurance illegal, kicking 177 million Americans off of their current plans — 70 percent of whom like what they have right now. It would also cost $32 trillion.
Michael on Voting Against the Biden-McConnell Deal to Extend the Bush Tax Cuts
"The deal that [Biden] talked about with Mitch McConnell was a complete victory for the Tea Party. It extended the Bush tax cuts permanently. ... That was a great deal for Mitch McConnell. It was a terrible deal for America."
Michael was one of only three Democratic Senators — and the only one in this race — to vote against Vice President Biden and Senator Mitch McConnell's "deal" to make the Bush tax cuts for the wealthy permanent. The deal kept in place almost all of the Bush tax cuts — at a cost of $4 trillion, including tax cuts for the wealthiest estates in the country. The whole point of the negotiation was to support the fragile economy, but Biden's deal didn't do anything to support working families and even let automatic spending cuts take effect.
Michael on Comprehensive Immigration Reform
"When I see these kids at the border, I see my mom ... because she was separated from her parents for years during the Holocaust in Poland. ... The president has turned the border of the United States into a symbol of nativist hostility that the whole world is looking at, when what we should be represented by here is the Statue of Liberty...."
Making sure our immigration system works is personal to Michael. His mom found a home in America after surviving the Holocaust.
Michael was part of the Gang of Eight that negotiated the bipartisan comprehensive immigration bill in 2013, which passed the Senate with 68 votes. That plan offered a pathway to citizenship for 11 million undocumented immigrants, fixed our broken system, and provided $46 billion for smart border security.
Michael on Why He's Running for President
"The idea that the next generation will have a better future is at risk. Especially for kids in poverty, like those I worked with in the Denver Public Schools. That's why I'm running for president.
"I've won two tough national races in Colorado by bringing people together – not making empty promises.
"We must build a broad coalition to defeat Trump, end the corruption in Washington, and create a new era of American democracy and opportunity. It won't be easy, but it's what our parents would expect and what our children deserve."
Michael shared his unique background with the American people tonight and how it prepares him to beat Trump and move the country forward. Before his appointment to the Senate, Michael was Superintendent of the Denver Public Schools and worked in local government and business. Michael also won elections in 2010 and 2016 — both difficult cycles for Democrats — in a state in the middle of the country that is a third Republican, a third Independent, and a third Democratic.innocents especially caught my attention."
Michael Bennet, Bennet Campaign Press Release - Michael Bennet at the First 2020 Presidential Debate Tonight Online by Gerhard Peters and John T. Woolley, The American Presidency Project https://www.presidency.ucsb.edu/node/364671