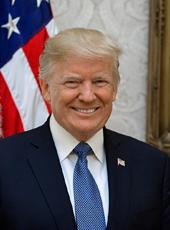 Background Press Call on President Trump's Visit to Vietnam and the Philippines
Via Teleconference
7:07 P.M. ICT
SENIOR ADMINISTRATION OFFICIAL: Hi, everyone. How are you? Good to be talking to you from Hanoi, where we just arrived with the President for our second stop in Vietnam. And we're actually about to pile into a motorcade to attend a state dinner being hosted by Vietnamese President Quang for President Trump.
And the President has wrapped up a successful couple of days in Da Nang where he was attending the APEC Summit. He delivered a speech unveiling his commitment to a free and open Indo-Pacific. He attended the APEC Leaders' Summit this morning and arrived at a joint statement that I believe has come out now, out of that visit.
And what I thought I'd do is just talk a little bit about what we're doing in Vietnam. And tomorrow afternoon, after the state visit, he'll be off to Manila to celebrate the 50th anniversary of ASEAN and also to attend the East Asia Summit.
So the President's trip -- we're about, I guess, nine days -- eight or nine days into what is the longest trip by a U.S. President to Asia in more than a quarter-century. The themes of the trip, the goals that President Trump is pushing on this trip are to, first, strengthen international resolve to denuclearize North Korea; second, to promote a free and open Indo-Pacific region; and, third, to advance American prosperity.
So his speech was particularly well received by the people of Vietnam. We've been getting just a lot of commentary and a lot of comments from people in Vietnam who were thrilled with the message about, really, countries that should not be satellites to other countries, countries that should remain strong, sovereign and independent, and secure within the architecture of a free and open Indo-Pacific.
And for the state visit that's just kicking off tonight, the President is securing the new commitments from Vietnam's leadership to support the maximum pressure campaign to bring North Korea back to the path of denuclearization.
In the area of promoting a free and open Indo-Pacific region, we will be releasing a joint statement with Vietnam -- it's probably going to be tomorrow -- that really highlights -- it will be our second joint statement following Prime Minister Phuc's visit this spring to the White House, and it will show a continued expansion of our cooperation and closer coordination between our two countries.
We're likely to announce an agreement to acquire land in Hanoi, to construct a large, new U.S. embassy, which is another tangible example of the progress in the relationship. We are going to conclude a new three-year plan of action for defense cooperation, which is going to increase our bilateral naval activities.
The United States is also formally transferring the first U.S. Coast Guard cutter to the Vietnamese navy, which is going to enhance Vietnam's maritime security and (inaudible) awareness. And the President and -- the two Presidents are going to welcome -- (audio interruption) --
All right, we'll wrap up quickly because I think the motorcade is going to go and I'm afraid I'll lose you all.
So the two leaders are going to be reaffirming, in their joint statement, the importance of freedom of navigation and overflight, unfettered commerce in the South China Sea and through the South China Sea, and their commitment to a rules-based approach to resolving maritime disputes.
They also will be pledging to intensify discussions toward expanding bilateral trade and investment between our two countries. And there likely will also be several billion dollars -- probably $12 billion in commercial agreements that the two sides are going to reach as well.
And then he'll be on to the Philippines, but maybe I'll pause right there just to field some questions before I lose our connection here.
MODERATOR: At this moment, we do not have any questions waiting.
SENIOR ADMINISTRATION OFFICIAL: Okay, I'll just continue for a moment and see if any questions come up.
After the state visit concludes tomorrow afternoon -- that's Sunday the 12th -- the President is going to fly on to Manila to meet with Philippine President Rodrigo Duterte and other leaders of the Association of Southeast Asian Nations and of the East Asia Summit.
The President is going to reaffirm his personal commitment to promoting closer ties with countries in the region and advancing a free and open Indo-Pacific. President Duterte and President Trump are -- right now, our governments are working toward a joint statement between our governments as well. I think you'll see a number of things that come out of the two summits, as well, in the way of cooperation and initiatives between the United States and ASEAN and some of the individual member states.
For example, the President and Prime Minister Lee Hsien Loong of Singapore are going to co-sponsor an EAS Leaders statement on chemical weapons to reaffirm the region's commitment against the development of those weapons in North Korea and far beyond.
There will be a lot of discussion about renewal of the U.S.-Philippines alliance and reenergizing that alliance through a joint statement, and also -- to talk also about counter-terror. And President Trump is going to be congratulating President Duterte on the recent liberation of Marawi city in Mindanao from ISIS-linked terror.
The United States played a very important, sort of, low key but very pivotal role in that fight. It was a great example of, sort of, counter-terror support that the United States provides its longstanding allies.
And I'm going to be running outside into a motorcade and I feel I'm going to lose people, so let me pause there to see if there are any more questions.
Q: Hi, this is Murray Heibert, CSIS in Washington. I wanted to just ask you of two things you said on Vietnam, both the increased naval cooperation. Can you give any further indication of what that might include? And you also mentioned there was going to be some steps announced on improving bilateral trade. Can you say more about that? And then thirdly -- sorry, there's a list -- there's a lot of interest, obviously, on what the President might say about what to do the quite violent war on drugs in the Philippines. Might the President address that? Thanks.
SENIOR ADMINISTRATION OFFICIAL: Yeah. Yeah, I think on the latter point, our side is going to be talking about the drug war and ways in which that war could be prosecuted that conform with Philippine law and international norms for human rights.
There's not much more I can reveal right now, but it is going to be sort of a three-year plan on the military cooperation front on maritime and naval cooperation. It will be a symbolic (inaudible) -- but no other details I can shed light on at the moment on that front.
In terms of trade, you know, there's certainly -- (audio interruption) --
So the President in his speech yesterday was welcoming any country in the region, including TPP signatories, to come engage in free-trade talks with the United States.
And so we'll be talking a little bit with the Vietnamese government at the leadership level about ways that we can expand our trade and investment relations.
Q: Thanks for doing this call. You mentioned the response you got from the Vietnamese on the speech. Any differentiation, generally, on the trade issue? Did you hear anything, or what was the reaction you heard around about the trade sections of the speech?
SENIOR ADMINISTRATION OFFICIAL: Yeah, I think that on the trade front -- if I look at the U.S. media response, there's been a little bit of a misinterpretation of the speech that's being geared to the domestic U.S. audience, which is just not the case. The Vietnamese are really interested in the President's, sort of, explanation of America First is really about a logical pursuit of national interests that we expect counterparts to pursue and which countries in the region understand well.
And the President underscored that we want to engage in bilateral free-trade agreements with partners who share our commitment to following rules. And we share a vision of increasingly open trade, an increase in overall investment and trade ties. So it was a call to action on that front, and all of the Vietnamese officials we've been talking to have been extremely enthusiastic about it. And there is enthusiasm about pursuing deeper trade and investment ties with the United States as well.
Q: I wanted to ask you about the South China Sea and especially Chinese encroachment and militarization there. Is that going to be something the President is going to raise in the Philippines?
SENIOR ADMINISTRATION OFFICIAL: Yes. Thanks, Bill. That is one of the areas that the President will be discussing when he's in the Philippines. It will be one of the things that's discussed during his state visit with Vietnam as well. Very clear message, consistent message from the President on the importance of maintaining freedom of navigation, of not (inaudible) in the South China Sea. And he will come through loud and clear.
Q: Is that one -- it didn't come through a little bit. Can you repeat that once again?
SENIOR ADMINISTRATION OFFICIAL: Oh yeah, I was saying that (inaudible) the President visits through the remainder of his visit in Vietnam and also when he's in Manila at the East Asia Summit. We will be talking about -- he will be talking specifically about the importance of navigation and expressing concern about the militarization of features in the South China Sea.
Q: Okay, thanks.
SENIOR ADMINISTRATION OFFICIAL: All right. Well, thanks again everyone. I'll just quite while I'm ahead and disconnect, and look forward to chatting with you again on the next stop.
END 7:21 P.M. ICT
Donald J. Trump, Background Press Call on President Trump's Visit to Vietnam and the Philippines Online by Gerhard Peters and John T. Woolley, The American Presidency Project https://www.presidency.ucsb.edu/node/331360