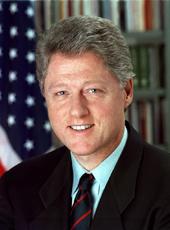 Background Briefing by Senior Administration Officials
The Briefing Room
11:32 A.M. EDT
SENIOR ADMINISTRATION OFFICIAL: Let me just make a few brief comments, and then we'll turn it over to your questions.
I think the President's comments really captured what this has been about. As you will recall, this all started really a year ago. And what has happened since that time is that the trilateral mechanism has done an awful lot to, I think, inspire and promote and move what's going on bilaterally.
In the trilaterals, we have focused from an early stage on how you could begin to shape and develop economic cooperation. We spent a lot of time focusing on how you could begin to develop the Jordan Rift Valley, which is the area south of the Dead Sea down to the Red Sea. Foreign Minister Peres referred to that as a desert. And this is an area that we now have an agreement between the parties on a very extensive terms of reference for the development of this area, which means a whole array of projects, involving transportation, water, desalinization, energy, exploitation of minerals. It's really an extraordinary effort to transform the landscape, as he put it.
That's one area where they have come to a closure on how they will proceed. And that's something that will be presented to the Casablanca Conference. The Casablanca Conference itself is an effort to bring the private sector together with the public sectors of the region and build a set of bridges both from outside the region and within the region that have never existed before between private capital and the local governments.
In addition to that, there are a number of other things that have emerged from this meeting today. There will be a northern border crossing that will be opened this month. That was called for in the Washington Declaration. There was also, very interestingly, the development of the idea of a free trade zone between Aqaba and Eilat, and the development of tourism not only within the master plan that has been developed for the Jordan Rift Valley, but also with an eye towards taking advantage of this free trade zone between Aqaba and Eilat.
One other interesting thing that was agreed on, and I won't go through all the elements that were agreed on, because there will be a communique that will be issued shortly, is there was agreement to have exchanges of selected delegations of businessmen and women, chambers of commerce and the economic media people back and forth between Jordan and Israel. And I would expect that that will probably start in the relatively near future.
Why don't I stop there. Do you want to add anything?
Q: What's holding up a peace treaty?
SENIOR ADMINISTRATION OFFICIAL: Well, they have -- they're negotiating on a variety of different kinds of issues that include boundaries, water, security. And the fact is that they have engaged in very detailed discussions now on all those issues. They have progressed. They clearly have made headway. But they're not at a point where they can conclude the peace treaty yet.
One of the things that was stated, actually, by the Crown Prince is they're not just talking about a treaty of peace, they're talking about a treaty of peace and a treaty of friendship and cooperation as well. And so they're going through in great detail every single aspect of what they're potential relationship is going to be. In fact, it's not a potential relationship -- they've already identified all the headings.
To put that into treaty form and to resolve every single issue that's there is not a simple enterprise. And it takes time. But you heard them talk about where they are, I think, from a perspective of optimism. And our impression is that they are working in a spirit of extraordinary, I think, friendship and a spirit of creativity and compromise, and they're moving ahead. But they're not there yet.
Q: Days, weeks, months --
SENIOR ADMINISTRATION OFFICIAL: I think they would each say that they certainly hope to achieve it before the end of the year, but that's -- that's their target. Whether they'll get there is hard to say, but I think that's their target.
Q: Was there any discussion of potential threats to the peace process, the overall peace process itself from countries like Iran and Iraq?
SENIOR ADMINISTRATION OFFICIAL: That was really not a focus of the discussion today. The focus of the discussion today was to provide a briefing first off on their relative perspective on where they were on the -- in the bilateral negotiations -- and then to go through the full array of trilateral projects that are being pursued and developed, as well as looking at not only these projects but how we might link the development of these projects and their presentation to the Casablanca Conference, because the Casablanca Conference offers a chance to make presentations on projects that you might seek to get private capital to support.
SENIOR ADMINISTRATION OFFICIAL: Could I just add --
Q: Are all the Arab countries coming to the Casablanca --
SENIOR ADMINISTRATION OFFICIAL: -- one thing on that. There is explicit reference in the communique and was explicit discussion about addressing the human resource problems -- unemployment and poverty -- and the need to use their economic cooperation and this whole concept that they are developing of regional economic development as a way of dealing with the basic economic and social needs of the peoples of the region. And that is the answer that they and we see to the threat of Islamic extremism that manifests itself in various parts of the region.
Q: The Prince also mentioned the progress in the bilateral negotiations on the borders and water. Can you elaborate what is the progress that has been made in the last few weeks or day?
SENIOR ADMINISTRATION OFFICIAL: I would prefer to leave it to them to comment on the nature of the progress. I still -- I think they have clearly made progress, but there still is work to be done. I also think my colleague's last point is very important because you have in some respects a kind of common diagnosis on how to deal with some of the problems that come from extremism. And the common commitment to focus on economic development, the common commitment to transform the landscape economically is very much driven by recognition of what some of the extremist groups prey upon.
Q: What's the U.S. financial role in these technical projects?
SENIOR ADMINISTRATION OFFICIAL: It depends upon the nature of projects. There is, for example, one of the things that has been agreed to and will be launched is a marine peace park in the Aqaba-Eilat area. And that's something that we're helping to fund. It's basically an environmentally-oriented project to ensure that what is an extraordinary marine area is not threatened either by expansion of tourism or some of the business projects that might be developed.
Q: Has that come to -- what's the total? What kind of money are we talking about?
SENIOR ADMINISTRATION OFFICIAL: We're not -- we're talking about small amounts of money for feasibility studies -- in the thousands of dollars rather than the millions of dollars.
Q: In the peace park? In the marine park?
SENIOR ADMINISTRATION OFFICIAL: For the marine park, for instance, it's a $30,000 grant from TDA to do the feasibility study for that. In terms of the U.S. Army Corps of Engineers has been involved in looking at the idea of a road between Jordan, Israel and Egypt. It's that kind of technical assistance which we have a lot of expertise in that the parties are looking to us for help in, and that's part of the trilateral process.
Q: And are all of the projects that small in terms of our financial contribution?
SENIOR ADMINISTRATION OFFICIAL: Certainly, at this stage what we're looking at is feasibility studies, trying to develop the concepts. One of the things that the three parties have in mind and why there has been so much reference to Casablanca is that the Casablanca Summit, which will take place at the end of this month, will bring together a large number of private sector corporations and governments.
And Jordan and Israel will showcase the projects that we have developed through this trilateral process with the expectation that they will be able to mobilize private sector capital for many of these kinds of projects.
Q: Do you support the regional bank idea? I know that Mr. Peres raised it today.
SENIOR ADMINISTRATION OFFICIAL: What we support right now is a multilateral financing mechanism. The precise form that it will take is something that we are still looking at, both with the Israelis, Jordanians and other of the regional partners. But we clearly recognize that, and there is very strong agreement between the Israelis and Jordanians and some of the other parties in the region that there needs to be a mechanism, not only to generate financing, but there needs to be a mechanism that can enhance the kind of dialogue on economic issues that will overcome a lot of the barriers to economic cooperation.
We're very supportive of that idea, and it's really more a case of the modalities that still needs to be explored. But we're clearly sympathetic to the idea of a multilateral financing mechanism.
Q: Has there been an agreement over the contentious piece of land which is the size of Gaza Strip, I believe; it's in the southern part of Jordan, Israel -- about 400 kilometers. (inaudible) -- some statement coming up that Israel will admit that Jordan will have sovereignty over that piece of land which has good arable land and good water resources that Israel had been using for long time? Do you know about this?
SENIOR ADMINISTRATION OFFICIAL: As I said, I wasn't going to get into the details of where they are in terms of the bilateral negotiations.
Q: Was the Syrian topic brought up? And also when such a high level meeting takes place, there's always an expectation to speed up the process. Was something expected before the meeting that you were trying to achieve and was not the progress on, or is that exactly the level of expectations from such a high-level meeting?
SENIOR ADMINISTRATION OFFICIAL: Well, go back to October 1 of one year ago when we had the first meeting between the President, the Crown Prince, and the Foreign Minister. At that time, what we did is we launched the trilateral mechanism that now exist. As I said at the outset, that mechanism has been very useful in terms of fostering cooperation, dealing with many issues that were then dealt with in a much more systematic fashion within the bilaterals.
We had been working on this from the perspective of trying to finalize an agreement on the Jordan Rift Valley plan, which now has taken place in terms of agreed terms of reference. We had looked at it in terms of a series of trilateral projects. I think that in terms of our expectations has probably exceeded it, because in addition to the Jordan Rift Valley, we have several different items -- a northern border crossing, the marine park, the free trade area between Aqaba and Eilat, tourism that relates to that.
The fact is if you look at the full range of very precise, concrete projects, the scope of development here is demonstrating something very clear. The process of normalization between these two countries is going forward. And as I said, and I think it's -- this is something that once you really focus on, one is not simply talking about a treaty of peace, one is talking about a treaty of peace and friendship and cooperation. And that is something that is emphasized by both sides, and especially the Crown Prince today, that this is an effort not simply to produce a kind of political peace, but this is an effort to produce a kind of peace between peoples and truly a warm peace.
SENIOR ADMINISTRATION OFFICIAL: Let me just say on --
Q: Jordan involved? Are there any other Arab countries going to the Casablanca Conference?
SENIOR ADMINISTRATION OFFICIAL: Right now nearly all Arab countries are going to the Casablanca Conference.
Q: Syria?
SENIOR ADMINISTRATION OFFICIAL: No, I said nearly all. Syria and Lebanon are not.
SENIOR ADMINISTRATION OFFICIAL: You just asked about Syria. Syria was not discussed in this meeting today. However, the President will be meeting with Foreign Minister Shara on Friday.
THE PRESS: Thank you.
END 11:45 A.M. EDT
William J. Clinton, Background Briefing by Senior Administration Officials Online by Gerhard Peters and John T. Woolley, The American Presidency Project https://www.presidency.ucsb.edu/node/269431