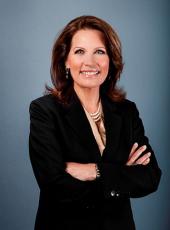 Bachmann Campaign Press Release - Bachmann Endorsed by More Than 100 Iowa Pastors and Faith Leaders
Urbandale, Iowa — Republican presidential candidate Michele Bachmann announced today the endorsement of more than 100 Iowa pastors and faith leaders. Many of the evangelical leaders offered support after hearing her testimony and witnessing how her faith guides her strong leadership on critical issues such as marriage, life, and the overbearing impact of government policies on the family.
"Michele has a long track record of standing firm on and fighting for conservative issues on the local, state and national level," said Pastor Brad Sherman in his endorsement. "She has been in the battle for decades and has shown that her core values are non-negotiable in political storms. She has earned her claim to having a 'titanium spine' on the issues we care most about."
"Michele has fearlessly taken a stand for life and traditional marriage, while championing fiscally conservative legislation," said Pastor Brad Cranston, "In the area of foreign policy she has proven herself to be a friend of Israel and an advocate of a strong national defense, focused first and foremost on protecting the vital interests of the United States."
Bachmann is especially grateful for the endorsements from pastors and faith leaders in advance of the 2011 Iowa Straw Poll on August 13.
"From the start of this campaign I have promised to take the values of Iowans to the White House," said Bachmann. "I learned those values growing up in Waterloo, and I am grateful for the pastors and faith leaders who continue to teach them to new generations of Iowans. Thank you to each of these men and women who are standing with me in fighting for the future of our great nation."
Please visit this link to view list of pastors and church leaders who have endorsed Michele Bachmann for President.
Michele Bachmann, Bachmann Campaign Press Release - Bachmann Endorsed by More Than 100 Iowa Pastors and Faith Leaders Online by Gerhard Peters and John T. Woolley, The American Presidency Project https://www.presidency.ucsb.edu/node/298599