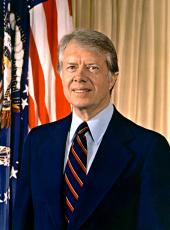 Atlanta, Georgia Informal Exchange With Reporters.
Q. What do you think about the latest things happening in Tehran? Are you hopeful, or do you think, as was said yesterday, that maybe we're near settling that problem?
THE PRESIDENT. Well, I think Ed Muskie described it accurately. We don't have any reason to believe that the situation has been resolved at all. But there is at least a government now in Iran, and they haven't had anyone so far that could speak with authority. But now that they have in Iran a Majles, or a parliament, and a President and a Prime Minister and a speaker, at least there is an entity there with whom we might be able to work out the differences. But we don't have any prospect at this time for an early resolution of the issue.
Q. When you spoke at that town meeting yesterday, were you aware at that point that there had been a repetition of their demand for an apology?
THE PRESIDENT. No, but I'm not surprised that there was a repetition.

Thank you.
Q. Thank You.
THE PRESIDENT. Aubrey, I'm glad to see you again.
Q. Mr. President, I missed what you were saying there about the importance of this occasion.
THE PRESIDENT. Well, obviously it's important to me to have broad and enthusiastic support for reelection in the South. And coming here to Ebenezer Church is symbolic to me of the changes that have taken place in the South, where the black and white people now, instead of working against each other, work together. This has been the essence of what I've tried to do as President. And I might say that I would not have been elected the first President from the Deep South in 140 years had it not been for Martin Luther King, Jr., and the social change that he made, and along with many others.
Q. One other question, Mr. President, on this effort to bring the Ku Klux Klan into this Presidential race, your view?
THE PRESIDENT. Well, obviously the Ku Klux Klan is an obnoxious blight on the American scene, and anyone who'd inject it into the campaign made a serious mistake. But now I think Governor Reagan has been, in effect, muzzled by his campaign workers. He's not talking about China or evolution or the Ku Klux Klan, and I don't believe that the Klan will be any significant factor in the future.
Q. Are you worried about keeping the White House?
THE PRESIDENT. No, I'm not worried.

REPORTER. Thank you.
Note: The exchange began at approximately 9:15 a.m. outside the Ebenezer Baptist Church.
Jimmy Carter, Atlanta, Georgia Informal Exchange With Reporters. Online by Gerhard Peters and John T. Woolley, The American Presidency Project https://www.presidency.ucsb.edu/node/251131