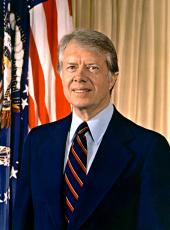 Asian Development Bank Nomination of Lester E. Edmond To Be United States Director.
The President today announced that he will nominate Lester E. Edmond, of Miami, Fla., to 'be United States Director of the Asian Development Bank. Edmond is a Foreign Service officer and served as Deputy Assistant Secretary of State for East Asian and Pacific Affairs from 1974 to January 1977.
He was 'born on April 28, 1922, in New York City. He received a B.B.A. from the College of the City of New York in 1943, an M.P.A. from the Littauer School of Public Administration in 1948, and an M.A. (1949) and Ph.D. (1950) in economics from the Harvard Graduate School of Arts and Sciences.
From 1950 to 1953, Edmond was an international economist in the Bureau of Economic Affairs, in Washington, and from 1953 to 1956 he was an international economist with the Office of Philippines and Southeast Asia Affairs.
From 1956 to 1961, Edmond was economic officer in the U.S. Embassy in Tokyo. He served as counselor of economic affairs in Helsinki from 1961 to 1964, and as executive assistant to the Director of the U.S. Information Agency in 1964 and 1965. He attended the National War College in 1965-66.
Edmond was counselor of mission at the U.S. Mission to the Organization for Economic Cooperation and Development in Paris from 1966 to 1970. He served as minister counselor for economic and commercial affairs in the U.S. Embassy in Tokyo from 1970 until 1974, when he became Deputy Assistant Secretary of State for East Asian and Pacific Affairs.
Edmond received a Presidential Citation for Outstanding Contribution to Improvement in Government Operations in 1964. He has had several articles published and is a frequent public speaker before business and academic audiences.
Jimmy Carter, Asian Development Bank Nomination of Lester E. Edmond To Be United States Director. Online by Gerhard Peters and John T. Woolley, The American Presidency Project https://www.presidency.ucsb.edu/node/243915