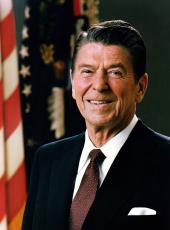 Appointment of the Membership of Emergency Boards Nos. 205 and 206 To Investigate Railroad Labor Disputes
The President has appointed the following-named persons to be members of Emergency Boards Nos. 205 and 206:
Eva Robins, of New York, NY, will serve as Chairman. She is an arbitrator and has served as assistant director of labor relations for the Borden Co. and as deputy chairman of the New York City Office of Collective Bargaining.
Thomas N. Rinaldo, of Williamsville, NY, is an attorney, arbitrator, and mediator.

Thomas F. Carey, of Jericho, NY, is an arbitrator with extensive experience in grievance, contract, and interest arbitration.
On October 25, 1984, the President created Emergency Boards Nos. 205 and 206 to investigate and make recommendations for settlement of current disputes between the Long Island Rail Road (LIRR) and employees represented by the Brotherhood of Locomotive Engineers and the Brotherhood of Railway, Airline and Steamship Clerks, Freight Handlers, Express and Station Employes.
The LIRR is the largest commuter railroad in the United States, transporting 283,000 passengers each weekday over a 330-mile system extending from Manhattan to the end of Long Island. In addition, the LIRR provides the only rail freight service on Long Island and connects with the Nation's rail system through New York City.
Earlier, on June 20, 1984, the President invoked the emergency board procedures of the Railway Labor Act applicable to commuter railroads and created Emergency Boards Nos. 202 and 203 to investigate and report on these same disputes. Emergency Boards Nos. 202 and 203 investigated the issues and prepared reports and recommendations for settlement of the disputes. The Boards' reports were submitted to the President on July 20, 1984.
Following the release of the reports and recommendations by Emergency Boards Nos. 202 and 203, the parties unsuccessfully continued their attempts to resolve their differences. The statutory period allotted for this process expired at midnight, October 18, 1984.
Section 9A of the Railway Labor Act provides that a party to the dispute or the Governor of any State through which the service runs may request the President to establish a second emergency board if the dispute remains unresolved. Emergency Boards Nos. 205 and 206 were created in response to such a request made by Governor Cuomo. The parties will now submit their final offers to Emergency Boards Nos. 205 and 206 within 30 days, and the Boards will report their selection of the most reasonable offer within 30 days thereafter. During this 60-day period, and for 60 days after the submission of the report, the parties must maintain the status quo and refrain from engaging in self-help.
Ronald Reagan, Appointment of the Membership of Emergency Boards Nos. 205 and 206 To Investigate Railroad Labor Disputes Online by Gerhard Peters and John T. Woolley, The American Presidency Project https://www.presidency.ucsb.edu/node/260883