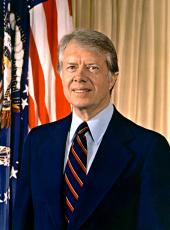 Appointment of Six Members and Designation of Chairman of the National Cancer Advisory Board
The President today announced the appointment of six persons as members of the National Cancer Advisory Board for terms expiring March 9, 1984. They are:
Maureen M. Henderson, of Seattle, Wash., assistant vice president for health affairs at the University of Washington's Health Sciences Center. She was previously chairman of the department of preventive medicine of the University of Maryland and is an internationally known epidemiologist.
Janet D. Rowley, of Chicago, professor of medicine at the University of Chicago, a geneticist known for her work in cytogenetics (chromosomal abnormalities) and credited with major advances in the identification of chronic myelogenous leukemia.
Sheldon W. Samuels, of Alexandria, Va., director of health, safety, and environment for the AFL-CIO's Industrial Union Department. Samuels was trained as a theoretical biologist and has worked extensively in environmental health regulation. He has frequently been the labor participant in OSHA and congressional hearings on environmental regulation.
Morris M. Schrier, of Scarsdale, N.Y., vice president and secretary of MCA, Inc. (for reappointment).
Irving J. Selikoff, of Ridgewood, N.J., professor of community medicine and director of the division of environmental medicine at Mount Sinai Hospital in New York. Selikoff is also program director of the Environmental Health Sciences Research Center at Mount Sinai. He is an expert on the health effects of environmental factors, especially in airborne pollutants, and is an environmental epidemiologist.
Gerald N. Wogan, of Bedford, Mass., professor of toxicology in the department of nutrition and food science at Massachusetts Institute of Technology, a recognized authority in nutritional carcinogenesis (reappointment).
The President also announced the designation of Henry C. Pitot as Chairman of this Advisory Board. Pitot, of Madison, Wis., has been a member of the Board since 1976. He is director of the McArdle Laboratory for Cancer Research and chairman of the department of oncology at the University of Wisconsin Medical School.
Jimmy Carter, Appointment of Six Members and Designation of Chairman of the National Cancer Advisory Board Online by Gerhard Peters and John T. Woolley, The American Presidency Project https://www.presidency.ucsb.edu/node/250059