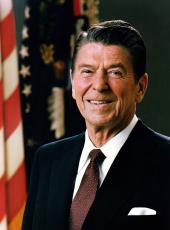 Appointment of Patrick J. Buchanan as Assistant to the President and Director of Communications
The President today announced his intention to appoint Patrick J. Buchanan to be Assistant to the President and Director of Communications.
A journalist by profession, Mr. Buchanan has for 10 years written a thrice-weekly column of political and social commentary, distributed by Tribune Media Services to 125 newspapers in the United States. He has also been, for almost 3 years, cohost of "Crossfire," a nightly interview program on the Cable News Network, and a weekly panelist on "The McLaughlin Group," a public affairs show distributed locally by WRC-NBC and nationally by PBS.
Mr. Buchanan cohosted the "Buchanan-Braden Program," a 3-hour daily radio show on WRC, and delivered daily commentary on the NBC radio network from 1978 to 1984.
In 1965 Mr. Buchanan became the first full-time staff member of the Nixon, Mudge, Rose, Guthrie, Alexander & Mitchell law offices in New York City. For 3 years, between January 1966 and January 1969, he served as press aide, executive assistant, and speechwriter and traveled with former Vice President Nixon throughout the campaigns of 1966 and 1968. In 1967 he accompanied Mr. Nixon to West Europe, Africa, and the Middle East in the immediate aftermath of the Six-Day War.
On January 20, 1969, Mr. Buchanan was named Special Assistant to the President and served throughout the Nixon Presidency, resigning from the Ford White House in November 1974. During the near—6 years of the Nixon Presidency, he wrote speeches both for the President and the Vice President, developed political strategy, published the President's daily news summary, and prepared the foreign and domestic briefing books for Presidential news conferences.
Mr. Buchanan was a member of the 15-person official delegation to the People's Republic of China in 1972 and accompanied President Nixon to the final summit in Moscow, Yalta, and Minsk in the summer of 1974.
In addition to his syndicated column, Mr. Buchanan has authored two books, "The New Majority" and "Conservative Votes, Liberal Victories," and written over two decades for The Nation, Rolling Stone, National Review, Conservative Digest, Skeptic, and The American Spectator. He is an honors graduate in English and philosophy from Georgetown University.
Mr. Buchanan was born November 2, 1938, in Washington, DC. He is married and resides in McLean, VA.
Ronald Reagan, Appointment of Patrick J. Buchanan as Assistant to the President and Director of Communications Online by Gerhard Peters and John T. Woolley, The American Presidency Project https://www.presidency.ucsb.edu/node/259289