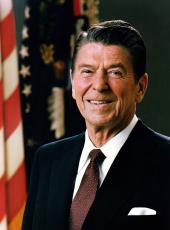 Appointment of 26 Members of the Peace Corps Advisory Council, and Designation of Cochairpersons
The President today announced his intention to appoint the following individuals to be members of the Peace Corps Advisory Council. The President also announced his intention to designate Diana D. S. Denman and David L. Jones to be Cochairpersons.
Robert R. Barry, 66, is president of Calicopa Corp. and resides in Woodside, Calif.

Carol E. Belton, 54, is vice president, special marketing, for Tenneco Oil in Houston, Tex.

Maurice L. Burke, 58, is owner of M. L. Burke Co. in Union City, Calif.

Richard W. Carlson, 41, is senior vice president of San Diego Savings and Loan in San Diego, Calif.

W. Dewey Clower, 46, is president of Food Processing Machinery and Suppliers Association in Washington, D.C.

Holly Coors, 61, is active in Citizens for a New Beginning in Englewood, Colo.

Raymond E. Cross, 60, is president of Federal Chicago Corp. in Lake Forest, Ill. Don De Fore, 68, is an actor in Los Angeles, Calif. Diana D. S. Denman, 48, is a ranch and farm owner in San Antonio, Tex.
George K. Graeber, 66, is a business consultant with George Graeber Associates in Washington, D.C.

Alexander Hehmeyer, 71, is counsel with Isham, Lincoln, and Beale in Chicago, Ill.

Josephine Hong, 62, is chairman of the Chinese-American Republican National Federation in New York.

Van Dyck Hubbard, 71, is a retired captain with the United States Coast Guard. He resides in Los Angeles, Calif.

Alf Edgar Jacobson, 57, is professor, Department of Social and Behavioral Sciences, at Colby-Sawyer College in New London, N.H.

David L. Jones, 59, is president, D. L. Jones and Associates in New York, N.Y.

Tong Joon Anthony Kim, 47, is chairman of the New York State Korean-American Republican Federation in Brooklyn, N.Y.

Robert P. LeMarr, 52, is with LeMarr Limited in Phoenix, Ariz.
Maria Malooly, 43, is a regional political director for the Republican National Committee. She resides in Shorewood, Minn.

Peter F. McCloskey, 47, is president of Electronic Industries Association in Washington, D.C.

Mindy Meikeljohn, 52, is vice chairman of the Republican Party of Colorado. She resides in Arvada, Colo.

William J. Moshofsky, 58, was employed with Georgia-Pacific Corp. and resides in Portland, Oreg.

Joseph A. Plonski, 63, is owner of Plonski Agency in Jersey City, N.J.

Margaret P. Scott, 63, has been active in Republican Party politics on national, State, and local levels for over 20 years. She is from Los Angeles, Calif.

Edwin J. Simcox, 37, is secretary of state, State of Indiana. He resides in Indianapolis, Ind.

Paul A. Thiry, 77, is president of Thiry Architects, Inc., in Seattle, Wash.

Thomas N. Tripp, 39, is an attorney in Gahanna, Ohio.
Ronald Reagan, Appointment of 26 Members of the Peace Corps Advisory Council, and Designation of Cochairpersons Online by Gerhard Peters and John T. Woolley, The American Presidency Project https://www.presidency.ucsb.edu/node/245339