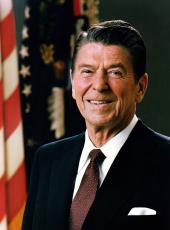 Appointment of 13 Members of the President's Council on Physical Fitness and Sports
The President today appointed the following individuals to be members of the President's Council on Physical Fitness and Sports. The President has previously announced the appointment of George Allen as Chairman.

Bernard R. Cahill, M.D., medical director, Great Plains Sports Medicine Foundation, Peoria, Ill. Dr. Cahill is an orthopedic surgeon and an authority on athletic injuries.

Donald L. Cooper, M.D., director, Oklahoma State University Hospital and Clinic, Stillwater, Okla. A general practitioner, Dr. Cooper is team physician for the Oklahoma State University Cowpokes.

Tom J. Fatjo, Jr., president, the Houstonian Foundation, Houston, Tex. He is founder of Criterion Capital Corp., Browning-Ferris Industries, Inc., and the Mortage-Banque, Inc.

Warren K. Giese, Ph.D., professor, University of South Carolina, Columbia, S.C. He is currently president of the United States Collegiate Sports Council. Dr. Giese was formerly athletic director, head football coach, and dean of the school of health and physical education at South Carolina.
Dorothy Hamill, special guest star of the Ice Capades, from Riverside, Conn. She was the Olympic world and national figure skating champion in 1976 and is a frequent television performer.

William E. LaMothe, chairman of the board and chief executive officer, the Kellogg Co., Battle Creek, Mich. He joined Kellogg in 1950 and is a member of the boards of directors of several colleges, foundations, and corporations.

Donn D. Moomaw, D.D., senior pastor, Bel Air Presbyterian Church, Los Angeles, Calif. An All-American lineman at UCLA, Dr. Moomaw is a member of the Collegiate Football Hall of Fame and was one of the organizers of the Fellowship of Christian Athletes.

Wayne Newton, singer-entertainer, Flying Eagle, Inc., Las Vegas, Nev. He is a recording star, an actor, owner of the Aladdin Hotel in Las Vegas, and proprietor of one of the world's largest Arabian horse breeding farms.

Mark Lee Saginor, M.D., director, Internal Medicine and Endocrinology, Metabolic Research Medical Group, Inc., Los Angeles, Calif. Dr. Saginor is an authority on eating disorders.
Roger Staubach, president, Holloway-Staubach Realtors, Dallas, Tex. He won the Heisman Trophy during his junior year at the United States Naval Academy, served 4 years in the Navy, and quarterbacked the Dallas Cowboys from 1969 to 1979, leading them to the Super Bowl championships in 1971 and 1977.

Ronald H. Walker, managing vice president and senior partner, Korn/Ferry International, Washington, D.C. He is a former Director of the National Park Service and former associate director of World Championship Tennis.
Leon J. Well, general partner, Herzfeld and Stern, New York, N.Y. He is a member of the New York Stock Exchange and is an accomplished marathon runner, skier, cyclist, and squash player.

David A. (Sonny) Werblin, president and chief executive officer, Madison Square Garden Corp., New York, N.Y. He is a former president of both the Music Corp. of America and the New York Jets football team and a former chairman of the New Jersey Sports and Exposition Authority.
Ronald Reagan, Appointment of 13 Members of the President's Council on Physical Fitness and Sports Online by Gerhard Peters and John T. Woolley, The American Presidency Project https://www.presidency.ucsb.edu/node/247465