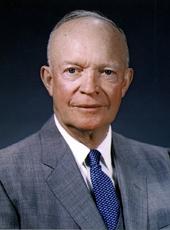 Annual Message Presenting the Economic Report to the Congress
To the Congress of the United States:
I present herewith my Economic Report, as required by Section 3 (a) of the Employment Act of 1946. In preparing this Report, I have received the assistance and advice of the Council of Economic Advisers. I have also had the advice of the heads of the executive departments and independent agencies of the Government.
I set forth below, in condensed form, what I consider to be the major conclusions and recommendations of the Report.
The Economy in 1957
The past year was a prosperous one, despite a decline in the closing months. Over 65 million people were employed, 300,000 more than in 1956. The Nation's output of goods and services totaled $434 billion, and personal income was $343 billion. Both were 5 percent larger than in the preceding year. A considerable part of these increases, however, reflected higher prices.
In the final quarter of the year, gross national product was about 1 1/2 percent below the peak reached in the third quarter. Personal income after taxes declined one-half of 1 percent, and personal consumption expenditures somewhat less. In December, however, unemployment amounted to 5.2 percent of the civilian labor force, compared with 4.3 percent in September.
This change in economic conditions called for adjustments in economic policies. During much of the year, the task of restraining inflationary pressures was paramount, and policies were directed to this end. In the closing months of the year, and currently, the task has been to facilitate readjustments in the economy essential to the resumption of sustainable economic growth, but to do so without reviving inflationary pressures.
The Current Economic Situation and Outlook
As we look ahead in 1958, there are grounds for expecting that the decline in business activity need not be prolonged and that economic growth can be resumed without extended interruption. The policies of Government will be directed toward helping to assure this result.
The demand for goods and services for final use has been well maintained. A considerable adjustment in inventories has already taken place, and present holdings are generally not heavy. Personal income has fallen very little, and purchases by consumers are continuing at a high level. The confidence of business concerns in the economic future is evidenced by their long-range plans for the expansion and improvement of production facilities and the high rate at which they are carrying out these plans. The increasing amount of resources committed to research and development is further evidence of this confidence and assures the continued working of forces that make for expansion.
Financial conditions are increasingly favorable to resumption of economic growth. Credit is more readily available and its cost is lower. These conditions, together with the recent reduction in the cash investment required of prospective home buyers under Federal mortgage insurance programs, tend to promote increased home building. More ample and lower-cost credit also favors a continuation of the large and growing volume of capital expenditures by State and local governments, and should help moderate the decline in investment outlays by business concerns.
At the turn of the year, the economy was beginning to feel the effects of an acceleration of the placement of defense contract awards, prompted by the need to move forward quickly with programs essential to the strengthening of the Nation's defenses.
The Longer Perspective
At a time like the present, when the economy is adjusting to the large additions to productive capacity made in the past few years, it is wall to view our economic prospects in a longer perspective and to consider some of the sources of our strength.
There are good reasons for confidence that a vigorous expansion of our economy can be sustained over the years. Our domestic market for goods and services has about doubled every quarter of a century, and we should do at least as well in the next 25 years. The needs and wants of our growing population will continue to enlarge markets for output. To keep pace with expanding requirements, State and local outlays must continue rising at some such rate as the recent $3 billion a year. Research and technological developments are opening up vast new fields for profitable investment. World-wide economic development can enlarge foreign markets for our products. The annual personal savings of Americans, which are close to $20 billion, and the strength of our financial institutions, will help attain the economic capacity necessary to meet these growing requirements.
The latest challenge of international communism will require a further increase in the economic claims of national security, which are already heavy. If we follow suitable private and public policies, this challenge can be met without distorting our economy, or destroying the freedoms that we cherish. Whatever our national security requires, our economy can provide and we can afford to pay.
The Challenge to Economic Policies
A realistic appraisal of our economic prospects, though it warrants confidence, also requires that we acknowledge an unfavorable feature of recent economic developments. In 1957, our gross national product rose 5 percent, but four-fifths of this increase was accounted for by rising prices.
There are critical questions here for business and labor, as well as for Government. Business managements must recognize that price increases that are unwarranted by costs, or that attempt to recapture investment outlays too quickly, not only lower the buying power of the dollar, but also may be self-defeating by causing a restriction of markets, lower output, and a narrowing of the return on capital investment. The leadership of labor must recognize that wage increases that go beyond over-all productivity gains are inconsistent with stable prices, and that the resumption of economic growth can be slowed by wage increases that involve either higher prices or a further narrowing of the margin between prices and costs. Government, for its part, must use its powers to help keep our economy stable and to encourage sound economic growth with reasonably stable prices.
The resumption and maintenance of economic growth promise greater economic capability for meeting the Nation's needs. If this opportunity is to be fully realized, however, growth must take the form of increases in real output, accompanied by a stable price level. This can be achieved if weight is given to long-run as well as short-run considerations in policies and practices that affect our economic welfare. It can be guaranteed by a public opinion that is alert to the consequences of wrong policies and insists on policies which will yield economic growth without inflation.
Measures to Help Attain Economic Goals
A legislative program is presented in this Report to help solve urgent problems that confront the Nation today, foster a resumption of growth, and build stronger foundations for economic advances in the years ahead. Fiscal policies are recommended to meet, within the framework of a budget in which expected revenues are adequate to cover projected expenditures, the Nation's needs for strengthened defenses, for the improvement of our position in science and education, and for other essential activities. Legislation is proposed to increase the effectiveness of the Federal Government's credit programs and its programs for the insurance and guaranty of private credits; to widen and strengthen our economic ties with other nations; to foster adjustments intended to bring agricultural production into line with commercial demands and reduce the fiscal burden of price-support programs; to give individuals greater protection against economic hardships, promote integrity in labor-management relationships, and improve industrial relations; to enhance the competitive character of our private enterprise system; and to strengthen the economic position of small businesses.
Favorable consideration of this program will materially enlarge the Nation's capacity to meet present challenges and to achieve sustainable economic growth and improvement in the years ahead.
DWIGHT D. EISENHOWER
Note: The message and the complete report (199 pages) are published in "Economic Report of the President, 1958" (Government Printing Office, 1958).
Dwight D. Eisenhower, Annual Message Presenting the Economic Report to the Congress Online by Gerhard Peters and John T. Woolley, The American Presidency Project https://www.presidency.ucsb.edu/node/233692