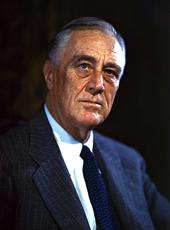 Announcement of the Organization of the Works Progress Division of the National Emergency Council.
The fourth and final announcement by the President regarding the administrative machinery for the handling of the Works Relief program provides for setting up a Works Progress Division.
It is obvious that before allotments are made, accurate information must be available in regard to the actual number of employables whose names are on existing relief rolls. As the Works Relief program is intended to take care primarily of these people the projects must be allocated in proportion to the numbers within a given work area. The Progress Division will be in charge of these figures and will keep the other divisions informed at all times.
Next, after allotments have been made, it will be the duty of the Progress Division to see that the actual persons to be employed on the separate projects will come from those whose names are on the relief rolls. . . .
Finally, the Progress Division will be charged with keeping in touch at all times with all projects and reporting on the progress made. The agents of the Division in the field, where there are not sufficient adequate projects in any Works Relief area, will explore possibilities for additional work and make recommendations thereon.
Mr. Harry L. Hopkins will act as Administrator of the Works Progress Division. He, of course, will continue as Administrator of the Federal Emergency Relief Administration, the work of which will, however, diminish in proportion to the number of persons on the relief rolls given employment under the Works Relief program.
As previously stated, the care of unemployables on relief rolls during the same period will revert to States and municipalities.
If in the process of making and carrying out allotments sufficient employment in a given area is actually not provided, the existing machinery of F.E.R.A. will be continued in order to take up the slack through the creation of local work on very small projects which, because of their size, would not clear through the Works Allotment Board. These projects can be planned and put into operation and completed in a very short space of time. They will be definitely useful.
The general work of the Works Progress Division also will include recommendations designed to keep the actual work of the great majority on projects located as close to the homes of the workers as possible.
Franklin D. Roosevelt, Announcement of the Organization of the Works Progress Division of the National Emergency Council. Online by Gerhard Peters and John T. Woolley, The American Presidency Project https://www.presidency.ucsb.edu/node/208577