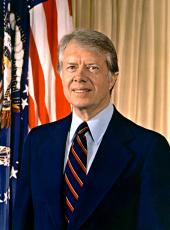 Announcement of Release of Personal Statements of Cabinet and Cabinet-Level Officers
The White House today released, in an unprecedented action, personal statements from 15 Cabinet and Cabinet-level officers disclosing their financial situations, detailing steps they are taking to avoid conflicts of interest, and expressing their commitment to avoid certain activities following their Federal service.
The release of the documents fulfilled a campaign promise by President Carter and represented the first time a President had required public disclosure of such information from his top officials.
The statements came from:
SECRETARY OF AGRICULTURE BOB S. BERGLAND
SECRETARY OF COMMERCE JUANITA M. KREPS
SECRETARY OF DEFENSE HAROLD BROWN
SECRETARY OF HEALTH, EDUCATION, AND WELFARE JOSEPH A. CALIFANO, JR.
SECRETARY OF HOUSING AND URBAN DEVELOPMENT PATRICIA ROBERTS HARRIS
SECRETARY OF THE INTERIOR CECIL D. ANDRUS
ATTORNEY GENERAL GRIFFIN B. BELL
SECRETARY OF LABOR F. RAY MARSHALL
SECRETARY OF STATE CYRUS R. VANCE
SECRETARY OF TRANSPORTATION BROCK ADAMS
SECRETARY OF THE TREASURY W. MICHAEL M. BLUMENTHAL
CHAIRMAN OF THE COUNCIL OF ECONOMIC ADVISERS CHARLES L. SCHULTZE
NATIONAL SECURITY ADVISER ZBIGNIEW BRZEZINSKI
DIRECTOR OF THE OFFICE OF MANAGEMENT AND BUDGET THOMAS B. LANCE
U.S. REPRESENTATIVE TO THE UNITED NATIONS ANDREW YOUNG
Each statement consists of five parts. These are: a summary of action taken to avoid possible conflicts of interest, a statement of net worth, a statement of 1976 income, a statement of personal affiliations, and a letter of commitment to the President.
The last item commits the signer to avoid employment for 2 years following government service that would result in financial gain because of that service.
Note: Copies of the 15 statements were released by the White House Press Office.
Jimmy Carter, Announcement of Release of Personal Statements of Cabinet and Cabinet-Level Officers Online by Gerhard Peters and John T. Woolley, The American Presidency Project https://www.presidency.ucsb.edu/node/242811