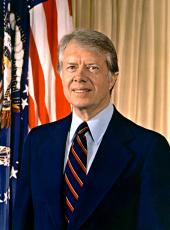 Announcement of Federal Advisory Committee Reductions
President Carter reported today that the number of Federal advisory committees dropped last year to 875, the lowest since the Government started keeping close track of such groups.
The President ordered a stiff review of advisory committees a year ago, declaring that many had outlived their usefulness or were not providing balanced advice. The annual report he submitted to Congress on Monday reflected early results of that executive branch review. It found that as of last December 31:
—The number had decreased by 284, the largest cutback in the last 4 years.
—Fewer new committees were established in 1977, apart from those formed by merging existing groups.
—Of the 875 still operating, 228 are required by law. Those 875 committees compared with 1,439 at the end of 1972. That was the year in which Congress passed the Federal Advisory Committee Act to control the number and makeup of committees.
Advisory committees are created by Congress and Executive order, but principally by department and agency heads. Their cost is estimated at $76 million in 1978.
The report showed substantial progress toward reaching targets set by the White House last August. Ninety percent of the 261 committees stated for elimination were out of business by the end of the year. The remainder included committees which can be abolished only by law.
In addition, 92 other committees were terminated as they finished their work or were found to be unnecessary.
More than one-third of scheduled committee consolidations also were accomplished, with 111 merged into 30 for a reduction of 81. Two major consolidations are due for early completion. These would combine 51 State committees of the Commission on Civil Rights and 63 district committees of the Small Business Administration into 10 each.
The General Services Administration has overall responsibility for advisory committee management. It plans a further review this year to carry out the President's directive that new committees be established only when essential and existing groups be terminated when no longer necessary.
Jimmy Carter, Announcement of Federal Advisory Committee Reductions Online by Gerhard Peters and John T. Woolley, The American Presidency Project https://www.presidency.ucsb.edu/node/244702