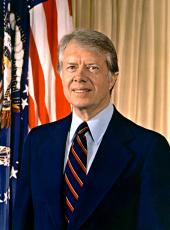 Americus, Georgia Informal Exchange With Reporters Following a Visit With Lillian Carter.
THE PRESIDENT. I've had a chance to visit with my mother and also talk to the doctors who performed the operation on her yesterday, and I've also looked at the X-rays and talked about the future.
Mother's feeling much better. I asked her if she had any message for the outside world, and she said to thank everyone who's sent telegrams and letters and flowers and please not to send any more flowers, that she has to have room to breath in the room. And everybody's been so nice to her that she's got enough flowers, but she really appreciates them.
Also, the doctors say that she had the operation very successfully. They put a stainless steel plate and pin in the upper part of her legbone near the hip, and it was a very successful operation, took about 2 hours. She's likely to be sitting up in a wheelchair tomorrow or the next day. She'll have to stay between the wheelchair and the bed for about 3 months, but her heart is strong, she's very vigorous, in good spirits, and feels much better today than she did yesterday.
Q. How long will she be in the hospital, Mr. President?
THE PRESIDENT. I would guess 2 or 3 weeks, until the doctors make sure that the bone is healing back well.
Q. How does she feel about not being able to campaign for you for the rest of the campaign?
THE PRESIDENT. Well, she might be campaigning by telephone.
Q. Have you heard of the latest Reagan charges on the Stealth?
THE PRESIDENT. Yes, I've heard it, but I don't want to comment on that today.
Q. How about Zia? Did he give you any report on the Persian Gulf war?
THE PRESIDENT. Not lately.
Q. Mr. President?
THE PRESIDENT. Yes?
Q. Mr. Reagan accused you of covering up the Stealth leak.
THE PRESIDENT. I've already made a statement on that before, and I stand by what I said.

Thank you very much.

REPORTER. Thank you, Mr. President.
Note: The President spoke at 5:32 p.m. outside the Sumter County Memorial Hospital. Following the President's visit, he returned to the White House.
Jimmy Carter, Americus, Georgia Informal Exchange With Reporters Following a Visit With Lillian Carter. Online by Gerhard Peters and John T. Woolley, The American Presidency Project https://www.presidency.ucsb.edu/node/252098