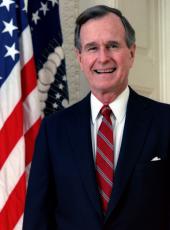 Ambassador Bush's Informal Remarks to the New York Times in Detroit
Just a few minutes before he appeared at the convention, out of a clear blue sky I might add, Governor Reagan called me up and asked if I would be willing to run with him on this ticket. He was most gracious in the invitation and I, of course, was very, very pleased to be invited to do this, should the convention take the final action. I was surprised. And the other emotion was, I, of course, was very pleased.
I've indicated, as I've said in my speech tonight over there, it is absolutely essential that Governor Reagan be elected the next President of the United States. And if he feels I might be of some help in the ticket, and then if he's successful, in that job, it is an enormous compliment. And I feel honored by it.
And I told him only one thing, and that is: I did tell him I would do what all Republicans should do, enthusiastically support this platform. And secondly, I told him I would work, work, work for his election. And that's the way it is. And I, of course, am delighted. And if the convention does what he has asked them to do, I will be an enthusiastic running mate.
Q: Mr. Bush, what do you think happened? How did this happen?
A: I have no indication. And as I told you, and I leveled with all of you, it was a total surprise to me.
Q: Why a total surprise, Ambassador? Your name was ...
A: Well, but you people were circulating a lot of rumors out there. And maybe they were based on a lot of facts, that some other - that there were other considerations. And indeed - wait, may I finish, please - and indeed Governor Reagan confirmed that Gerald Ford, for whom he has enormous respect and for whom I have enormous respect. There was some indication, early on, that there could be some interest there. So it surprised me that you didn't know about it.
Q: Were you shaken?
A: No, I'm not shaken. I was not shaken then. I never expected that Governor Reagan owed me an invitation of any kind.
Q: Did you have an inkling when you got that tremendous reception - I was there on the floor - that was quite an ovation?
A: No, because, I'm being very candid with you, I thought it was going in another direction.
George Bush, Ambassador Bush's Informal Remarks to the New York Times in Detroit Online by Gerhard Peters and John T. Woolley, The American Presidency Project https://www.presidency.ucsb.edu/node/285630