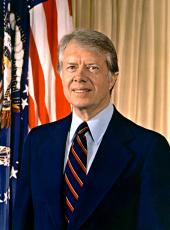 Agency for International Development Nomination of John J. Gilligan To Be Administrator.
The President today announced that he will nominate John J. Gilligan to be Administrator of the Agency for International Development. Gilligan served as Governor of Ohio from 1971 to 1975 and is currently president of John J. Gilligan Consultants.
He was born in Cincinnati, Ohio, on March 22, 1921. He received a B.A. degree from the University of Notre Dame in 1943 and an M.A. degree from the University of Cincinnati in 1947. Between 1942 and 1945, he served in the United States Navy as a lieutenant.
Gilligan was an instructor of literature at Xavier University from 1948 to 1953. In 1953 he was elected to the Cincinnati City Council, and was reelected five times. He was elected to Congress in 1964 and served as a member of the Committee on Interstate and Foreign Commerce.
In 1968 Gilligan was the Democratic candidate for the U.S. Senate from Ohio, and in 1970 he was elected Governor of Ohio.
In 1973 he served on the Mikulski Commission for the reform of the delegate selection process of the Democratic Party. At the 1976 Democratic National Convention, he was secretary of the platform committee.
Gilligan was appointed a fellow of the John F. Kennedy Institute of Politics at Harvard in 1969, and served an 18-month appointment as a fellow at the Woodrow Wilson International Center for Scholars, Washington, D.C., in 1975-76.
He has also served as chairman of the Committee on National Priorities and Resources and is presently chairman of the National Democratic Forum.
Gilligan is married to the former Mary Kathryn Dixon. They have two sons and two daughters and one granddaughter. Their permanent residence is in Cincinnati, and they are currently residing in the District of Columbia.
Jimmy Carter, Agency for International Development Nomination of John J. Gilligan To Be Administrator. Online by Gerhard Peters and John T. Woolley, The American Presidency Project https://www.presidency.ucsb.edu/node/242928