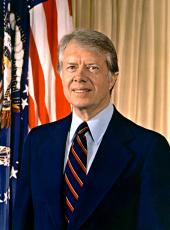 Agency for International Development Nomination of Frederick T. Van Dyk To Be an Assistant Administrator.
The President today announced that he will nominate Frederick T. Van Dyk, of Potomac, Md., to be an Assistant Administrator of the Agency for International Development. His area of responsibility will be the Bureau for Interagency Development Coordination. Van Dyk is president of Van Dyk Associates, a Washington public and governmental affairs consulting service.
He was born on October 6, 1934, in Bellingham, Wash. He graduated from the University of Washington in 1955 and received an M.S. in 1956 from the Columbia University Graduate School of Journalism. He subsequently worked as a reporter and editor for the Seattle Times and United Press, and in private business in Boston and New York.
After military service (Army Intelligence) in Washington, D.C., he served from 1962 to 1964 as a public affairs and information representative there on behalf of the European Communities (Common Market, Euratom, Coal and Steel Community).
From 1964 to 1968, Van Dyk was assistant to Senator and Vice President Hubert Humphrey, serving as his chief speechwriter, his National Security Council and Cabinet staff assistant, and as director of Cabinet task forces on travel and textile policy chaired by Vice President Humphrey.
In 1968-69 Van Dyk served as vice president for public affairs at Columbia University. In late 1969 he returned to Washington to found Van Dyk Associates.
Van Dyk served as a member of the Democratic Policy Council from 1969 to 1972, as a principal author of the 1968, 1972, and 1976 Democratic platforms, and as an adviser to the Carter-Mondale campaign and transition. He chaired the domestic affairs session of the National Democratic Issues Conference in 1975 and is vice chairman of the National Democratic Forum.
Jimmy Carter, Agency for International Development Nomination of Frederick T. Van Dyk To Be an Assistant Administrator. Online by Gerhard Peters and John T. Woolley, The American Presidency Project https://www.presidency.ucsb.edu/node/243752