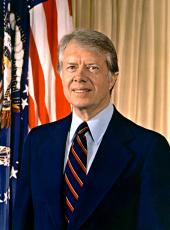 Advisory Panel on Financing Elementary and Secondary Education Appointment of 15 Members and Designation of Chairman.
The President today announced the appointment of 15 persons as members of the Advisory Panel on Financing Elementary and Secondary Education. They are:
CHARLES S. BENSON, a professor of education at the University of California at Berkeley, an expert on the economics of education;

THEODORE M. BLACK, SR., a retired Army lieutenant colonel who serves on the New York State Board of Regents;

JOHN E. COONS, a professor of law at the University of California at Berkeley, and coprincipal investigator on the Childhood and Government Project at Berkeley;

JOSEPH O. GARCIA, director of the California School Finance Reform Project at San Diego State University School of Education;

ROBERT GRAHAM, Governor of Florida, who was chairman of the Florida Senate's education committee from 1972 to 1975 and has also served as a member of the National Commission to Reform Secondary Schools;

TERRY HERNDON, executive director of the National Education Association;

EDWARD T. HUGHES, auxiliary bishop of Philadelphia, Pa., and former chairman of the Association of School Superintendents of the U.S. Catholic Conference;

VICTORIA LEDERBERG, a professor of psychology at Rhode Island College and member of the Rhode Island General Assembly (also designated Chairman of this Panel);
DOROTHY L. MATTISON, a public school music teacher with the Sullivan County (Tenn.) school board and a member of the Bristol, Tenn., city council;

JAMES A. McDERMOTT, a Seattle, Wash., psychiatrist and consultant to the Washington State Department of Social and Health Services Division of Juvenile Rehabilitation and King County Juvenile Court;

ALBERT SHANKER, president of the American Federation of Teachers and a vice president of the AFL-CIO;

CARL SHARIF, assistant to Mayor Kenneth Gibson of Newark, N.J., a former consultant on the development of Neighborhood Education Development Centers (storefront schools);

WILLIAM SIMMONS, superintendent of Wayne County (Mich.) Intermediate School District, and an adjunct professor of education at Wayne State University;

MARGARET C. SIMMS, chairman of the economics department at Atlanta University and director of the Institute for Urban Affairs;

CAROLYN WARNER, State superintendent of public instruction for the State of Arizona.
Jimmy Carter, Advisory Panel on Financing Elementary and Secondary Education Appointment of 15 Members and Designation of Chairman. Online by Gerhard Peters and John T. Woolley, The American Presidency Project https://www.presidency.ucsb.edu/node/249317