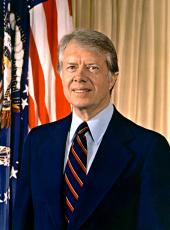 Adoption Assistance and Child Welfare Act of 1980 Statement on Signing H.R. 3434 Into Law.
It is with great pleasure that I sign into law today H.R. 3434, the Adoption Assistance and Child Welfare Act of 1980. This legislation is the product of more than 3 years of cooperative effort by the administration and Congress. It makes great improvements in Title XX, the basic Federal social services program. It reforms our current crisis-ridden foster care program, creates a Federal adoption assistance program for children with special needs, and reinforces the child welfare services program.
The sad statistics underlying the need for this legislation are all too compelling-more than 500,000 children across the country are in foster care. Although foster care placements are supposed to be temporary, almost half of these children have been away from their families for longer than 2 years, and about 100,000 have spent more than 6 years of their young lives in foster care. Almost one-fourth of these children are awaiting adoption, yet no adoptive homes have been found for them, and the services and assistance these young people need have not been available.
This legislation holds the promise of dramatically improving the lives of these children and their families. By authorizing funding for services designed to prevent family breakup, we are placing a firm emphasis on helping families keep their children at home. By encouraging States to provide services designed to return children to their families where possible or to place them in permanent family-like settings, we are responding to the need for permanence and stability in children's lives.
H.R. 3434 provides important protections for children and their families, designed to ensure that children are not "lost" in foster care. It creates a new Federal adoption assistance program to build on the leadership and hard work of the States, and it authorizes additional incentive funds to assist States in providing services badly needed by children and their families.
I believe this legislation represents an important initiative in Federal policy. This legislation would not have succeeded on its long and often rocky road to enactment if not for the persistent and dedicated efforts of several Members of Congress: Representative George Miller, who began looking into the foster care system 5 years ago; Representatives Jim Corman and Bill Brodhead, who shepherded the bill through the Ways and Means Committee; and Senators Russell Long, Daniel Moynihan, and Alan Cranston, whose cooperation and legislative acumen made passage possible.
Note: As enacted, H.R. 3434 is Public Law 96-272, approved June 17.
Jimmy Carter, Adoption Assistance and Child Welfare Act of 1980 Statement on Signing H.R. 3434 Into Law. Online by Gerhard Peters and John T. Woolley, The American Presidency Project https://www.presidency.ucsb.edu/node/251025