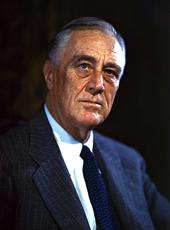 Address at White House Governors' Conference
I have been so occupied since noon on Saturday that I have not had a chance to prepare any formal remarks. I start off by saying to the Governors and their representatives that as a Governor myself for the past four years I am on somewhat intimate terms with the duties of Governors and also with the rights and duties of States. The country needs cooperation between the States and the Federal Government. I think this has been well demonstrated by the events of the past forty-eight hours.
The States acted with remarkable promptitude in preventing a panic at a time when it might well have developed. The situation, however, did get to the point yesterday where some kind of uniform action seemed necessary, and as you know resulted in two things: the calling of a Special Session of Congress for Thursday, and a proclamation to take care of the immediate emergency between now and Thursday.
In that proclamation there were four or five main objectives. The first one was to prevent the withdrawal of any further gold and currency. The old War Statute of 1917 had not been repealed and we used it. It was an exceedingly useful instrument. The second objective was to provide some form of circulating medium for the country in addition to the outstanding currency, because a large part had been put into hiding. I have confidence the public will accept that circulating medium.
We should provide some method by which banking can go on with new cash coming in. It is proposed through the Treasury Department that every bank will be authorized to open new accounts, and that the money deposited in the new accounts can be withdrawn at any time. 'The only way in which that money can be kept absolutely safe beyond peradventure of doubt is by using methods to keep it safe—first, keeping the money in cash the way it is put in; second, depositing it in the Federal Reserve Bank; and third, purchasing Government bonds with it.
Recognized Government bonds are as safe as Government currency. They have the same credit back of them. And, therefore, if we can persuade people all through the country, when their salary checks come in, to deposit them in new accounts, which will be held in trust and kept in one of the new forms I have mentioned, we shall have made progress.
All I can say is, I am very grateful for what the States have done in this emergency. We want if possible to have a general banking situation, that is to say, one covering national banks and State banks, as uniform as possible throughout the country. At the same time we want to cooperate with all of the States in bringing about that uniformity. I have no desire to have this matter centralized down here in Washington any more than we can help. I don't believe there is much more to say about banking.
The letter that I sent to you took up several matters: First, there is the conflicting taxation between Federal and State Governments. Every one of you has been seeking methods to find new sources of taxation. It has been natural and human to expect that the Federal Government also should try to find some method of raising revenue.
A second question relates to Federal aid in unemployment relief. The Federal Government, of course, does have to prevent anybody from starving, but the Federal Government should not be called upon to exercise that duty until other agencies fail. The primary duty is that of the locality, the city, county, town. If they fail and cannot raise enough to meet the needs, the next responsibility is on the States and they have to do all they can. If it is proven that they cannot do any more and the funds are still insufficient, it is the duty of the Federal Government to step in.
We come to the question of coordinating work. It is very difficult to know in the Federal Government what States are doing well for unemployment relief and what States are not, and it is my thought that I can create some kind of central relief agency which will be a fact-finding body, which will coordinate the work of States, and act as a clearing house for the relief of the Nation. I hope to get that set up in the next two or three weeks.
The third proposition is the reorganization and consolidation of local government to reduce the taxation cost. That is your problem and it has been my problem for the past four years.
And there is the question of mortgage foreclosures especially on farm land and on small homes. There again we have no national policy. Some of the States are doing it one way and other States are doing it another waif. Some States and some localities are closing their eyes to existing laws and do not have any foreclosures. As yet we have no national policy for it, but I believe we can have one.
Franklin D. Roosevelt, Address at White House Governors' Conference Online by Gerhard Peters and John T. Woolley, The American Presidency Project https://www.presidency.ucsb.edu/node/208064