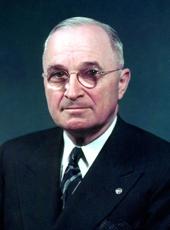 Address at Valley Forge at the Boy Scout Jamboree.
Governor Duff, President Houghton, Boy Scouts of the world:
I certainly appreciate most highly this decoration you have given me. I hope I can deserve it, and that I can wear it with honor to this great organization.
As Honorary President of the Boy Scouts of America, I am proud to open this Scout Jamboree. I understand that there are nearly 50,000 Scouts in this encampment. I am glad to see such evidence of the Strength of the Scout movement. And I think it most appropriate in times like these that you have chosen to hold your Jamboree at this historic shrine of Valley Forge.
When George Washington brought his army to this spot in December 1777, the cause of independence appeared to be lost. His army at that time numbered only 11,000 men--less than one-fourth the number of Scouts attending this Jamboree. Washington's men were without adequate food. They were in rags. Some had no shoes. They had to build their own shelter against the bitter weather. The enemy occupied the capital city of Philadelphia. Few men believed that George Washington's tiny force could survive. Victory seemed out of the question.
Just suppose that George Washington had had about 15 miles of that 35 miles of hot dogs you have here. Think what that would have meant to him and his army at that time. You ought to appreciate how well fed you are, how well taken care of you are in this great Nation of ours. There are thousands and thousands of people in this world who are right on the verge of starvation, and who are starving to death. You should be thankful for the privileges which you have under this great Government of yours.
But the men of Washington's army stuck it out. They stuck it out because they had a fierce belief in the cause of freedom for which they were fighting. And because of that belief, they won.
I know that we still have, in this country, that same unconquerable belief in freedom.
Many of you know, I am sure, that men from other countries came over here, during our Revolutionary War, to fight with us for freedom. Lafayette was a Frenchman; Von Steuben, a German; Pulaski, a Pole, and many others were here with our army at Valley Forge.
Today, even more than in Washington's time, men in other countries share our belief in freedom and our willingness to make sacrifices for it. These men are just as eager as we are to achieve peace in the world based on freedom and justice. If we are to succeed in our common struggle for peace, we must know and work with these freedom-loving people of other countries. We need to understand their problems and they need to understand ours, so that all of us can work together effectively.
I am very glad that the Boy Scouts are doing so much to further this understanding among the people from different countries. You are to be congratulated on sending so many food and clothing packages overseas and on your support of the United Nations Appeal for Children and the World Friendship Fund.
At this encampment there are Scouts from every State in the Union, from Alaska, Hawaii, Puerto Rico, and from the Philippines and many other foreign countries. This is a practical demonstration of how to achieve world understanding. When you work and live together, and exchange ideas around the campfire, you get to know what the other fellow is like. That is the first step toward settling world problems in a spirit of give and take, instead of fighting about them.
I wish that more people from foreign countries would visit here and learn about our way of life. When visitors come over here and spend some time with us, they carry back to their home countries a better picture of what American democracy is really like.
And the same thing is true in the other direction. The more of us from the United States who go abroad, and live for awhile with people in other countries, the better prepared we will be to work with other nations for peace in the world.
I hope that many of you Scouts will have a chance to attend Jamborees like this one in other countries. I hope that in the future you will have opportunities to travel and live abroad. Some of you may decide to choose your life work abroad--in business, in religious or educational activities, or in Government.
For those of you who are so inclined, I don't believe you could find a more satisfying career. There is a tremendous amount of pioneering work to be done. In many lands the people are eager to learn modern methods of making their lives healthier and more secure. Our young citizens can heap to teach modern techniques to the people of these areas, and assist them to improve their health and education, increase their production, and raise their standards of living. Bringing better conditions to the people of these countries will be a great contribution to the cause of peace.
The Scout movement is good training for this kind of international work. Scouting is based on the ideal of human brotherhood. Scouts know that the men of other lands are very like ourselves. They have the same desire to work for human advancement.
The great tragedy of our times is that there are movements in the world that deny this fundamental ideal of human brotherhood. These movements have devoted themselves to preaching distrust between nations. They have made a religion of hate. They have tried to turn the peoples of the earth against one another--to create a gulf between different peoples that fellowship cannot bridge. As a part of this effort, they have tried to poison the minds of the young people.
Back in the days of Hitler and Mussolini, the young people of Germany and Italy were regimented in organizations dedicated to the idea of racial hatred and war. They were shut off from the influence of their families and their churches, and sacrificed to the ambition of the tyrants who led them.
Today, the young people of Communist-dominated countries are being mobilized and marched, in the same fashion, under the hammer and sickle. These boys and girls are being given a completely distorted picture of the world and prevented from learning the truth about other countries. They are being taught to place the state above the obligations of family life. They are being brought up to despise religion and to believe that God does not exist. They are being made into tools of power politics, and their masters will not hesitate to sacrifice their lives if that will advance the cause of Communist imperialism.
This is a sad and terrible thing. You Scouts can understand only in part how sad it is. But your parents can understand the sorrow that afflicts the parents of other lands when they see their children taken away from them in this way, turned against the ideals they hold dear, and used to serve the purpose of a godless power.
How can we meet this situation ? There is only one way. We must not return hate for the hate which these young people are being taught to feel toward us. We must realize that they are the victims of a cynical group of leaders. We must make it clear to them that we believe in the fellowship of human beings, in the possibility of cooperative human action, and in peace based on mutual understanding. We must show them, over and over again, that fellowship is possible between men of different nations, different colors, and different creeds.
We must continue to hold out to them the invitation to work with us for the common good.
We are deeply and sincerely interested in the well-being of the youth of the world-not only American youth, but the young people of all countries. We are working, and we will continue to work, for a world in which young people are not regimented and exploited, but instead are given the opportunity to develop their capacities and contribute to a better future.
The United States, together with the other free nations, is striving to build a world in which men will live as good neighbors and work for the good of all. Our program for peace is not directed against the people of any land. It is designed to bring to all people the benefits of justice and freedom.
I hope that you young men in the Boy Scout movement, in this country and other countries, will take home from this Jamboree a clearer understanding of the meaning of human brotherhood. I hope that you will work for freedom and peace with the same burning faith that inspired the men of George Washington's army here at Valley Forge.
We cannot succeed in building a peaceful world unless we all work as hard as we know how. I am confident that you will all do your very best.
Note: The President spoke at 9:05 p.m. at Valley Forge, Pa. In his opening words he referred to James H. Duff, Governor of Pennsylvania, and Amory Houghton, president of the National Executive Board, Boy Scouts of America.
The decoration presented to the President was the Silver Buffalo Award.
The address was broadcast nationally.
Harry S. Truman, Address at Valley Forge at the Boy Scout Jamboree. Online by Gerhard Peters and John T. Woolley, The American Presidency Project https://www.presidency.ucsb.edu/node/230927