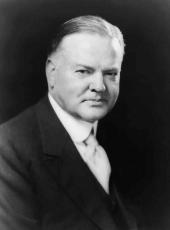 Address to the Welfare and Relief Mobilization Conference
For the third time representatives of the great voluntary relief agencies of this country are here assembled to consider with earnestness and sympathy what measures may be undertaken for the relief of those in distress among our people.
To that great work, 2 years ago, Colonel Arthur Woods gave devoted effort. When Colonel Woods was reluctantly obliged to return to other commitments, Mr. Walter Gifford assumed command for the winter of 1932. Unable because of other great responsibilities to continue the work this year, Mr. Gifford leaves the chairmanship to another man of leadership and proved ability, Mr. Newton Baker.
You are here again to discuss ways and means, to estimate resources and needs. Our tasks are definite.
The first is to see that no man, woman, or child shall go hungry or unsheltered through the approaching winter.
The second is to see that our great benevolent agencies for character building, for hospitalization, for care of children and all their vast number of agencies of voluntary solicitude for the less fortunate are maintained in full strength.
The third is to maintain the bedrock principle of our liberties by the full mobilization of individual and local resources and responsibilities.
The fourth is that we may maintain the spiritual impulses in our people for generous giving and generous service--in the spirit that each is his brother's keeper. Personal feeling and personal responsibility of men to their neighbors is the soul of genuine good will; it is the essential foundation of modern society. A cold and distant charity which puts out its sympathy only through the tax collector yields a very meagre dole of unloving and perfunctory relief.
With each succeeding winter in this period of great distress our problem has become larger and more difficult. Yet the American people have responded to meet it.
The extent of that response has been obscured by the breadth and depth of the suffering which it has sought to relieve. The sensation produced upon every observer of our present national scene, and particularly upon every active participant in efforts to mitigate its evils, has been primarily one of profound personal distress in association with the distress of the country. The time has gone by when a depression could be regarded only as a depression of business. It must be regarded now as something deeper, involving a social responsibility not merely for measures helpful to the restoration of business, for fundamentally they are actions on behalf of those whom business has ceased to be able to employ. They are not the authors of the misery which is upon the land. They are its victims. In the meantime the suffering about us is so intense and the demands upon our sympathy are so penetrating that often, in so dark a picture, we can see no ray of light and no trace of alleviating accomplishment.
Yet accomplishment there has been, accomplishment in the highest degree creditable to the generosity and effectiveness of the American people.
That the American people have made a broad and courageous attack upon the consequences of our present unparalleled calamity is amply suggested by the state of public health in the Nation. I recognize that there are exceptions both local and individual to any general statement; yet no one can deny the scientific determination of our public health officials throughout the land. Their reports to the Surgeon General of the United States represent the final word upon the efficient and devoted sense of responsibility of our people in this obligation to our fellow citizens. Overwhelmingly they confirm the fact that general mortality rate, infant mortality rate, epidemics, the disease rate, are less than in normal times. There is but one explanation; that is, that through an aroused sense of public responsibility, those in destitution and their children are receiving actually more regular and more adequate care than even in normal times.
With the possibility of still larger tasks and lessened individual local resources for the next winter, before the close of the last Congress I secured to the Red Cross 85 million bushels of wheat, 500,000 bales of cotton and an authorization to the Reconstruction Finance Corporation to advance $300 million to such States as could not finance themselves to care for distress.
Nor are we seeking relief only by direct provision for distress which is your problem. In the Federal Government we are providing employment during this year through the speeding up of necessary Federal construction work to a huge total of over $750 million. In addition, we have provided for loans of $1,500 million for construction of public enterprises of self-sustaining character. Wherever possible we are concentrating that effort for the winter months. In addition, our employers and our labor groups have been organized anew in a systematic nationwide campaign to further spread the available work and to shorten working hours. Further, the economic effect of the great institutions built and strengthened by the Government and the effort of the people themselves in many directions have shown evidences of success by the test of increasing private employment and rise in prices.
With these backlogs behind your efforts and those of local authorities, we must make sure that no American will this winter go hungry or cold. These programs of the Government are based upon the continuation of your services. They presuppose adequate neighborhood support to your efforts which still comprise a large part of our reliance. The presuppose that the thousands of agencies which in normal times carry the load of distress shall function this winter to their utmost capacity. Let no man believe,. because we have summoned the power of Government to these ends, that it can replace your efforts.
This is, I trust, the last winter of this great calamity. Yet despite a dawning hope upon the horizon, individual need in the meantime may be greater than before. Despite these gigantic efforts of direct and indirect relief, we must not fail to recognize the slow seepage of the resources of many families and the consequently increased responsibility which falls upon the more fortunate. Moreover there is parallel with it all the depleted resources of those to whom you must appeal for aid. Those who support you this year will, many of them, be sacrificing from their own needs. No greater call can be made upon American patriotism and self-sacrifice.
Your organizations have, therefore, a most difficult task. I am confident that you will succeed. Our people are the most generous of all peoples. Most of us started in life poor or with little. What we have is the result of our own toil in this land rich in resources and opportunity. Most of us have known the helping hand of others in some human service and some human kindness and today as never before do we owe repayment of that debt. I sometimes think of relief in terms of insurance. Over the years our people contribute to the aid of others. The unexpected time comes of their own need, and they draw from this common pool. There lies in this no loss of self-respect.
So long as the world stands, there will be human misfortune and human suffering from causes men cannot control. There will be nationwide calamities the result of which may be that any one of us may be the giver and any one the receiver. Yours are the great agencies which seek the one and serve the other.
On such occasions as these there is more to be done than merely giving. There is the helping hand that should go with giving. The friendly counsel, the aid m solution of family and individual problems, our outpourings of the human spirit beyond dollars alone. Many a family today is carrying a neighbor family over the trough of this depression not alone with material aid but with that encouragement which maintains courage and faith.
If all who are able will themselves search out or through your agency find a family to whom they may become that guardian, both will be the gainers of far more than the money exchanged.
The need before us is immediate. It is large. Millions of men and women face the approach of winter with fear in their hearts. The children sense the dread their elders feel. You have nobly offered your service to them and to the Nation. I speak not more to you than to the unseen millions of my fellow countrymen and countrywomen, in personal appeal that they too shall take this neighborly need upon their conscience, that they shall share with you this burden, that they give generously of their means to your support. So out of Charity will come not only Hope but Faith.
Note: The President spoke at 10 a.m. to the opening meeting of the conference assembled on the White House lawn. Attending were 200 businessmen and welfare workers, representing 29 national relief and welfare agencies, acting as a planning committee for a national campaign to raise relief funds and stimulate charitable activities.
In his address, the President referred to Arthur Woods, Chairman of the President's Emergency Committee for Employment (PECE); Walter S. Gifford, Director of the President's Organization on Unemployment Relief (POUR); and Newton D. Baker, head of the National Citizens Committee for Welfare and Relief Mobilization.
Herbert Hoover, Address to the Welfare and Relief Mobilization Conference Online by Gerhard Peters and John T. Woolley, The American Presidency Project https://www.presidency.ucsb.edu/node/207531