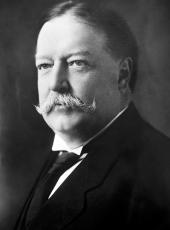 Address at the Two Hundred and Fiftieth Anniversary of the Founding of Norwich, Connecticut
My Friends:
I think it was last year that I had the pleasure of addressing a Norwich audience. Then I talked to you on the subject of the Panama Canal and I promised to come back here at the 250th anniversary of your city's foundation, whether I was nominated and elected for the Presidency or not. I said that probably you would not want me if I was not elected, and I haven't had an opportunity to test you on that. But it is a great pleasure to come back to this beautiful town. I like to call it a town because while you make a distinction between the city and the town, the term town suggests its wonderful history. Well may it be called the Rose of New England. Its beauties to-day and its sweet memories of the past justify the use of that term, and if I were a Norwich man I should hug it to my bosom. There is something about the town differing from most towns whose history I know, in the individuality of the town itself. There are other towns that have had noted individuals who have made history. Norwich has had noted individuals whose characters, continued through three great crises, have given a character and an individuality to the town itself.
Major John Mason was a great man and he had a son-in-law, James Fitch, a minister of the gospel in this town for forty years, who was a good man; and there were in those thirty-five men in whose name the nine square miles were given by Uncas, men of bone and sinew fit to meet the tremendous trials of those early days.
Then you came to the revolutionary time and you were not wanting, for out of the descendants of your first settlers you furnished great force to that which was needed to separate this country from England. And then again in the Civil War you furnished much more than your quota, and the names of the men who marched out from Norwich would have done credit to many a larger city with a much greater population to draw from.
One of the things that the history of this town suggests is the character of the government that you had here in the early days. Like that of the government of other New England towns, but perfect in its way, it was almost a theocracy. The minister, James Fitch, was not alone a minister of the gospel as we know him to-day, exercising a beneficent influence in the community, but he spoke by authority, the State was behind him, and the men and women of the community were obliged to conform to the rules of morality and life which he laid down.
We speak with great satisfaction of the fact that our ancestors—and I claim New England ancestry—came to this country in order to establish freedom of religion. Well, if you are going to be exact, they came to this country to establish freedom of their religion and not the freedom of anybody else's religion. The truth is, in those days such a thing as freedom of religion was not understood. Erasmus, the great Dutch professor, one of the most elegant scholars of his day, did understand it and did advocate it, but among the denominations it certainly was not fully understood. We look with considerable horror and with a great deal of condemnation on those particular denominations that punished our ancestors because our ancestors wished to have a different kind of religion, but when our ancestors got here in this country and ruled they intended to have their own religion and no other. But we have passed beyond that and out of the friction. Out of the denominational prejudices in the past we have developed a freedom of religion that came naturally and logically as we went on to free institutions. It came from those very men who built up your community and made its character. The Rev. James Fitch could not look upon any other religion in this community with any degree of patience, but his descendants, firm in the faith as he was, now see that the best way to promote Christianity and the worship of God and religion is to let every man worship God as he chooses. This community was well supervised by the clergy, and did well by the clergy. The Rev. James Fitch, after fourteen years at Saybrook, came here and presided in the First Church for forty more years. I have heard clergymen say that after a clergyman passes his fiftieth year he ought to be made emeritus and step out of the profession. They did not say so in those days. There was an authority about a minister of the gospel that meant a good deal more than mere persuasiveness, and the clergyman's authority is one that seems to cultivate a long life.
The Rev. James Fitch was succeeded by Dr. Benjamin Lord and he was succeeded by Dr. Strong, all of the same church, and the Doctors Lord and Strong presided together, including six years when they were both ministers of this town, one hundred and seventeen years. Now, think of the influence in a community of God-fearing men with force of character, with power to condemn wrong and uphold right, and then you can understand how Norwich has survived and preserved an individuality.
Major Mason was a statesman. He was deputy governor. His chief was Governor Winthrop and Governor Winthrop, while Major Mason presided over the colony of Connecticut, went to London and found King Charles the Second in such good humor that he got that far-famed charter to Connecticut. They said that Charles II. was a monarch who never said a foolish thing and never did a wise one. Whether it was wise for him or not, the charter of Connecticut that he gave, with its principles of free institutions and its latitude to the people of Connecticut in carrying on their government, was certainly from our standpoint a wise act, and I don't wonder that when they tried to get it away they put it in that oak where it was not found.
The truth is, my dear friends, we hear a great deal of discussion of free government and references made to the declaration of independence which this day celebrates. And some people so construe that instrument that they would make it mean that any body of men or women or children are born with the instinct of self-government so that (hey can frame a government as soon as they begin to talk. Now, that is not true. Self-government has been fought out in the history' of this world and by certain races has been hammered out by a thousand years of struggle and men have taught themselves how to govern themselves. Men are not fit to govern themselves until they have sense and self-restraint enough to know what is their interest and to give every other man all that is coming to him according to right and justice.
Now, what is true with respect, therefore, to our ancestors is true with respect to many races in this world. They have to be led on and taught the principle and lesson of self-government. But our ancestors, by a wise negligence in the home government for nearly two hundred years, came to be the best-prepared people there were in the world for self-government. Take the town of Norwich and see how those thirty-five men and the people who followed them made up a government; how they were conscious of the responsibility that they took upon themselves when they attempted a government themselves, and how they carried on an orderly government, a government of liberty, regulated by law. So it was in every town in the thirteen colonies. They were all men of strength, of individuality, of self-restraint, and they knew what it cost to build up a government and maintain it; and when on the fourth of July, 1776, they declared their independence of Great Britain, they did it with reluctance and with hesitation because they knew the tremendous burden on their backs, and they knew the responsibilities that they owed to the world and that they owed to the people for whom they were making the declaration.
No better example of the character of those men who made that declaration of independence and who subsequently framed the Constitution of the United States could be found than right here among your representatives of the town of Norwich. Your selectmen, your leaders, had the education and the experience that fitted them, as all the Americans of that day were fitted, to organize and maintain a civil government and preserve the free institutions and liberty regulated by law.
Now you have stood and looked at the procession so long that your eyes are strained and I do not mean to strain your ears. I wish again to testify to the profound pleasure I have had in studying the history of the town of Norwich, of going over the characters of your great men and of realizing that the strength of your community—the character of your community—is in the character of the men that made it up; and I doubt not that right here under these beautiful elms, and in these houses, so many of which preserve the memories of the past, there is the same respect for virtue, for individual character, for honesty, for freedom and for law that was left to you as a legitimate legacy from the ancestors whose memory you honor to-day.
William Howard Taft, Address at the Two Hundred and Fiftieth Anniversary of the Founding of Norwich, Connecticut Online by Gerhard Peters and John T. Woolley, The American Presidency Project https://www.presidency.ucsb.edu/node/365239