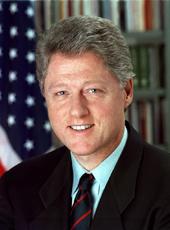 Address to the People of Israel
Good evening, and thank you, Ms. Dayan, for inviting me to speak to the people of Israel at this very difficult moment.
Over the last week the world has watched in horror as scores of innocent Israeli citizens have been murdered by suicide bombers. On behalf of the American people, I want to express my deepest sorrow and strongest outrage to the people of Israel and especially to the families and friends of the victims. As I have told Prime Minister Peres, I share your determination to do everything possible to bring this horror to an end and to bring those responsible to justice.
These fanatical acts are aimed not just at killing innocent people but at killing the growing hope for peace in the Middle East. Those responsible for these vicious crimes thrive on division and conflict. They know a new day is dawning in their region. They know the vast majority of Israelis and Palestinians have chosen the path of peace. With every new step that is taken along that path, the enemies of peace grow more desperate. We must not allow their hatred to turn us back to the past. We must counter their senseless violence with resolve and action.
Those who committed the recent bombings brutally attacked Israelis. But make no mistake: The future they darken is their own. Instead of a life of security and prosperity, all they have to offer is violence, poverty, and despair. Chairman Arafat knows that his leadership and the hopes of the Palestinian people are under direct challenge. He must do everything possible to end this campaign of terror.
I have pledged to Prime Minister Peres that the United States will work with Israel and with our friends in the Middle East to stop the killing, to bring the criminals to justice, to permit the process of peacemaking to continue. Today I announced a series of measures to support these critical goals. These include the immediate emergency transfer to Israel of sophisticated equipment for detecting explosives; the dispatch of American specialists to work with their Israeli colleagues on strengthening antiterrorism measures; the development of a comprehensive package of training, technical assistance, and equipment to improve antiterrorism cooperation among Israel, Palestinians, and regional governments; and urging our friends and allies all around the world to step up their own struggle for peace.
The United States has stood with you, the people of Israel, in times of triumph and tragedy. We stand with you today. Our nations both cherish the same ideals: freedom, tolerance, and democracy. And we know that whenever these ideals are under siege in one country they are threatened everywhere.
We have never been more determined to defend these ideals and to achieve our goal of a just and lasting peace in the Middle East. The road ahead will not be easy, but think how far you have come. Now is the time to redouble our efforts. Now is the time to be strong. Bullets and bombs must not prevail against the will for peace. And they will not.
NOTE: This address was recorded at 1:30 p.m. on March 5 in the Roosevelt Room of the White House for later broadcast in Israel. In his remarks, the President referred to Ilana Dayan, anchor, Channel 2 TV in Israel.
William J. Clinton, Address to the People of Israel Online by Gerhard Peters and John T. Woolley, The American Presidency Project https://www.presidency.ucsb.edu/node/222338