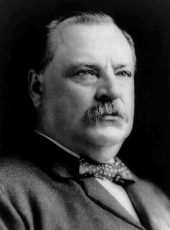 Address at the Opening of the World's Columbian Exposition (Chicago World's Fair)
I am here to join my fellow citizens in the congratulations which befit this occasion. Surrounded by the stupendous results of American enterprise and activity, and in view of magnificent evidences of American skill and intelligence, we need not fear that these congratulations will be exaggerated. We stand to-day in the presence of the oldest nations of the world, point to the great achievements we here exhibit, asking no allowance on the score of youth.
The enthusiasm with which we contemplate our work intensifies the warmth of the greeting we extend to those who have come from foreign lands to illustrate with us the growth and progress of human endeavor in the direction of a higher civilization.
We who believe that popular education and the stimulation of the best impulses of our citizens lead the way to a realization of the national destiny which our faith promises, gladly welcome the opportunity here afforded us to see the results accomplished by efforts which have been exerted longer than ours in the field of man's improvement, while in appreciative return we exhibit the unparalleled advancement and wonderful accomplishments of a young nation and present the triumphs of a vigorous, self-reliant and independent people.
We have built these splendid edifices, but we have also built the magnificent fabric of a popular government whose grand proportions are seen throughout the world. We have made, and here gathered together objects of use and beauty, the products of American skill and invention. We have also made men who rule themselves.
It is an exalted mission in which we and our guests from other lands are engaged, as we co-operate in the inauguration of an enterprise devoted to human enlightenment, and in the undertaking we here enter upon we exemplify in the noblest sense the brotherhood of nations.
Let us hold fast to the meaning that underlies this ceremony and let us not lose the impressiveness of this moment. As by a touch the machinery that gives life to this vast exposition is now set in motion, so at the same instant let our hopes and aspirations awaken forces which in all time to come shall influence the welfare, the dignity and the freedom of mankind.
NOTE: The President then touched an electric button and the great engine of 8000 horse power was set in motion.
SOURCE: Frederick Saunders, A.M., Librarian of the Astor Library. Addresses Commemorative of the Four Hundredth Anniversary of the Discovery of America, 1892-1893. New York: E.B. Treat, 1893.
The identical text was published in a newspaper: 1893-05-02 "The White City: Formal Opening of the Great World's Exposition" [Nashville, TN] Daily American.
Grover Cleveland, Address at the Opening of the World's Columbian Exposition (Chicago World's Fair) Online by Gerhard Peters and John T. Woolley, The American Presidency Project https://www.presidency.ucsb.edu/node/363221