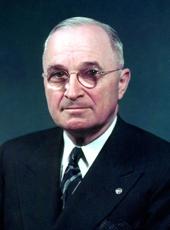 Address at the Opening of the Conference on Fire Prevention.
Ladies and gentlemen:
It is a pleasure for me to have the privilege to come over here and discuss with you this morning some things in which I am intensely interested.
The Nation has been shocked by a long series of spectacular fires in the last few years--particularly in the last few months-which have resulted in such great loss of life and such widespread misery. Just the other day, the Texas City disaster drove home anew the lesson that we must find ways and means to combat the ever-present danger of fire and explosion. The great hotel fires of last year again showed that we cannot afford to entrust our citizens' lives to unsafe buildings.
But these fires which make headlines are only a small fraction of the total. Thousands of lives are lost annually and tens of thousands of people are injured in the many less spectacular fires which occur hour after hour, and day after day, throughout the year.
This conference brings together for the first time the highest officials of municipalities, States, the Federal Government, and national groups interested in fire prevention and in saving lives from fires. We are approaching the fire problem on a truly national basis.
Our first concern is for the lives of our people, especially those of young people. Fire strikes hardest at youth. Two thousand children, on the average, die every year from burns, and thousands of others are scarred and injured for life. This toll must be reduced.
Next in importance is the fact that we as a Nation cannot continue to ignore the staggering destruction of goods, natural resources, buildings, and other property by fire. During the last 12 months fires destroyed more than $560 million worth of our wealth. The loss for 1947 will be more than three-quarters of a billion dollars unless we can reduce the present fire rate.
No dollar value can ever be put on the irreplaceable things which fire destroys. Who can count the value of a human life destroyed by fire? Who can say what a fire costs when it destroys thousands of tons of food sorely needed here and abroad? What is the value of a house, the burning of which makes a family homeless during this housing shortage? Who can put a dollar value on a burning forest?
The fire loss, in lives and in property, which occurs annually in our forests and rural areas makes up a highly important part of the annual toll. Such destruction of our precious natural resources is of concern to each of us.
Who can say what fire costs the Nation when a single fire in one factory can result in lost jobs and lost wages for hundreds of workmen, reduced savings and reduced volume of trade throughout a community?
These are some of the tragic consequences of more than 830,000 fires that occur annually in the United States. It is for this conference to determine the causes of this destruction and map out a program of preventive action. We must use all our experience, knowledge, and organizational facilities to solve our fire problems.
Great advance has been made in the technical methods of prevention and protection. The concerted effort of all our people is needed in order to make effective the known methods of preventing fires and preventing large losses where fire occurs.
A contributing factor in our fire death toll is our legacy of old construction. Also, we have a complexity of building laws and codes in some communities, and too few in others. In many communities, these laws are outdated, and the responsibility for safety from fire is not clearly defined.
We have wide areas in the Nation with inadequate fire protection. Our forests need to be safeguarded against the thousands of fires--most of them set by human carelessness--that sweep over millions of acres annually. Our rural areas must have improved and better coordinated protection.
We also have entered upon a new era of scientific and industrial development, with the accompanying special hazards of new chemicals and industrial processes. Many of these hazards are not yet widely understood. For the protection of our industrial plants, we must see that fire prevention keeps pace with scientific research.
The recent war showed that we had grave shortages of experienced fire fighters both in our Armed Forces and in our civilian life. The question of using some of the training methods developed during the war and the National Guard facilities for the training of firemen is certainly to be considered if we are to provide our cities and our Armed Forces with the skilled firemen we need.
I want to pay a tribute to our firemen. Were it not for their bravery and their willingness to sacrifice, our death toll would be much higher and our losses even more appalling than they are today. I hope that this conference will help to produce conditions that will make our firemen's dangerous work less necessary, and their services, when needed, of even greater effectiveness.
There is also to be considered the matter of personal responsibility for fires. This is not a new problem, for it is recorded in the Book of Exodus, more than three thousand years ago:
"If a fire break out, and catch in thorns, so that the stacks of corn, or the standing corn, or the field, be consumed therewith; he that kindled the fire shall surely make restitution."
The conference might well consider the strengthening of the present laws having to do with negligence.
These are but a few of the problems that face us. I know that you will try to find practical solutions that will save lives and resources.
Safety from fire should not be a topic for discussion during only 1 or 2 weeks of the year. It is definitely a year-round public responsibility. I believe that the highest State and municipal officials must assume greater responsibility for leadership in this field. We in the Federal Government can give aid within the framework of existing agencies. But the impetus must come from the States and from every community and every individual in the land.
Your public officials at home are going to need the expert help which you in attendance at this conference can give them. And you must provide part of the leadership in your own communities for any public support to be given to your local officials and fire departments.
Just a year ago I called a similar national conference to consider the shocking toll of highway traffic accidents and to work out an effective program to meet that problem. General Fleming was also chairman of that conference. Since then we have seen a reduction in deaths and injuries from traffic accidents that has more than justified all our efforts. We can fight the fire problem in exactly the same way.
I deeply appreciate your acceptance of my invitation to come here. In working out a plan which will reduce the fire menace and cut down the toll of death and destruction, you will be making a most valuable contribution to the welfare of our Nation. You have my pledge of help, during the period of this conference, and in the days to come.
[Additional remarks of the President which were not included in the prepared text follow:]
I would like to call your attention further to just a few things in which you should be vitally interested. We have an appalling situation in this country, brought about by neglect and carelessness for the most part.
There are 23 million people in this country who have been physically injured in some manner, either in automobile wrecks, or fires, in the home, or in other places, and most of these people were unnecessarily injured.
Now we are trying to start at the source to see if we can't cut down that immense toll which negligent accidents take from the citizens of this country. Imagine 23 million people with eyes out, arms off, legs off! It's terrible! We are rehabilitating our soldiers who were injured in the war. We are teaching those without legs how to walk; and we have legs invented that are almost equal to the natural article. Nothing is really equal to that, but these are, almost. And they have artificial arms for those men. But the 23 million are the cares of the local communities, they are the cares of their families.
You can help prevent that. You can help cure that awful situation.
As a result of the conference on automobile accidents last year, we estimate that we have saved six thousand lives in this past year. It was well worth the effort, but it still isn't enough--it still isn't enough. I sincerely hope that you will earnestly go to work on this other phase, this unnecessary loss of life by fire, and will make a contribution at least equal to the one that was made by the effort to stop automobile accidents.
Lots of these things are absolutely unnecessary, in fact most of them are. Most of them are due to carelessness. Most of them are due to the fact that people are ignorant on what to do in an emergency.
Let's teach them. Let's cure this situation. With this organization, and with the one which we have working on the automobile situation, and with others which we intend to call into being, I think we can cut that 23 million down, instead of increasing it.
I want to see all those people rehabilitated and given their places back in society. We can do that, too. And that is partly up to you.
I am immensely interested in the health and welfare of the people of this country. You will find that this all fits in a pattern which is covered in a health message which I sent to the Congress last year,1 and which fits in with these meetings to prevent accidents which we have been having.
1 The President's message recommending a comprehensive health program was submitted to the Congress on November 19, 1945 (see 1945 volume, this series, p. 475).
I appreciate very much, more than I can tell you, your interest and your help in trying to get this awful situation cured.

Thank you very much.
Note: The President spoke at 11 a.m. in the Departmental Auditorium.
Harry S Truman, Address at the Opening of the Conference on Fire Prevention. Online by Gerhard Peters and John T. Woolley, The American Presidency Project https://www.presidency.ucsb.edu/node/232166