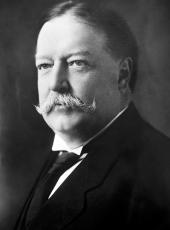 Address on the Occasion of the Convention of the Atlantic Deeper Waterways Association in Norfolk, Virginia
Mr. Chairman, Governor Swanson, Delegates to the Atlantic Deeper Waterways Association, Ladies and Gentlemen, Citizens of the Old Dominion:
I am glad again to be on Virginia soil, and I am glad again to be introduced by your distinguished Chief Magistrate, Governor Swanson. He never introduces me to a Virginia audience that I don't want to come again. He embodies in what he says that genuine enthusiastic sense of hospitality that distinguishes Virginia, and therefore I always like to follow him. If I get him out in Ohio I will give him also a test of Ohio hospitality, but not with the same eloquence or the same elegance of language. But I am glad to be here in his company and in the company of the delegates of the Waterways Association. I have given not enough study, but some, to the proposition, not so much in this neighborhood as on the Gulf, and I know that along the Gulf there are places demanding attention where the business that now exists justifies the claim that money shall be invested in order to make all that network of inner waterways reaching from the Gulf and the Atlantic useful, in order to reduce rates, or in order to furnish transportation where there really is no transportation now.
There has been, as your Governor intimates, a general movement over the country in favor of the expenditure of money to improve our waterways, inland and coastal; and I am sure that that movement has the support of all the people, has the support of all those responsible to the people for the expenditure of the money raised by taxation or otherwise. All that they require is that there should be shown in an ordinary reasonable way and by evidence that will appeal to sensible men, that the money which we are about to invest will certainly redound to the benefit of the people in the neighborhood where it is spent, not by way of furnishing labor for two or three years, not by way of investing capital for four or five years, but shall redound by way of improving transportation permanently. When you have made your case, then I am sure the Government and Congress will respond to it. That the case can be made I doubt not with respect to definite projects, the operation of which can be shown by reference to the business now done, or the business which certainly will be furnished, but what I wish to deprecate is a general proposition to raise a lot of money and dump some here and some there and some over there and some back here, in order to distribute it equally over the country. I am opposed to that. I am in favor of expending the money for an improvement in Norfolk and not expending it for an improvement somewhere else if the Norfolk project is a good one and that somewhere else is not, and the people who come from somewhere else have got to be judicial and impartial enough to feel that the investment at Norfolk redounds to the whole country, while the investment somewhere else does not redound to anybody but a little local fervor at the time of the expenditure of the money. In other words, we ought to go at this business as if we were business men, spending the money to redound to us in profit and in dividends. When we do that I don't think the people of the United States will grudge a cent of the many millions that it is going to cost to give us the improvements we ought to have, no matter where they are.
Now, my friends, this wind and this great concourse of people whom I am trying to make hear, do not invite a great length of speech, and therefore I am going to pass from the Waterways Association, which calls you here, with the hope that they will proceed in a business-like way to demonstrate what can be done by that which they recommend and commend it to the entire American people; and as one of those exercising temporary authority I want to say that I will take up what is projected and proposed with all the sympathy possible, but nevertheless with what I hope is a judicial spirit to reject what the evidence does not sustain, and to approve what the evidence does sustain.
Now, my friends, there are other thoughts that this meeting suggests. In the first place it must come back to you, as it did to me, and send a thrill down your backs, to see those two columns that stood in front of the reviewing stand, and now stand here, the Blue and the Gray. You say it is getting so common to see them together that it really does not call for comment, and perhaps that is so, but I am just going to make a point of it because I need subjects, and also I want to express to both those columns my appreciation of the honor they have done me in turning out to-day.
Secondly, you can not stand here and have the breezes come over from Hampton Roads without thinking of that battle of the Merrimac and the Monitor when it seemed as if the fate of the nation was trembling in the balance, and you can not think of that battle and of the prowess and naval courage and bravery that were shown there on both sides without having your mind come down to those jackies [See APP note.] that passed us in presence of the reviewing stand this morning. You can not stand here in Norfolk, which has the most important navy yard and naval base that we have in the United States, without having your mind recur to that arm of the public service which we have done so much to develop, with whose growth I hope we shall do nothing to interfere. I want the Navy to continue to be maintained in a condition worthy of this country. We are not knocking anybody's chip off his shoulder, and we are not having a chip on our shoulder, but we are a great nation of eighty or ninety millions of people, and we must under present conditions in order to maintain the prestige that is proportionate to our stand before the world, have a navy that is worth seeing and able to fight if it has to. Now I am speaking of it here because somehow or other I am convinced in Norfolk that the people of Norfolk are quite judicial in their reference to the growth of the Navy.
There is another thing I want to say that will appeal to you. We have a good many coast defenses — none too many. You are here at the end of Chesapeake Bay, which is the greatest strategic point of naval rendezvous in these United States. We have very heavy and very formidable coast defenses at Fortress Monroe and all about here, but if we wish to protect this coast we ought to protect with as much care as possible the entrance to Chesapeake Bay, and that by erecting an island on the middle ground and putting a fort there that shall be impregnable. That is what I want. That is what I recommended when I was Secretary of War, and that is what I am going to push for the next three years with the hope that I will get it at the end of that time.
And now, my friends, I have talked enough for your comfort and for my throat. I have been talking too much. I talked clear across the continent on the north and down on the west and east on the south, and I have gotten into the habit and I can not help it. My voice has not had any test for more than four or five days, so I am letting it go.
But seriously speaking, my dear friends, I am glad again to be back on the soil of Virginia, and in the Southland, and to find that the warmth of reception that I had all through the South is only repeated in old Norfolk and in the Old Dominion as I visit it again, and that the sentiment in favor of a united country, of cherishing the traditions of both sides as honorable to both, but with a feeling of loyalty to the old flag that was never exceeded in the history before, is still here to make a Northerner and a Southerner rejoice and to make the President of the United States feel that he is entirely at home among you.
APP Note: The term "jackies" is a reference to a generic reference to sailors and a variation on "jack tar."
William Howard Taft, Address on the Occasion of the Convention of the Atlantic Deeper Waterways Association in Norfolk, Virginia Online by Gerhard Peters and John T. Woolley, The American Presidency Project https://www.presidency.ucsb.edu/node/365207