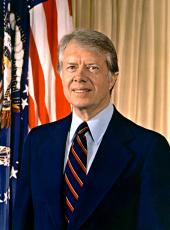 Address at the National Italian-American Bicentennial Tribute Dinner in Washington, DC
It doesn't matter whether we've been in this country 450 years, 200 years or 20 days. When we came, we learned very quickly that we could participate in the political process, stand on our own feet, make our own decisions, shape our own destiny, give our children a better life, and contribute to the greatness of our country. All of us who came to America had one common goal: to preserve what is unique within us but also to share our common strength. Our motto became "E pluribus unum," which means "out of many, one." We came because we didn't believe that individuality had to be the source of bitterness, or conflict, or division, or weakness. We came because we wanted to share the first government in history which has tried to live up to the high, cumulative standards of a wide range of citizens. We came because we knew that a nation didn't need to be monolithic to be strong. Our diversity of language, heritage, and religion is the key to the American unity and to the American strength.
But it's not always been that easy. All of us have known the pain associated with discrimination. There's been a lot of prejudice and suffering in the South. We haven't had a President elected from the deep South since 1848. There's also been much discrimination in our society against Italian Americans. Many of you in this room can remember the signs "No Italians need apply," "No Irish need apply." The signs may be gone, but many of the memories remain, along with too much of the quiet, unspoken discrimination. It's unfair that a group that has produced leaders like the four whom we honor here tonight has never had a Justice of the Supreme Court and only two Cabinet members in history. One of them, John Volpe, is here tonight We must end that quiet discrimination, not by setting quotas but by insuring that all groups in our great nation have an equal chance to participate in American business, American society, and American government.
We must never pit one group against another. Nearly 40 years ago, Franklin Roosevelt spoke words that are equally true today to me and to you. He said, and I quote: "'We are a nation of many nationalities, many races, many religions, bound together by a single unity, the unity of freedom and equality. Whoever seeks to pit one nationality against another, seeks to degrade all nationalities. Whoever seeks to set one race against another, seeks to enslave all races. Whoever seeks to set one religion against another, seeks to destroy all religions." That was said 40 years ago by President Roosevelt. I'm proud, as an American, of the contribution of Italian Americans like Senator Pastore, Congressman Rodino, Congressman Daniels, and Judge Sirica, whom we honor here tonight. Like all of you in this audience, they have made great contributions to our country and I'm proud of the diversity of our nation.
I doubt that any human being has traveled more in the last 2 years throughout our great country than have I. I've been in private homes, in a living room, with only the three or four people who would come to hear what I had to say. I've been in labor halls where maybe only 10 people would show up. I've stood in factory shift lines where nobody knew who I was. I've walked the streets, gone in beauty parlors, barber shops, and restaurants and stood at the swing doors in shopping centers. I've been in farmers' markets and I've also been in livestock sale barns, to listen, mostly, and to talk a little. And I've learned about our country. In the last 2 weeks, since I began my general election campaign, I've been in many of the ethnic neighborhoods of our nation. And I've seen there the truths that we should never forget. When we came to this country is not important. Why we came to this country is important.
In our diversity is strength. In our understanding of each other lies brotherhood. In our concern for the poor and the newcomers is the essence of love. And, as I said in my acceptance speech at the Democratic Convention, we all have a responsibility to translate love into simple justice. We've come here to learn, to grow, to stretch our minds, to learn more about God's land and to be able to encompass in our hearts more friends. Our country gives us room to expand our own lives without constraint. It's been very difficult throughout history to put together two sometimes conflicting principles. One is equality. The other is freedom. Sometimes, when you have guaranteed equality, government must step in and hold down the strong and boost up the weak artificially. When you have complete liberty or freedom, the strong tend to dominate the weak. In our country we've always tried for the last 200 years to do both, to have a melding of liberty and equality on one hand and equality of opportunity on the other. That's what brought my people to this country. That's what brought your people to this country. We came because of hope and a dream of freedom and equality of opportunity. And only together, as brothers and sisters, can we ever realize these great hopes and dreams in the greatest nation on earth.
Jimmy Carter, Address at the National Italian-American Bicentennial Tribute Dinner in Washington, DC Online by Gerhard Peters and John T. Woolley, The American Presidency Project https://www.presidency.ucsb.edu/node/347544