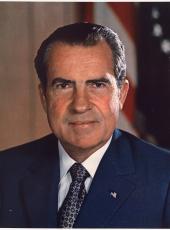 Address to the Nation on the Post-Freeze Economic Stabilization Program: "The Continuing Fight Against Inflation."
Good evening:
Seven weeks ago I announced a new economic policy to stop the rise in prices, to create new jobs, and to protect the American dollar.
Tonight I want to report to you about how that new policy has been working and to describe how that policy will be continued.
On the international front, I am glad to report substantial progress in our campaign to create a new monetary stability and to bring a new fairness to world trade. This Nation welcomes foreign competition, but we have a right to expect that our trading partners abroad will welcome American competition.
It is a healthy development that the world has come to understand that America believes in free trade as long as it is fair trade. This will mean more sales of American goods abroad and more jobs for American workers at home.
Further on the job front, the House of Representatives just yesterday passed a tax program based on my recommendations that will create an additional half-million jobs in the coming year. I call upon the United States Senate, which has begun hearings on this bill today, to act as promptly as the House so that we can move forward to our goal of full employment in peacetime.
Secretary Connally and I will be meeting tomorrow morning at breakfast with Chairman Long of Louisiana, of the Senate Finance Committee, to work toward this goal.
On the inflation front, I can report to you tonight that the wage-price freeze has been remarkably successful. As you heard on your evening news, the figures bear out that statement. Wholesale prices in September posted the biggest decline in 5 years. And the price of industrial commodities has gone down for the first time in 7 years.
The primary credit for the success of this first step in the fight against rising prices belongs to you; it belongs to the American people. It is you who have shown a willingness to cooperate in the campaign against inflation. It is you who have answered the call to put the public interest ahead of the special interest.
Thousands of letters have come to this desk since I made the announcement of the wage-price freeze 7 weeks ago. Listen to what people all across America, from all walks of life, have written to me, the President, about this program.
Here is a letter from a schoolteacher in New Jersey:
"I am a widow raising two sons on my teacher's salary. I will lose about $300 because of that freeze, yet I sincerely feel that we must all support your efforts to bring the economy into balance."
Here is a letter from a wage earner in Wantagh, New York:
"As one who was expecting an increase in income this December, let me say that I will gladly go without it if that will curtail inflation."

The wife of a Government employee in Pampa, Texas, writes:
"We are willing, as a family, to forego our pay raises in order to see stability in prices. Let us all hope that Americans will once again realize that we must be willing to sacrifice for a long-term goal, and once again have pride in our country."
Then from a man in Klamath Falls, Oregon:
"Your Administration's recent freeze on wages and prices means that I will not receive the four percent raise that was written into my contract this year. Nevertheless, I support your efforts to halt inflation, including the wage freeze. The fight against inflation is everybody's fight."
I want to express my appreciation to the thousands of others of you who have written me letters like this. And I want you to know how much it has meant to me to hear that most Americans will put their country's interest above their personal interest in fighting this battle.
Now, let's look at the future. Because of our strong beginning, because of the determination Americans have shown to pull together during the freeze, I am confident that our further action in stopping inflation will succeed as well.
Over the past 7 weeks, I have consulted with scores of representatives of labor and business, of farmers and consumers, of the Congress, and State and local government. They have been virtually unanimous in their belief that the battle against inflation must be fought here and now. They are together in their determination to win that battle.
And consequently, I am announcing tonight that when the 90-day freeze is over on November 13, we shall continue our program of wage and price restraint. We began this battle against inflation for the purpose of winning it, and we are going to stay in it till we do win it.
I am appointing a Price Commission to hold down prices. It will be made up of persons outside of government--all public members, not beholden to any special interest group. The Price Commission will develop yardsticks and will be empowered to restrain price and rent increases to the necessary minimum and to prevent windfall profits. Its goal will be to continue to drive down the rate of inflation.
This goal, however, can only be achieved with the active cooperation of workingmen and businessmen, farmers and consumers, Members of the Congress, of our State and local governments. That means all of us.
I am also appointing a Pay Board to stop inflationary wage and salary increases--the kind of increases that do not really benefit the workingman. For example, in the past 6 years workers have received big wage increases, but every wife of a worker who has to do the family shopping will tell you that those increases have practically all been eaten up by rises in the cost of living.
The Pay Board will be made up of representatives of labor, management, and the public. Both the Price Commission and the Pay Board will seek voluntary cooperation from business and labor, but they will be backed by the authority of law to make their decisions stick. Their staffs will be small. Stabilization must be made to work not by an army of bureaucrats, but by an all-volunteer army of patriotic citizens in every walk of life.
The Cost of Living Council, which is headed by the Secretary of the Treasury, will have the power to back up the Pay Board and the Price Commission with Government sanctions where necessary.
I have today named Counsellor Rumsfeld as a member of that Council, and he will spend full time as the Director of Operations for the Council.
Secretary Connally, the Chairman of the Council, will be on television tomorrow at 10'clock to answer technical questions with regard to the continuing program.
Our experience over the past 7 weeks proves conclusively that the vast majority of Americans will cooperate wholeheartedly with the system of voluntary restraint. But if there are some who try to take advantage of the patriotic cooperation of their fellow Americans, I can assure you that the Government must be and will be prepared to act against them. For that reason, in a meeting with the bipartisan legislative leaders today in the Cabinet Room, I have asked the Congress to extend for 1 year the Economic Stabilization Act which gives the President the power he needs to stop inflation.
Holding the line against inflation means holding all of that line. Consequently, I am appointing a Government Committee on Interest and Dividends to apply a yardstick to both of those areas. That Committee will be headed by Dr. Arthur Burns, Chairman of the Board of Governors of the Federal Reserve System.
The Nation needs interest rates as low as they can be to meet the credit requirements of American families on equitable terms and to stimulate noninflationary economic expansion. I am confident that this can be accomplished on a voluntary basis. As a safeguard, however, as I informed the bipartisan leaders today, I will ask the Congress for standby controls over interest rates and dividends.
Let me turn now to the subject of profits. Many of my good friends in the field of politics have advised me that the only politically popular position to take is to be against profits. But let us recognize an unassailable fact of economic life: All Americans will benefit from more profits. More profits fuel the expansion that generates more jobs. More profits mean more investments, which will make our goods more competitive in America and in the world. And more profits mean there will be more tax revenues to pay for the programs that help people in need.
That is why higher profits in the American economy would be good for every person in America.
"Windfall" profits, however, as I will describe them, are quite another thing. When wages and other costs are held down by the Government, even though prices are also held down, circumstances could arise in some cases that might generate exorbitant profits--in other words, where someone will profit from the wage-price stabilization program.
In the few cases where this happens, rather than tax such excess profits, the Price Commission's policy will be that business should pass along a fair share of its cost savings to the consumer by cutting prices.
We have lived too long in this country with an inflation psychology. Everybody just assumes that the only direction of prices is to go up. The time has come for some price reduction psychology. Let's see some prices go down. This is not only in the public interest; it makes good, competitive business sense.
Summing up these actions to stop the rise in the cost of living, here is what we will do and what we will not do:
We will permit some adjustments of prices and wages, adjustments that fairness and equity demand, but we will not permit inflation to flare up again.
We will concentrate on those major portions of the economy that are the primary causes of inflation, but we will not hesitate to take action against any part of the economy that fails to comply.
We will continue wage and price restraints until inflationary pressures are brought under control, but we are not going to make controls a permanent feature of American life. When controls are no longer needed we will get rid of them.
We will rely primarily on the good faith and voluntary cooperation of the American people to make this program work, but we will not let any selfish interest escape the fair enforcement of the law.
I call upon all of you tonight to look at this program, not as Democrats or Republicans, workers or businessmen, farmers or consumers, but as Americans. Let us recognize this profound truth: What is best for all of us is best for each one of us. We cannot afford a business-as-usual attitude anywhere, because fighting inflation is everybody's business. Let us look for a moment into the future. Some of you have heard me say that 1972 will be a very good year for the American economy. Let me broaden that estimate tonight. The coming year can be more than a very good year for the American economy. It can be a great year for America and the world.
It can be a year, for the first time in 15 years, in which we can achieve our goal of prosperity in a time of peace. It can be a year in which great progress can be made toward our goal of full employment without the inflation that robs working people of the full value of the dollars they earn. It can be a year in which the American competitive spirit is reborn as we open up new markets for our goods abroad and new careers and job opportunities for our workingmen at home. It can be a year in which we and our international trading partners build upon the most significant initiative in monetary affairs in 25 years; a year in which we replace the crisis-prone system of the past with a new system attuned to the future.
It can be a year in which historic events will take place on the international scene, events that could affect the peace of the world in the next generation--even in the next century.
We often hear people say, "These are troubled times." I say these are great and exciting times. We are at the threshold of a great new era--an age of movement and challenge and change. We have an unparalleled opportunity to create a better world for ourselves and for our children.
Let us dedicate ourselves tonight to make the most of that opportunity--to join in a great common effort to stop inflation-and to create a new prosperity in a world of peace.

Thank you and good night.
Note: The President spoke at 7:30 p.m. in the Oval office at the White House. His address was broadcast live on radio and television.
An advance text of the President's address was released on the same day.
On October 15, 1971, the President signed Executive Order 11627 further providing for the stabilization of the economy and establishing the Price Commission, the Pay Board, and the Committee on Interest and Dividends. On the same day, the White House released a fact sheet and the transcript of a news briefing on the Executive order by Donald Rumsfeld, Counsellor to the President and Director, Cost of Living Council, and Frank C. Carlucci, Associate Director, office of Management and Budget.
On October 19, the White House released a fact sheet and the transcript of a news briefing on proposed legislation to extend the Economic Stabilization Act of 1970 by Mr. Rumsreid, Charls E. Walker, Under Secretary, Department of the Treasury, and Stanley Rose, Deputy General Counsel to the Cost of Living Council.
A White House announcement of appointment of the membership of the Price Commission and the Pay Board was released on October 22 and is printed in the Weekly Compilation of Presidential Documents (vol. 7, P. 1438). The White House also released the transcript of a news conference on the appointments by Mr. Rumsfeld, C. Jackson Grayson, Jr., Chairman, Price Commission, and George H. Boldt, Chairman, Pay Board.
Richard Nixon, Address to the Nation on the Post-Freeze Economic Stabilization Program: "The Continuing Fight Against Inflation." Online by Gerhard Peters and John T. Woolley, The American Presidency Project https://www.presidency.ucsb.edu/node/240998