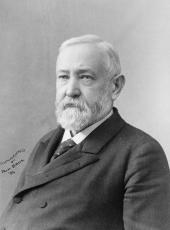 Address to the Methodist Ecumenical Conference at the Metropolitan M.E. Church in Washington
Mr. Chairman and Gentlemen of the Conference:
I come here this morning to make an expression of my respect and esteem for this great body of delegates assembled from all the countries of the world, and much more to give a manifestation of my respect and love for that greater body of Christian men and women for whom you stand. Every ecumenical conference is a distinct step in the direction, not only of the unification of the church, but of the unification of the human race.
Assembling from countries unlike in their civil institutions, from churches not wholly in accord as to doctrine or church order, you come together to find that the unlikeness is not so great as you had thought, and to find your common sympathies and common purposes greater and larger than you had thought-large enough presently to overspread and to extinguish all these transitory lines of division.
I am glad to know that as followers of Wesley, whose hymns we sing, you have been in consultation as to the methods by which these minor divisions among you might be obliterated. It is the natural order that subdivisions should be wiped out before the grand divisions of the church can be united. Who does not greatly rejoice that the controversial clash of the churches is less than it once was; that we hear more of the Master and His teachings of love and duty than of hair-splitting theological differences?
Many years ago, while visiting in Wisconsin, when Sunday came around I went with some friends to the little Methodist church in an adjoining village. The preacher undertook to overturn my Presbyterianism. An irreverent friend who sat beside me as the young man delivered his telling blows against Calvinism was constantly emphasizing the points made by nudging me with his elbow. Now, I am glad to say that very often since then I have worshipped in Methodist churches, and that is the last experience of that kind I have had.
You have to-day as the theme of discussion the subject of international arbitration; and this being a public, or, in a large sense of the word, a political question, perhaps makes my presence here as an officer of the United States especially appropriate.
It is a curious incident that some days ago, and before I was aware of the theme or the occasion which we have here this morning, I had appointed this afternoon to visit the great gun foundry of the United States at the navy-yard. Things have come in their proper sequence. I am here at this arbitration meeting before I go to the gun factory. This subject is one that has long attracted the attention, and I think I may say has, perhaps, greatly attracted the interest and adherence of the United States as that of any other Christian power in the world. It is known to you all that in the recent Conference of the American States at Washington the proposition was distinctly made and adopted by the representatives of all, or nearly all, of the governments of America that, as applied to this hemisphere, all international disputes should be settled by arbitration.
Of course there are limitations as yet, in the nature of things, to the complete and general adoption of such a scheme. It is quite possible to apply arbitration to a dispute as to a boundary line; it is quite impossible, it seems to me, to apply it to a case of international feud. If there is present a disposition to subjugate, an aggressive spirit to seize territory, a spirit of national aggrandizement that does not stop to consider the rights of other men and other people-to such a case and to such a spirit international arbitration has no, or if any a remote and difficult, application.
It is for a Christian sentiment, manifesting itself in a nation, to remove forever such causes of dispute; and then what remains will be the easy subject of adjustment by fair international arbitration. But I had not intended to enter into a discussion of this great theme, for the setting forth of which you have appointed those who have given it special attention. Let me, therefore, say simply this, that for myself-temporarily in a place of influence in this country-and much more for the great body of its citizenship, I express the desire of America for peace with the whole world. It would have been vain to suggest the pulling down of blockhouses or family disarmament to the settlers on a hostile Indian frontier. They would have told you rightly that the conditions were not ripe. And so it may be, and is probably, true that a full application of the principle is not presently possible, the devil still being unchained.
We will have our gun foundries, and possibly will best promote the settlement of international disputes by arbitration, by having it understood that if the appeal is to a fiercer tribunal we shall not be out of the debate. There is a unity of the Church and of humanity, and the lines of progress are the same.
It is by this great Christian sentiment, characterized not only by a high sense of justice, but by a spirit of love and forbearance, mastering the civil institutions and governments of the world, that we shall approach universal peace and adopt arbitration methods of settling disputes.
Let me thank you, Mr. Chairman, and you gentlemen of this conference, for the privilege of standing before you for a moment, and for this most cordial welcome which you have given to me. I beg to express again my high appreciation of the character of this delegation and the membership of the great church from which you come, and to wish that in your remaining deliberations and in your journeys to far-distant homes you may have the guidance and care of that God whom we all revere and worship.
Benjamin Harrison, Address to the Methodist Ecumenical Conference at the Metropolitan M.E. Church in Washington Online by Gerhard Peters and John T. Woolley, The American Presidency Project https://www.presidency.ucsb.edu/node/276737