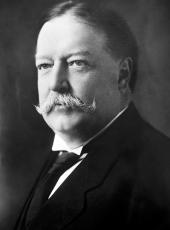 Address at the Luncheon Tendered by South Carolinians in the House of Representatives of the State Capitol in Columbia, South Carolina
Governor Ansel and Gentlemen of South Carolinas
Your committee from Columbia called on me in Augusta before I had assumed the course of office, and were good enough to invite me to come here. I said I would come, and I am here. That is one promise of the Administration that I have redeemed. I don't claim any credit for it, because a man who would not come to Columbia when he could, and enjoy such a festivity and welcome as this, does not understand a good thing when he sees it.
I am greatly honored to be received by you in this the House of Representatives of South Carolina in your magnificent Capitol. I am greatly honored to be received by your representative men of the State, not only by the private citizens but by the Governor, the Senators, the Chief Justice and your Representatives, and I appreciate it to the full. It is the first State in which I have been tendered a welcome within the capitol walls of the State, and I take it as an expression on your part of a desire to show that it is the State and the people of the State that welcome me.
Another and most delightful feature of this reception is the presence of the ladies, the real pride of South Carolina. A gentleman from another part of the State, and I am afraid that in saying this I am betraying something that I ought not to say, but I can not help it, anticipating a meeting with me in another part of the State at some time in the future, said to me, "Come there and we will show you the prettiest women in South Carolina." I resented it, and but for my office and the dignity that necessarily attached to it, I tremble for his fate. We are verging in the right direction. There was a time when we had banquets without the presence of that sex that we all love, and whose influence and control we all secretly recognize. Now we are letting them in to see the animals eat. They show that patience, that sweet sympathy with the selfish side of man, that tolerance of those things about him that even we ourselves do not admire, by allowing this arrangement to continue for a while. But the next time I come to South Carolina I expect to dine with the ladies and the gentlemen.
My friends, I am not inspired to say much to-day, because I feel so much more than I can say. There is something about South Carolina and her traditions, as I look into the faces of her great men and think what she has done and the part she has played in all the great historical crises of this country, that makes me take this reception from you at your hands with a feeling that I am honored far beyond my deserts. I realize that it is because I represent the whole Nation for the time being, and that you in your loyalty to the flag and country, and with the hospitality for which your State is noted, express to me the feeling that rises in each of your hearts as you think of your country, and as you think of the patriotism of yourselves and the State. I come to Columbia and look out from the steps of the State Capitol and see a city that has arisen since the Civil War — not a city that did not exist before the Civil War, but a city that by its growth and its energy and its taking on life shows that while that Civil War brought to it an evidence of the tremendous strength, the tremendous power of self-sacrifice of its people, it did not destroy their hope for the future, or their willingness again to become a part of the great Union and to make that Union stronger and that country a Nation greater than ever before in its history. And I count it a great privilege to come here, representing the Nation that you love so well, and by this meeting and by your reception, and by what I see, to testify to the fact that while the past is as it is, and while those things come out of it that make us proud on both sides, there is before us in the future a united life in upholding our country, in elevating the standard of citizenship, in making greater the character and the equality of opportunity of the individual that we are glad to seize as a common united people, not separated in any way by our past history, but the more united because while we have those traditions the memory leaves in our mind the awfulness of a separation that now is forever ended.
And now, my friends, I am going to stop. This is the two hundred and fifty-first speech I have made, but in no one of them have I felt so much satisfaction in expressing the truth as I know it.
William Howard Taft, Address at the Luncheon Tendered by South Carolinians in the House of Representatives of the State Capitol in Columbia, South Carolina Online by Gerhard Peters and John T. Woolley, The American Presidency Project https://www.presidency.ucsb.edu/node/365211