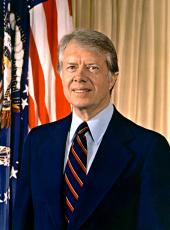 Address to the Liberal Party of New York in New York City
Governor Carey, and Chairman Harrington. Vice Chairman Alex Rose, President O'Dwyer, my good friend Pat Moynihan who's seen me several times already today—in Queens and in Rochester. Governor Harriman, Mayor Wagner, Mayor Lindsay, Chairman Strauss, the other distinguished leaders from throughout the State of New York and around the country. I'm glad to be with you. Thank you very much. [applause]
In between Rochester and Syracuse and this visit, I had several others. I went out to Queens for a Democratic rally and I stopped by to see one of my illustrious predecessors here, Senator Hubert Humphrey. And he's getting along. He's a great man and a great American and a great Democrat, a great candidate of the Liberal Party. He was recuperating. I had a long chance to talk with him and Muriel. He said if I could find him a place on the program, he would come up tonight if I let him make a speech [laughter] and we finally convinced him there was no place on the program, and he's going to stay there and recuperate there about two more weeks. But he's getting along fine and he asked me to send you his regards and I know that all of you remember him in your thoughts and prayers. [applause]
Immediately following that, I stopped and watched the press conference. I've been critical of Mr. Ford because he hasn't had a full scale White House press conference since the 19th of February. He had a press conference tonight. I don't know if you saw it or not. But now I'll have to be critical of him for having a press conference and not answering any questions. It was a remarkable demonstration. Apparently he thought he'd have a debate without my being there. I don't know how well I did in the first two debates, but I think I did pretty well in the press conference tonight.
I appreciate this opportunity to meet with you who for more than thirty years have done so much to advance the cause of social justice in America. After next January, the 20th, I intend to work with you to restore to our government, competence, compassion, and a commitment to equal justice that we have been so often lacking in the last eight years, and you can depend on that. [applause]
was told that in the history of your party I'm the first southerner to come and speak to your annual banquet. And I hope that I won't be the last southerner to come here. We've had in our country too much of stereotypes, and if I do become President, one of the things I hope to accomplish will be to break down many of the old stereotypes about liberals, conservatives, about obstacles that have been in the path of progress and have discouraged serious political discourse throughout the country for too many years. In New York State there has been an opportunity, a climate, an atmosphere for tough constant debate about issues that are so crucial to the welfare of our people.
In domestic affairs, too many conservative stereotypes have portrayed liberals as fuzzy-headed and wasteful and the conservatives on the other hand as realistic and efficient. And liberals sometimes see themselves as overflowing with the compassion that the hard-hearted conservatives always lack.
I reject both stereotypes. And I must say that in the past eight years we have been taught that the good, solid Republican ideologues can be just as wasteful and incompetent and fuzzy-headed as anyone who has ever lived. That's been too much demonstrated; it's got to be changed next January. [applause]
The stereotypes bear little resemblance to the real world in which we find a lot of people who combine both compassion and competence. And who have, in Adlai Stevenson's phrase, both warm hearts and cool heads. These are the kind of people that you'll be seeing in the Carter Administration next year, and I look forward to having Pat Moynihan help me as we put these ideas into effect in Washington.
Also, our national foreign policy dialogue has been too often distorted by cliches and polarization. The code words in foreign policy have been "soft" and "tough." We've suffered enough in this country because some Presidents and their advisers have felt it necessary to prove their supposed ''toughness" by pursuing rash and ultimately tragic policies. It's time for our foreign policy to concern itself with real wisdom rather than imagined toughness.
A strong nation, like a strong person, can afford to be gentle, firm, thoughtful and restrained. It can afford to extend a helping hand to others. It's a weak nation, like a weak person, that must behave with bluster and boasting and rashness and other signs of insecurity. Ours is a strong nation, and it must remain strong. The foremost responsibility of any President is to guarantee the security of our country.
But national security is more than weapons. It depends on strength of purpose, and unity, and commitment and unchanging principle. Are we any more secure because we have hundreds of MIRV'd atomic weapons, which by agreement are now being carefully matched by the Soviet Union? Will we be any more secure if we and they spend another half trillion-dollars in the next decade or two on new atomic weapons systems?
We must move to secure agreement with the Soviet Union on a quick freeze of atomic missiles, warheads, total throwweight, and qualitative weapon improvements. [applause]
We've never tried this, by the way. And then we must move toward methodical step by step mutual reductions in our atomic arsenals. Maintaining at all times rough equivalency in destructive power.
Also, we should realize that our nation has become the arms merchant of the world. It's our responsibility to commence multilateral efforts to reduce the international traffic in conventional weapons. We've seen in the last few years, as I pointed out in the last debate, that over a period of administrations we shifted our emphasis on the delivery of those weapons. Under the administration of Lyndon Johnson and John Kennedy, 75 percent of the weapons going to the Middle East went to Israel, compared to the Arab countries. In the last few years, under Presidents Nixon and Ford, 60 percent of all the weapons have gone to the Arab countries, only 40 percent to Israel.
We also must realize that we can take the lead among nations to arrest the proliferation of atomic weapons, the capability to produce those weapons, which threatens us with the prospect of as many as 20 or more nations having atomic weapons by 1990. There are now only five. Others are getting the technology. Some of the steps that we can take include the following.
• First, imposing, along with the Soviet Union, a five year total moratorium on the testing of atomic explosives, either weapons or the peaceful so-called nuclear devices, and encouraging other nations to join with us. [applause]
• Secondly, enforcing international safeguards on the handling and processing of atomic wastes.
• Third, providing technical knowledge of nuclear supplies only to those nations that agree not to produce atomic weapons, to submit atomic waste to international controls, and to sign a non-proliferation treaty. [applause]
• And fourth, removing our own atomic weapons from such countries as South Korea where we now have more than 600 atom bombs.
There are other good opportunities to be tough and right at the same time. I would like to see our country get tough enough to stop the Arab boycott against American companies that do business with Israel or have Jewish owners and managers. [applause]
In my lifetime as an adult, and in my study of American history, this is one of the most disgraceful episodes that have ever been condoned by the federal government. We permitted a foreign nation to circumvent the basic tenets of our Constitution and the Bill of Rights. It must be stopped. If it's not stopped between now and January 20th, you can rest assured it will be stopped when I become President.
I'd like to see our nation get tough on the Medicaid scandals. On the polluters of our air and water. On the postal mess. And on the big shot crooks who now seem to be above the law. We have a nation strong enough to have a decent health care system. And this has not been done, and we're the only developed nation in the world who spend so much on health care that has so little effect.
When I was Governor of Georgia, we did a study throughout our state of the incidence of disease to determine the 10 most severe cripplers and killers of our people. The results were disturbing to say the least. But we listed the major cripplers and killers. Cancer, stroke, heart disease, and so forth. We found, for instance, that among black women in rural counties there was 20 percent more cervical cancer than among white women in urban counties. Just because of an absence of preventive health care. And this same instance applies in many other parts of the nation, both rural and urban. Because many people in this country never see a doctor until they are so sick that they can detect it themselves and have no resources to cure it at home.
We also found a great saving for the taxpayer, working with the Communicable Disease Center which has its international headquarters in Atlanta. We found it only costs three dollars to detect a potential stroke victim; with a simple cholesterol test, blood pressure test, you can tell someone you might have a stroke. Go to your local family physician, have simple medication. It doesn't cost much—three dollars. But it costs thousands of dollars to take care of someone who's indigent after they have a stroke.
I would like to see our government get tough on the whole bloated, bureaucratic mess in Washington. We now have an almost impenetrable federal bureaucracy. When I was elected governor we had three hundred agencies, bureaus, boards, commissions; we abolished 278 of them. We set up a simple structure of government that was not only economical and effective and efficient and manageable and purposeful, but it was one where people could understand it. And control it. And [we] removed those special niches of privileges that are so quickly occupied by powerful special interest groups in the confusion that we have in Washington.
I would like to see our government get tough on basic tax reform. And I would like to see our government get tough on unemployment and inflation. In the last two years alone, under President Ford, we've added 2/2 million Americans to the unemployed rolls. In the last three months alone, 500,000 Americans have become unemployed.
This is bad enough as a statistic. But it is devastating to a family who for 15 or 20 years have had their father or mother employed and for the first time starts drawing unemployment compensation. And after a few months, for the first time, stands in a welfare line. It tears apart the fabric of a family, and it destroys its self-confidence that is so crucial.
In our government, local, state and federal, quite often we forget that those of us assembled in this room with influence, with financial security, with social prominence, are quite often the ones who make decisions. And our families very seldom suffer when we make a mistake. When the unemployment rate goes up, rarely do the members of our family stand in a line looking for a job. And when the welfare program is confused, our families are very seldom touched by a welfare check or the absence of it. And when a crime is committed, we can pretty well rest assured that our children won't go to jail, if they are caught with a small quantity of marijuana, or involved in a hit and run accident.
But there are many Americans who don't have that sense of security. Even as it relates to their own government. That needs to be changed. So I believe in compassion too. I believe that the 10 percent of the people on welfare who are able-bodied ought to be trained, given literacy instructions, matched with a job, offered a job, and put to work. And the other 90 percent who can't work should be treated with understanding and respect.
I believe we can and should do more for those who are mentally and physically handicapped. And I believe we can do more for the elderly. And I believe we should eliminate the double standard of justice. In all our polling around the country, one of the most sharply cutting edges of dissatisfaction is the belief among American people that there is indeed a double standard of justice. One for the poor, a completely different standard for the rich.
When I was Governor of Georgia I visited almost every prison in the state to learn about those who were there. To talk to them, to try to do something about rehabilitation. There were black people and white people, there were well educated people and there were illiterate people. 35 percent of all the inmates in our prisons are mentally retarded. There were young people and old people, and there were poor people. But never any rich people. We don't do this deliberately. But it's done. And it's not right. And it's not fair. And the American people see this very clearly. [applause]
I believe we can do more to end ignorance and illiteracy in our country. If nations like Sweden and Israel can stamp out illiteracy all together, I see no reason why we should not set that as a practical goal for us to achieve. I was in Utah the other day. The average educational level of all adults is well above the high school level. And that's not matched anywhere else in our country. We probably spend more per child on education than any other nation on earth. But we still have a very low record of stamping out illiteracy. I believe that investments in human being are the ones that always pay the highest dividends. [applause]
And I believe that the only way we're going to accomplish these hopes is to have a government that at the same time is both competent, for a change, and compassionate for a change. In the last 22 months, I've gone before a lot of conservative audiences in this country and I've confessed to some liberal traits. And tonight before this liberal audience, let me confess to some certain beliefs that may be classified as conservative.
I believe in hard work and frugality. And I believe in balanced budgets when our people are at work. And I intend as one of my major accomplishments as President to see our government once again have a balanced budget before the end of my first term as President. Now this is not incompatible with the meeting of our needs and the putting of our people back to work. And the control of inflation.
Historically, in our party, the Democratic Party, and those that you've supported as well, we've seen this happen. Harry Truman was in office 7 years, didn't have a deficit, he had an average surplus of 2 billion dollars. But along with that was an unemployment rate when he went out of office of less than 3 percent. An inflation rate of less than 1 percent.
And interest on a home loan from FHA was 4 percent, and under John Kennedy and Lyndon Johnson, when Lyndon Johnson went out of office the unemployment rate was 3.3 percent. The inflation rate averaged about 2 percent. And when he went out of office he turned over a balanced budget to Richard Nixon. But we'll never have a balanced budget, and we'll never have an end to the inflationary spiral and we'll never have an actual meeting of the needs of our people through social and other programs, as long as we've got 7J4 or 8 million people out of work who are actively looking for jobs. So we must put our people back to work. [applause]
I believe that when there is a choice between government taking on a responsibility and the private sector of our economy taking on a responsibility, the choice is even, the private sector ought to have that choice.
I believe that when there is a choice between national, state and local governments to perform a function, that the choice should be that government closest to individual citizen.
I believe that government ought to do everything it can to strengthen the American family, because weak families mean more government. And many of the things that we see in our government now tends to destroy a family. Inadequate education, inadequate housing, a lack of jobs, rising inflation, hurts those families quite often that are tied together most loosely.
My own family is not poor now. But I live among poor people. And I know what it means for them to have a boy or girl reach the age of eighteen. They don't qualify for welfare payments. And they don't qualify for Social Security payments, and they don't qualify for unemployment compensation. And there's a general pushing of that young person out of the family environment. And I don't care if it's the best young person on earth, when they stand on the street, or walk the streets for a week, two weeks, three weeks, without being able to find a job, there's a tremendous pressure on them to start shoplifting, or breaking into cars, or selling drugs, or starting to gamble, or becoming a prostitute.
Unemployment is not an excuse for crime, but it's a terrible cause of crime. And to the extent that the family can be held together, to that extent our country can be strong. And government doesn't have to come in and take the place of a father or mother. And respect in a mutual way among the family members can be restored. I think every decision the government makes ought to be carefully assessed to be sure that it strengthens the American family. And from strong families can come strong neighborhoods, and from strong neighborhoods can come strong communities. And that's how our societal structure should be repaired.
Government has done very little in recent years to accomplish this end. But beginning next January that will be one of the highest priorities of my administration. [applause]
I believe in a minimum of government secrecy and a maximum of personal privacy. In the last eight years this basic concept of our country has been reversed. We've seen too much government secrecy, and not enough personal privacy. And I hope that our people will rise up, not only to vote on November the 2nd to make a change, but to insist at all times that we have sunshine laws in Washington, as strong as have been established in many states around our country. This will help to reveal errors early. It will prevent the devastating blows that have befallen our country in recent years.
I believe that every major mistake we've made in the last eight or ten years has been caused, to a substantial degree, by the exclusion of the American people from the process of making those decisions. In Vietnam and Cambodia, and Watergate and CIA and FBI scandals, our attitude in Bangladesh, our attitude in Chile, Angola—if the American people had been deeply involved in making those decisions, we could have avoided some serious mistakes. So maximum privacy for citizens, minimum secrecy for government, is another hope that I'll carry into the White House.
These are some of the things that I believe. I don't really know if they are liberal or conservative. But I think they're right. I think they measure accurately the purpose of our government. We've lost a lot in this country in the last eight years. We've lost some precious things that we've believed in in the past, and that we took for granted. We've lost trust in our government
But I don't think it has to be that way. I think that what happened in the last eight years has been a temporary aberration. I think we were tricked and misled in many instances. Now we are a wiser and a more skeptical nation, and I welcome that skepticism. I welcome the scrutiny of our people. I'm not going to hide in a Rose Garden. I'm going to be out campaigning every minute that I can from now until election. [applause]
Because the campaign itself is a tremendous educational opportunity. To travel around this nation, to meet American people, to talk a little, to listen a lot, to receive questions and suggestions and expressions of the hopes and dreams of 215 million of us is sobering, sometimes it's humbling, most of the time inspirational, always educational.
I ask your help. I appreciate the confidence that you've expressed in me. I don't claim to know all the answers. I'm just a person like you are, that's become interested in politics, who came from nowhere almost to win the nomination.
When I started campaigning 21 months ago, I didn't hold public office, I didn't have much money—I think I had $43,000. I didn't have a built-in campaign organization. Not many people knew who I was. I doubt if one in a thousand of you had ever heard my name. I come from a small town, not quite as big as New York, has 683 people in it.
But my wife, and my children, and a few volunteers began to travel around the country. We'd go into a neighborhood and invite all the folks to come into a living room and meet with us. Maybe three or four people would come. And we'd go into a labor hall that would hold several hundred folks, and maybe twelve people would show up. So we began to walk the streets, we went in barber shops and beauty parlors, restaurants, and stores. And we would stand in front of the revolving doors at shopping centers and in factory shift lines early in the morning and late at night. And we'd go into farmers' markets and livestock sales barns and county courthouses and city halls. And we shook hands with Americans and we learned about them and they learned us.
We went through a series of primaries, thirty primaries. And I learned a lot about this country. I learned that it is still strong. Economically, we're the strongest nation on earth. God's blessed us with broad fields that have now become almost the bread basket of the world. And powerful, pure streams and pure air and access to the oceans, and tremendous mineral deposits. That strength has not been changed.
And we still have the best system of government on earth. Richard Nixon didn't hurt it. Watergate didn't hurt it. The CIA revelations, the wars in Vietnam and Cambodia didn't hurt our system of government. It's still clean and decent. It's a basis on which we can predicate answers to complicated questions, and bind ourselves together and correct our mistakes, and approach the future with confidence in one another. But the greatest resource of all is the 215 million Americans who have within us the same strength and character and idealism and patriotism and confidence and eagerness to work for the good of one another that's always made our country strong.
But our nation has been in trouble the last eight years. And I think we agree that the country needs new leadership if it is once again to achieve its tremendous potential. The world needs a great America. You and I want a great America. If you give me your help, then once again I'm sure that we will have a great America.
Thank you very much.
Jimmy Carter, Address to the Liberal Party of New York in New York City Online by Gerhard Peters and John T. Woolley, The American Presidency Project https://www.presidency.ucsb.edu/node/347572