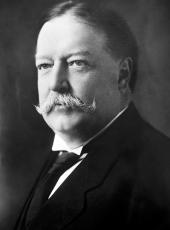 Address at the Laying of the Cornerstone of the Universalist Church in Irvington, Portland, Oregon
Mr. Pastor, Mr. Chairman, Ladies and Gentlemen:
I don't know that anybody questions the propriety of my attendance on this occasion, or that it is necessary for me to enter into an explanation. I conceive it to be the duty of the President of the United States to welcome and encourage and support every instrument by which the standard of morals and religion in the community may be elevated and maintained. It was my pleasure and my opportunity to take part in the dedication of an orthodox Congregational Church in Washington in the spring; my pleasure to take part in ceremonies in a Jewish tabernacle in Pittsburg; to officiate as the layer of the cornerstone of a Roman Catholic university at Helena, and now to take what part I may in the ceremonies of laying the cornerstone of a Universalist Church in this beautiful suburb of Portland. And I do it because I believe that the cornerstone of modern civilization must continue to be religion and morality.
We have in our Constitution separated the civil from the religious. It was at one time my good fortune to visit Rome in order by negotiation to effect a settlement of a number of questions which had arisen between the Roman Catholic Church and the civil government in the Philippines. The government of the Philippines under Spain had illustrated that system known in the Spanish Government as the union of Church and State. Their interests were so inextricably united that it seemed almost impossible to separate them but with the consent and acquiescence of all denominations in this country, I was authorized to go to Rome to meet the head of the great Roman Catholic Church, in order to see if those matters might not be settled amicably. I am glad to say that the result of the visit was a satisfactory settlement, equitable and just to both sides. But I started to mention it in order to relate that I ventured to say to the Pope that the division between Church and State in this country and their separation was not in the slightest degree to be taken as an indication that there was anything in our government or in our people which was opposed to the Church and its highest development, and I ventured to point out that in the United States the Roman Catholic Church had flourished and grown as it had not grown in many European countries, and that it had received at the hands of the government as liberal and as just and as equal treatment as every other church; no better and no worse; but that that was not to be taken as an indication that every officer of the government properly charged with his responsibility would not use all the official influence that he had to encourage the establishment of churches, their maintenance and the broadening of their influence in order that morality and religion might prevail throughout the country.
This is a Universalist Church, known as a liberal church. I think it must have been a Universalist who said that the Universalists believed that they would be saved because God was good; that the Unitarians believed they would be saved because Unitarians were good. But whatever the creed, we have reached a time in this country when the churches are growing together; when they are losing the bitterness of sectarian dispute; when they appreciate that it is necessary, in order that their influence be felt, that they stand shoulder to shoulder in the contest for righteousness. They believe in the Fatherhood of God and the brotherhood of man; and the real broad Christian statesman is glad to accept from every quarter the assistance which will elevate the people and lead them on in that progress that we all believe the American people are making. If they are not attaining higher moral standards, then all this material progress, all this advance in luxury and comfort is worth nothing.
I am an optimist. I believe we are better to-day than we were fifty years ago, man by man. I believe we are more altruistic. I believe that each man is more interested in his fellow than he was fifty or one hundred years ago. I know you can point to instances of self-depravity, of selfishness and greed, but I believe those instances are made more prominent because we condemn them more, and because by being made prominent the happening of them is made less likely.
I am glad to be here. I hope this church will thrive. I hope it will maintain its high principles of making a good man and a good citizen and mixing them together. I welcome the opportunity to be able as President of the United States to say there is no church in this country, however humble, which preaching true religion, which preaching true morality, will not have my support and my earnest effort to make it more successful when opportunity offers.
William Howard Taft, Address at the Laying of the Cornerstone of the Universalist Church in Irvington, Portland, Oregon Online by Gerhard Peters and John T. Woolley, The American Presidency Project https://www.presidency.ucsb.edu/node/365227