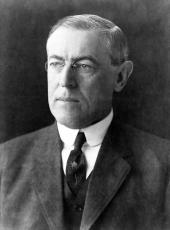 Address to the Italian Parliament in Rome
Your Majesty, Mr. President, Mr. President of the Chamber: You are bestowing upon me an unprecedented honor, which I accept because I believe that it is extended to me as the representative of the great people for whom I speak, and I am going to take this opportunity to say how entirely the heart of the American people has been with the great people of Italy. We have seemed no doubt indifferent at times, to look on from a great distance, but our hearts have never been far away. All sorts of ties have long bound the people of America to the people of Italy, and when the people of the United States, knowing this people, have witnessed its sufferings, its sacrifices, its heroic action upon the battle field and its heroic endurance at home—its steadfast endurance at home touching us more nearly to the quick even than its heroic action on the battle field— we have been bound by a new tie of profound admiration. Then, back of it all and through it all, running like the golden thread that wove it together, was our knowledge that the people of Italy had gone into this war for the same exalted principles of right and justice that moved our own people. And so I welcome this opportunity of conveying to you the heartfelt greetings of the people of the United States.
But we can not stand in the shadow of this war without knowing that there are things awaiting us which are in some senses more difficult than those we have undertaken. While it is easy to speak of right and justice, it is sometimes difficult to work them out in practice, and there will require a purity of motive and disinterestedness of object which the world has never witnessed before in the councils of nations. It is for that reason that it seems to me that you will forgive me if I lay some of the elements of the new situation before you for a moment. The distinguishing fact of this war is that great empires have gone to pieces, and the characteristic of those empires was that they held different peoples reluctantly together under the coercion of force and the guidance of intrigue. The great difficulty among such States as those of the Balkans has been that they were always accessible to secret influence; that they were always being penetrated by intrigue of one sort and another; and that north of them lay disturbed populations which were held together, not by sympathy and friendship, but by the coercive force of a military power. Now the intrigue is checked and the bands are broken, and what are we going to do to provide a new cement to hold these people together ? They have not been accustomed to being independent. They must now.be independent. I am sure that you recognize the principle as I do that it is not our privilege to say what sort of government they shall set up, but we are friends of these people and it is our duty as their friends to see to it that some kind of protection is thrown around them, something supplied which will hold them together. There is only one thing that holds nations together, if you exclude force, and that is friendship and good will. The only thing that binds men together is friendship and by the same token the only thing that binds nations together is friendship.
Therefore, our task at Paris is to organize the friendship of the world, to see to it that all the moral forces that make for right and justice and liberty are united and are given a vital organization to which the peoples of the world will readily and gladly respond. In other words, our task is no less colossal than this, to set up a new international psychology, to have a new atmosphere. I am happy to say that in my dealings with the distinguished gentlemen who lead your nation and these who lead France and England, I feel that atmosphere gathering, that desire to do justice, that desire to establish friendliness, that desire to make peace rest upon right; and with this common purpose no obstacle need be formidable. The only use of an obstacle is to be overcome. All that an obstacle does with brave men is, not to frighten them, but to challenge them. So that it ought to be our pride to overcome everything that stands in the way.
We know that there can not be another balance of power. That has been tried and found wanting, for the best of all reasons that it does not stay balanced inside itself, and a weight which does not hold together can not constitute a makeweight in the affairs of men. Therefore, there must be something substituted for the balance of power, and I am happy to find everywhere in the air of these great nations the conception that that thing must be a thoroughly united league of nations. What men once considered theoretical and idealistic turns out to be practical and necessary. We stand at the opening of a new age in which a new statesmanship will, I am confident, lift mankind to new levels of endeavor and achievement.
APP Notes: The President referred to King Victor Emmanuel III, to the President of the Italian Senate, Adeodato Bonasi, and to the President of the Chamber of Deputies, Giuseppe Marcora.
Woodrow Wilson, Address to the Italian Parliament in Rome Online by Gerhard Peters and John T. Woolley, The American Presidency Project https://www.presidency.ucsb.edu/node/317595