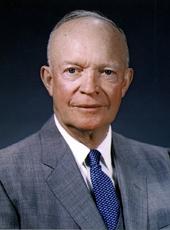 Address at the Inauguration of the 22d President of the College of William and Mary at Williamsburg
Mr. Rector, Governor Battle, President Chandler, President of the Student Body, distinguished guests, and ladies and gentlemen:
It would ill behoove me to attempt here a recitation of the glories of this college and of its alumni. If there be any among you who has not a better knowledge than I of the details of this great record, I commend you to a little home study. Because, let us not forget that man takes pride in a brilliant past. There is inspiration in attempting to live up to the records established by those who have gone before us--in the family, and in institutions.
Rather, it is my simple duty today, together with my invaluable, indispensable but publicly inarticulate life-long partner, Mamie Doud Eisenhower, to bring you greetings from your Nation's capital and your national administration.
I think it is appropriate for me to take a minute or two of your time to tell you why we are so pleased and delighted with this opportunity. Quite naturally, it is a great pleasure for me each time I return to the native State of my maternal ancestors. My mother lived in this State until she was of age. Again, it is a great privilege to be admitted into the honorary doctorate of this great institution, and I want to take the opportunity to express my very deep appreciation and thanks to the faculty and the governors of this great institution that they have deemed me worthy of this signal honor.
I want to pay a tribute to President Chandler, a man who, forsaking a life-long and honorable record in the armed services, has shown by his acceptance of this new responsibility that he well recognizes that there is no security for a free nation in the sword alone, that security must spring from the hearts and minds of free men. And he has shown, in his acceptance of this responsibility and this opportunity, that he appreciates that fact.
Again, I am delighted to come here because of my deep respect for the institutions of higher learning of the United States. And it seemed to me particularly fitting that on this 177th anniversary of the signing of the Virginia Declaration, that I could come here to this second oldest college in the United States to pay a word of tribute to these institutions.
Which brings up a thought I should like to discuss, and I assure you it will be very briefly: what is an institution of higher learning? All of us have heard many definitions of colleges. We know they are not merely campuses, they are not merely the stones and mortar of the buildings, they are something deeper and more profound.
And the particular definition that seems to mean the most to me is this: a college, a university, is a place where young minds are exposed to great minds.
And the reason I like that definition is this: if we accept its validity in any small portion, every man, every woman who takes a position in the faculty as instructor, assistant instructor, professor, dean or president--he has not merely a job, and he cannot console himself that he is merely doing his work and earning a daily living. He must achieve, or attempt to strive to achieve, greatness in his dealings with our young.
And this, it seems to me, is the crux of the college of our time, because it is not enough that we can produce doctors who may prolong our lives, unless at the same time we produce social leaders who will tell us how we will handle the greater population that we thus have.
It is not enough that we have iceboxes, and long and luxurious cars, and country homes, because there can be unhappiness in the midst of the greatest of luxury. Again you must know it here, because in the State from which came the man who could say, "As for me, give me liberty or give me death," you know there are values that are not to be measured by any material index. And great minds, therefore, will teach these young leaders not to say, "Of course I like liberty, and if you don't charge me more than fifteen percent of my income, I would like to keep it." The only thing that such people want to know is: is this sacrifice necessary? And it is through your contacts with great men and great minds that you will sort out the proper relationships of government to yourself, of higher government to state government, to local government, of his place in this whole scheme of things; and you will begin to understand whether your sacrifices are properly used by your government--and your sacrifices are ordinarily expressed in terms of taxes, of course.
But there is much more. There is what you are ready to do in the giving of your heart and your mind, not only on the faculty, but every single individual that has ever had the privilege of mingling with that faculty.
Why this Nation; except to preserve those great values recited for us in our founding documents.
If we understand, then we won't have communism. It may be necessary today, and it is necessary, that we earnestly seek out and uproot any traces of communism at any place where it can affect our national life. But the true way to uproot communism in this country is to understand what freedom means, and thus develop such an impregnable wall, that no thought of communism can enter.
In other words, if I may state it in an utterly simple way, I believe this: the true purpose of education is to prepare young men and women for effective citizenship in a free form of government.
If we can do that, we will have accomplished and included all of the techniques and the sciences, disciplines, because they will all be necessary in our security and in our advancement.
But above all, in that way only, I believe, can we permanently aspire to remain a free, independent and powerful people, living humbly under our God. Thank you.
Note: The President spoke at 12:48 p.m. In his opening remarks he referred to James M. Robertson, Rector of the Board of Visitors of the College, Governor John Stewart Battle of Virginia, Alvin Duke Chandler, the new President of the College, and John N. Dalton, President of the Student Body.
Dwight D. Eisenhower, Address at the Inauguration of the 22d President of the College of William and Mary at Williamsburg Online by Gerhard Peters and John T. Woolley, The American Presidency Project https://www.presidency.ucsb.edu/node/231789