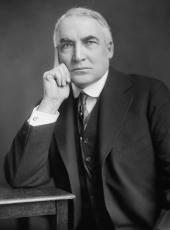 Address at the Inaugural Meeting of the Business Organization of the Government, Washington, D.C.
Fellow workers: I do not think there has ever been a meeting like this, certainly none to my knowledge in the history of the government of the United States. I am very glad to come before you and stand sponsor for this meeting. The present administration of the Federal government is committed to a period of economy and efficiency in government. The statement is not made with any thought of criticizing what has gone before. It is made in a new realization of the necessity of driving at the loose, unscientific expenditures of government. There is not a menace in the world to-day like that of growing public indebtedness and mounting public expenditures. There has seemingly grown up an impression that the public treasuries are inexhaustible things, and with it a conviction that no efficiency and no economy are ever to be thought of in public expense.
We want to reverse things. Congress, in order to aid in the change of policy, has provided, for the first time in the history of the Federal government, for a Bureau of the Budget. It has been my privilege and my responsibility to choose the Director of the Budget. After a conference with him, it was decided that the way to begin with an efficient system under the budget was to look to those who are in fact responsible for government efficiency and economy. Sometimes in our habits we overlook those who really do things in this world, and in the Federal government there are tens of thousands of public servants who are giving the best that is in them to bring about a satisfactory administration of affairs, but whom the public never knows.
I want to bring into this picture of a drive for efficiency and economy you servants of the government who are directly responsible for a better order of affairs, if it is to be brought about.
And so to-day, with the heads of the various departments of the government, with whom I meet in council twice a week, I have asked you to assemble, to present to you the new Director of the Budget and to say to you that every resolution, every commitment, every determination of the administration is to join with you and have you join with us in inaugurating the new efficiency and economy of administration in these United States.
And so, gentlemen and ladies, I have the pleasure of presenting to you for a suggestion of the policy and inauguration of this new movement the Director of the Budget, General Charles G. Dawes.
APP Note: From Charles G. Dawes ("The First Year of the Budget of the United States", Harper, 1923). Our gratitude to Kai Verbarg for providing this transcript.
Warren G. Harding, Address at the Inaugural Meeting of the Business Organization of the Government, Washington, D.C. Online by Gerhard Peters and John T. Woolley, The American Presidency Project https://www.presidency.ucsb.edu/node/289414