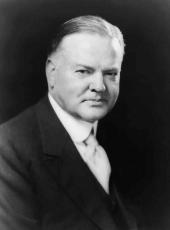 Address to the Gridiron Club.
Gentlemen of the Gridiron Club and its guests:
When the invitation was extended to me by the committee of the Gridiron Club, one of its members stated that the club intended to make a strong effort to shorten and sharpen its program. There was then silence. Feeling that something was required to restore the conversation and not being entirely insensible to such subtle approach, I responded with an assurance that I would do my part in taciturnity. Of course, my share of taciturnity is one of those unequal divisions of time somewhat comparable with that sausage made of half horse and half rabbit by mixing one rabbit and one horse.
It does not require a woman's intuition to know what subjects will be examined on these occasions. The microscopes of hyperbole, satire, ridicule--and occasionally some real humor are bound to be applied to current subjects in government. Through these lenses the minor flaws of public events will be enormously amplified and the small segments of great problems will be lifted out of all proportion to their relative importance. One's taste for Roquefort cheese can be permanently destroyed by a microscope. And a cheese mite amplified a few thousand times is one of the most sensational and terrifying beasts exhibited to man. And so it is with the amplifications tonight. You have seen a chamber of horrors through these amplifying and distorting lenses-Prohibition, tariff, unemployment, Congress, and what not.
And I do not on this occasion propose to endeavor either to soothe your terrors or to lead you back to a world of proportions and realities from this playhouse of fantasy and imagination. Universally the emotions and horrors of the night have a way of dissipating with the sunrise. In a larger sense many of the somber problems of public life have a way of curing themselves under the glorious initiative of our people in far better fashion than either the Government or the Gridiron Club solves them.
Years ago the railways were so tainted with sin that they became national campaign cries throughout the land. To be against the railways was the final test of morals in political life. The scientist, however, brought onto our highways the gas engine, the automobile, the truck, and onto our waterways the diesel tug, and as a result the Government regulation of the railways as a means for holding down rates has been turned into a device for holding them up so the railways can live. They have become tainted with poverty and, therefore, with respectability.
It is scarcely 5 years since the anthracite coal industry was, in the view of many people, so infected with the sin of monopoly that it demanded instant Federal action. In the meantime the scientists have found so many substitutes for anthracite that the industry is now struggling for existence. Today, it is possible to burn anthracite in one's grate without any feeling of participation in wickedness.
Today the primary evil is electrical power. We must all agree that especially the electrical current developed from water has become mortally sinful. That sort of electricity is supposed to come like manna from heaven and consequently can be produced and distributed free. And yet the busy scientist and engineer have steadily discovered methods by which power can be made more cheaply from fuel than by water. They have gotten so far on this line that today probably 80 percent of the waterpower in the country has no possible economic value at all and has been permanently returned to the lovers of scenery.
But do not derive from this that I am opposed to Federal regulation of interstate monopolies. I am strongly of the belief that during the period when the scientist must labor in his laboratory inventing relief the Government must have restraint against excessive sin. I am merely saying that science and initiative of our people cure many national headaches.
For instance, not long ago it was demanded that the miseries of unemployment from speculative crashes should be cured by Government doles or unemployment insurance, yet today we see them being cured before our eyes by voluntary cooperation of industry with the Government in maintaining wages against reduction, and the intensification of construction work. Thereby, we have inaugurated one of the greatest economic experiments in history on a basis of nationwide cooperation, not of charity.
You have, through the talent of John Philip Sousa, produced one of those beautiful incidents which revive recollections of long ago and a stirring of the heart in deeds of great valor.
Mr. Sousa, in the dedication of his new march, has recalled an incident of 1900 when the American marines participated in the relief of Tientsin, China. I and my family were among the besieged. Here for weeks some 900 sailors and soldiers of 11 nationalities, assisted by some 300 civilians--one-quarter American--had fought desperately behind barricades and in trenches against the onslaught of hordes of literally tens of thousands of fanatical Chinese equipped with modern arms, in a desperate attempt to protect their women and children against a fate too awful to contemplate. There were no pacifists in that settlement.
Under continuous artillery bombardment and a rain of rifle fire night and day for weeks, the defenders had been brought to the point of exhaustion. Cut off from communication with the world, our lookouts hourly scanned the horizon of the flat plains about us in hope that we were not forgotten and that relief would come. The epic of Lucknow contains no greater drama than did Tientsin and Peking.
One morning firing on the settlement suddenly ceased and was quickly replaced by vast cannonading from beyond the horizon to the west. We rose from profound depression and discouragement to high elation in the knowledge that some foreign army had drawn the enemy from us. In a few hours a long skirmish line marked by the dust and smoke gradually concentrated into a column marching toward the settlement. As it neared the town it emerged as American marines and Welsh fusileers. The might of America 10,000 miles away had reached out for the lives of its nationals. As the column came into hearing distance, their fragmentary band called us to rescue and safety to the precious strains of "There'll be a Hot Time in the Old Town Tonight."
In connection with our foreign relations, on a recent occasion where, as President of the United States, I was a guest, two eminent foreign journalists spoke upon the delinquencies of our foreign policies and the shortcomings of some of our American statesmen.
I wish to take this occasion to express the hope that American journalists who may happen to speak upon occasions where chief executives of foreign countries are guests will neither attack the policies of those nations nor make reflections upon eminent men of those countries. It is well to remember that the office of chief executive is in part a symbol of the nation and that leaders in a nation may differ in their own house but they have instant solidarity in the presence of foreign attack.
That occasion, however, gave rise in my mind to a thought which, it seems to me, is worthy of elaboration, that is, the higher purpose of our immediate foreign policies. During the Great War the United States demonstrated not only our colossal reserve of military strength, but also an ability quickly to organize it and the valor to use it.
The disturbed condition of the world has made it necessary to increase our military strength beyond the peace basis which we maintained before the war, both in naval and land arms.
We made a more rapid recovery from the vast losses of the Great War than any other nation in the world. For long years before the war the advance of education, science, research, invention, and efficiency amongst our people had brought us to the threshold of a period of expansion in national productivity and national wealth. As a result our citizens have spread their trade and finance into every corner of the Earth. Furthermore, a certain natural pride in national accomplishment has been interpreted as national arrogance.
As a result of these forces, a large part of the world had come to believe that they were in the presence of the birth of a new imperial power intent upon dominating the destinies and freedom of other peoples. Such a conclusion would be the logical deduction from 2,000 years of European history, where exploitation of other people has been the invariable outcome of ability to do so. But it was an utter misconception of America.
We know there is neither financial, territorial, nor military imperialism in the American heart. We know that such ideas are anathema to the American mind, and no man could be elected a county commissioner on such a platform. We know, in fact, that we have opened the door of a new social and economic system by which within our own borders we shall create our own conquest of poverty without seeking to exploit other nations.
But, rightly or wrongly, there sprung from the spread of these ideas abroad the most dangerous of all international currents--fear. There began to pervade the world a jealousy, a suspicion, and an ill will toward the United States such as never before existed in peace history. Therefore, it became the first duty of the American officials responsible for the foreign policies of the Government to realign this sentiment and this public opinion in the world back to the true actualities of American aspirations. Such a course was essential not only to the promotion of general peace but to the prevention of those thousand frictions which lead to national embarrassment and to restriction of national expansion, even though they do not extend to the dangerous ground of war.
We were faced with the great intangible of human relations--that is, human fear and human emotion. The undertaking to revise world misunderstanding could not be rounded upon words or preachments, it must be rounded upon action. It must comprise itself of the building of a mosaic of deeds which creates a vivid picture of the United States in its true setting to people abroad.
If you will review the recent incidents in our foreign relations, I hope you will realize that a series of actions has been part of a pattern consciously and progressively directed to this high end.
I need only list a few of the already familiar actions to have you realize how they arrange themselves as such a picture. The signing of the Kellogg Pact, the Conference on naval arms, by both of which we disprove military ambitions; my journey to South America, our avoidance of military intervention in Latin American countries; our redeclaration against use of pressures to collect business debts in foreign countries; our immediate and friendly assistance to the Mexican Government in quelling military revolt; the settlement of Tacna-Arica; the establishment of air transportation and more effective merchant marine connection with Latin America; the entertainment as national guests of the Prime Minister of Great Britain and the President-elect of Mexico; our willingness to settle controversies by pacific means including the proposal to join the World Court; the enlistment of our great institutions to undertake systematic intellectual exchanges; the official representation of the United States at a hundred world conferences upon scientific and welfare advancement--these acts have all been designed to impress the fact that the United States is aiming for progress by the creation of good will and human advancement and not by exploitation.
Through all this we have, I believe, created a new atmosphere of confidence in our willingness to properly cooperate in solution of world problems. At the same time we have not hesitated to emphasize the fact that the United States will not involve itself in any political agreement which commits it to the use of coercion upon other nations. In our position of transcendent power the very association in military and other coercive measures would dim the picture of our pacific intentions. We have emphasized the American position of independence clear and clean. The United States, devoted to peace, will make its own political policies.
The building of this better recognition of the true aspirations of the American people is a slow and difficult task. I repeat it is not to be done by words and preachments. It must, as I have said, be accomplished by creating a deliberate mosaic of constant action which carries conviction. I am proud to say that we have already arrived at a great measure of success. The United States stands in higher esteem and less ill will in the world than at any time in the last decade.
These are actions, policies, and purposes high above the detail of daily foreign relations. Yet they are the foundation of real peace and progress in the world, security and progress at home.
Note: The President spoke at a dinner meeting held in the Willard Hotel.
The Gridiron Club, an organization of Washington newsmen, met semiannually for a dinner and satirical review of current political events.
Remarks at the dinners were off-the-record, but Mr. Hoover's remarks, as printed above, were later made public.
Herbert Hoover, Address to the Gridiron Club. Online by Gerhard Peters and John T. Woolley, The American Presidency Project https://www.presidency.ucsb.edu/node/210501