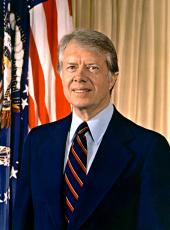 Address at the Democratic National Convention in San Francisco, California
Madame Chairperson, united Democrats, fellow Americans:
Here I go again!
And I'm still talking about the same things:
About economic and military security;
About peace backed by American defense forces but derived from diplomacy and statesmanship;
About simple human justice and basic human rights.
I'm here to affirm these fundamental values once more - and to remind you of the importance of our work this year in choosing a new President to lead our nation into the future - a Democratic President.
You know I've been especially proud to be a Democrat as our party went through the most open and competitive primary process in American history. We fielded eight fine candidates - and any one of them would represent an improvement over the incumbent. We all owe them a debt of gratitude.
To Reubin Askew in Florida, our thanks to Alan Cranston of California, to John Glenn of Ohio, to Gary Hart of Colorado, to Fritz Hollings of South Carolina, to Jesse Jackson of Illinois, George McGovern of South Dakota and Walter Mondale of Minnesota. Good men, right?
Coming Economic Crisis
The next President of the United States will have to face severe challenges. It is almost inevitable that America's new leader will confront an economic crisis. We are now experiencing in this country the false glow of a temporary boom, financed by a policy of "borrow and borrow, spend and spend." Every day, every working day, our Government is spending $1 billion more than it receives, and in just 3 1/2 years has created the most appalling budget deficits in history. These tremendous deficits have been partially caused by ill-advised tax reductions that give the wealthy eight times the benefits of middle-income Americans. A Democratic President will bring some common sense to our nation's economic policies.
The great Democrats of the past have raised our nation to worldwide leadership and forged an effective system of military deterrence. We have never been shy in drawing a contrast between freedom and democracy on one side and tyranny and totalitarianism on the other. We Democrats have never been neutral about liberty and we Democrats will never waver in our duty to keep America strong and able to meet any challenge, and you can depend on that.
Our commitment to a strong America is unshakable. But the tough question is how we should use this trememdous power and influence.
A few months ago I was in Hiroshima. The nuclear shadow still darkens this city where an atomic weapon was exploded in anger for the first time. In my remarks near ground zero, I was careful to mention first the surprise attack on Pearl Harbor and the need for mighty nations to resolve differences peacefully. In a nuclear war the alternative to peace is a horror beyond imagining. The survivors of the next world war, if any, would merely scratch for existence in the poisoned ruins of a civilization that has committed suicide.
Our nation must face the fact that since 1979, little real effort has been made to reduce the world's nuclear arsenals. In fact, we have seen a serious retrogression as, one by one, the agreements negotiated in the past, by both Democrats and Republicans, have been either repudiated or ignored. A new nuclear arms race is already under way. A national commitment to balanced and verifiable agreements would be a major contribution not only to peace but to our own national security. It is time for Presidential leadership in this crucial realm of international diplomacy.
The world must know that America is a champion of peace, with our highest officials willing to personally involve themselves in working out potentially explosive differences, and without unnecessary resort to military force. Instead, to the embarrassment of us all, we have now acquired a reputation for unwarranted belligerence.
This must change. A Democratic President will make it clear again that as we move to reduce the threat of nuclear war, any obstacle lies in the Kremlin, and not in the White House.
The great democracies of this world are not free because we are strong and prosperous. I am convinced that we are strong and prosperous because we are free.
Ours is the only country on earth with the strength, the moral commitment, the influence and the economic independence to be the chief spokesman for those who suffer from oppression or torture or murder by their own Governments. If we fail or refuse to speak. there is a deafening silence. Silence from the civilized world is what the dictators most want to hear. Silence from the civilized world is what the persecuted most fear. Jacobo Timerman, the newspaper editor who barely escaped the reign of terror that gripped Argentina, described how he felt as a political prisoner. Listen to his words:
"What there was, from the start, was a great silence - that silence which can transform any nation into an accomplice. The holocaust will be understood not so much through the number of its victims as through the magnitude of the silence in which it existed. And what oppresses me most," he said, speaking about the current situation in the world, "is a repetition of that silence."
We Americans have never considered the privileges of freedom to be exclusively ours, nor did we ever believe that the price of liberty would be cheap. On the battlefields of France and in the jungles of Asia rest the bodies of our young men who were willing to give their own lives so that others could be free.
Tyranny of Communism
The struggle for human rights - at home and abroad - is far from over. But our Government, I am sorry to say, has withdrawn from this battle for human rights in recent years.
The current Administration strongly opposes Communism, and so do we. But sometimes they seem to forget why we Americans oppose Communism - not because it's Russian, but because it is a tyranny that oppresses human beings. Support for oppressive dictators around the globe does not enhance American ideals or our long- term interests. Nor can American support for death squads bring democracy.
Human dignity and equality of opportunity in our own land cannot be secured while our Government is the adversary of civil rights, and also opposes equal rights for our wives, our sisters and daughters. I am proud that we Democrats will have the first woman serving as Vice President of the United States. America, under a Democratic President, will never again be silent when human rights are at stake.
Our American values are not luxuries but necessities - not the salt in our bread but the bread itself. We must remember these words: "We hold these truths to be self-evident: that all men are created equal; that they are endowed by their Creator with certain inalienable rights; that among these are life, liberty and the pursuit of happiness."
For this generation, our generation, life is nuclear survival; liberty is human rights, the pursuit of happiness is equal opportunity to enjoy the fruits of a productive society. This is the America that commands the Democratic Party to unite and to prevail in 1984.
My closing words are the same as those spoken eight years ago in another city a continent away by a little-known Southern farmer who was deeply honored when he was nominated by you as the next President of the United States:
I said then, "We will go forward from this convention with some differences of opinion, perhaps, but nevertheless united in our calm determination to make our country large and driving and generous in spirit once again; ready to embark on great national deeds and once again, as brothers and sisters, our hearts will swell with pride to call ourselves Americans."
Thank you very much, and God bless you.
Jimmy Carter, Address at the Democratic National Convention in San Francisco, California Online by Gerhard Peters and John T. Woolley, The American Presidency Project https://www.presidency.ucsb.edu/node/285598