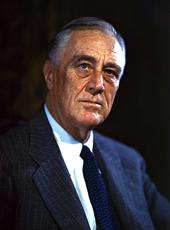 Address to the Conference on the Mobilization for Human Needs, the White House, Washington, D.C.
Chairman Swope, ladies and gentlemen:
I am glad once more—what is it, the third time, Mr. Swope, or the fourth time?—to greet the representatives of this great annual Mobilization for Human Needs.
We are all heartened by clear evidences of returning prosperity. You are here in spite of that fact and because of that fact. Returning prosperity means that you have a right to expect greater assistance for the splendid work that you are doing in every community. Returning prosperity means, however, that a vast amount of important work in every field, work which we all had to defer during the depression years, can and must be taken up anew.
As I told you in former years, when human distress reaches the point that Government assistance is absolutely necessary, Government up to the limit of its local, its State and its Federal resources must and does act. Happily, private organizations are now in a better position to accomplish greater things than for many years past. This increase in prosperity heightens the obligation of every individual to aid in the relief of distress in his or her own community.
Through you I appeal to every man, woman and child in the United States for a revival throughout the length and breadth of the land of the spirit of charity. But that word "revival" is not the right word, because in the difficult years which have passed that spirit of charity showed itself unselfishly and generously. Increase of the spirit of charity would be a better way of putting it, for I am very proud of the support of the country's welfare services of all kinds during the past seven years.
I resent and you resent, I am very certain, those supercilious and uncharitable sneers which from a small element among us have been directed against those in need and against those who have been honestly seeking to help those in need.
The cooperation that the Federal Government has given in social welfare activities seems to me to extend rather than contract the responsibility of the private activities for local relief.
Since the low point of the depression, great and substantial progress has been made. The national income, for example, will soon be double what it was at the low point. Nearly six million more men and women are now at work in private industry. Three million others are engaged in useful work provided or assisted by various forms of government. Factory payrolls for the first quarter of the year were more than $70,000,000 greater per week, greater than they were in the first quarter of 1933. Systematic and successful efforts to raise the buying power of wage earners and farmers have increased the business of merchants and brought orders to manufacturers. Confidence has returned to the great mass of our people—confidence on the part of all except a small minority who seek to profit from the preaching of fear.
Personal and family insecurity—that difficult problem of past years—the Federal Government and the State Governments have undertaken to dissipate at least in part by the enactment of the Social Security Act providing for cooperative Federal and State public welfare, public assistance, unemployment compensation and old-age benefits.
To the extent that local and State and Federal Governments help in these fields, to that extent private welfare activities are freed from these appropriate public responsibilities and, therefore, are enabled more effectively and extensively to do those things which private activities are best fitted to carry on.
Efforts of private agencies to encourage private reemployment of those on the relief rolls, efforts of private agencies to continue and extend medical care of all kinds, efforts of private agencies to minister to the hundreds of thousands of cases which present special problems, efforts of private agencies to build up recreational opportunities—all of these and a dozen more are tasks that are more fitted to private than to Government administration.
The generosity of our American people has been and is a fine tradition; we have never failed to heed the call of distress. I have confidence that the appeal about to be launched for this Fifth Mobilization for Human Needs will strike a responsive chord throughout the country. I know that the men and women of the Nation will accept their local responsibilities even more readily than they have ever done before. And so I say to you: May you have all the success that you deserve.
Franklin D. Roosevelt, Address to the Conference on the Mobilization for Human Needs, the White House, Washington, D.C. Online by Gerhard Peters and John T. Woolley, The American Presidency Project https://www.presidency.ucsb.edu/node/209094