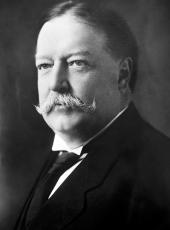 Address to the Conference of Mayors
My dear Fellow Executives and Fellow Sufferers:
I am delighted to greet you in the White House. I should have been glad to have had you here during all your sessions so that you might have made the White House your headquarters, but in discussing this matter with the committee it occurred to them, and it occurred to me, that it would possibly be better for you to hold your sessions in a neutral place, so to speak, where you would feel more independent, and where doubtless things could be said and things could be done which perhaps might be a little embarrassing in doing when you were under the Executive shadow.
When you were here before, Mr. Roosevelt, I think, extended to you the hospitality of the White House, and the meetings were held here, but those meetings were so fully his, in the sense of being called by him, that it seemed entirely appropriate; whereas now, I hope this is a movement among the Governors to have some sort of a permanent arrangement that shall bring them here without suggestion from any one but the Governors themselves.
For my own comfort, it would have been better if the Civic Federation and the Governors had united in the initial meeting, for I made a speech yesterday and said all I could think of saying on the general subject that called you here.
You are here for the purpose of considering those subjects for laws in respect to which the legislation of the States ought to be uniform; and to take that course of making up for what some people point out as defects of the Federal Constitution, in that it does not give jurisdiction to the Federal Government with respect to certain purposes which can only be accomplished by joint action of the States.
I regard this movement as of the utmost importance. The Federal Constitution has stood the test of more than one hundred years in supplying the powers that have been needed to make the Central Government as strong as it ought to be, and with this movement toward uniform legislation and agreement between the States I do not see why the Constitution may not serve our purpose always. I speak to you as gentlemen who can influence legislation in the States, and who are in a sense responsible for it. That brings up a thought which I am sure you have had in common with me. I have no doubt each of you receives letters indicating that the writer thinks that you, with your good right hand, pass laws, and that without any further ceremony; and that you are entirely responsible for all the legislation that is enacted by the State legislatures. The States differ somewhat, but generally the Executive has the veto power and has that sort of relation to the legislature that the Chief Executive of the United States has toward Congress. I have found—perhaps you have found—that when people want legislation they felt that the Executive did not exercise as much control over the legislation as he ought to, and that when they did not want legislation he exercised altogether too much power. I have thought that the English system presents in certain respects a better system than ours in view of inevitable responsibility of the Executive for legislation, because there the Executive is not only the executive but also has control over the legislative action of the Government, leads the legislature, and indeed goes out when as the party head he is not able to control the majority of the legislature.
It seems to me, without ever hoping or suggesting that there can be any change in our system—for its rigidity has advantages—that still that system would present a good many opportunities that you and I would like to seize upon and argue out questions to the legislature, and not only to argue out questions but to save them time by giving them considerable information on subjects in regard to which they are not advised. It shortens, I am sure, the course of legislation—but we haven't that system, we haven't it in any State, and we are not going to have it, so there is no need of mourning over the fact that we can not have it.
I am only speaking to you as executives who have felt the\ injustice of that sort of criticism that comes from the lack of that feature of the English system I have pointed out. You are the titular head of the party perhaps of your State, and you are made responsible for everything that is done by the party, although you may not be able by any declared legal way to control it, and therefore you have to use those influences, personal and otherwise, that are legitimate, to bring about the legislation for which the party of which you are to be the head has to be responsible. It is because you do have such great influence in molding legislation, that your meeting to secure uniformity of laws is so important and significant.
I should like to sit down and talk over with each one of you some of your experiences and to know how you bring about a successful arrangement of things. I should like to talk with my friend from Ohio as to how he gets along with a Republican legislature. I could tell him that there are troubles even when you have a Congress that is nominally of your own party.
Gentlemen, I am delighted to welcome you here—delighted to hope and feel that this is the beginning of conferences which are certain to lead in the end to an adjustment of State legislation that shall make our country capable of doing so much more team work in the public good than we ever have before thought possible.
I hope to have the pleasure of seeing you all to-night in the White House and of meeting you to-morrow night again. The trip down the Mississippi River, and my trip through the country, gave me the opportunity to meet most of the governors of the States, and it is a great pleasure, I assure you, to renew the acquaintance thus so pleasantly begun.
APP Note: The president spoke in the East Room of the White House.
William Howard Taft, Address to the Conference of Mayors Online by Gerhard Peters and John T. Woolley, The American Presidency Project https://www.presidency.ucsb.edu/node/365249