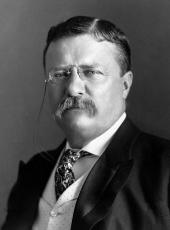 Address at Riverside, California
Mr. Mayor, and You, My Fellow-Citizens:
I have enjoyed to the full getting into your beautiful State. I had read about what I should expect here in Southern California, but I had formed no idea of the fertility of your soil, the beauty of your scenery, or the wonderful manner in which the full advantage of that soil had been taken by man. Here I am in the pioneer community of irrigated fruit growing in California. In many other parts of the country I have had to preach irrigation. Here you practice it [applause], and all I have to say here is that I earnestly wish that I could have many another community learn from you how you have handled your business. Not only has it been most useful, but it is astonishing to see how with the use you have combined beauty. You have made of this city and its surroundings a veritable little paradise.
It has been delightful to see you. Today has been my first day in California. I need hardly say that I have enjoyed it to the full. I am glad to be welcomed by all of you, but most of all by the men of the Grand Army, and after them by my own comrades of the National Guard, and I have been particularly pleased to pass between the rows of school children. I like your stock and I am glad it is not dying out. [Applause]
I shall not try this evening to do more than say to you a word of thanks for your greeting to me. I admire your country, but I admire most of all the men and women of the country. It is a good thing to grow citrus fruits, but it is even a better thing to have the right kind of citizenship. I think you have been able to combine the very extraordinary material prosperity with that form of the higher life which must be built upon material prosperity if it is to amount to what it should in the long run.
I am glad to have seen you. I thank you for coming here to greet me. I wish you well at all times and in every way, and I bid you good luck and good night. [Cheers and applause]
Theodore Roosevelt, Address at Riverside, California Online by Gerhard Peters and John T. Woolley, The American Presidency Project https://www.presidency.ucsb.edu/node/297875