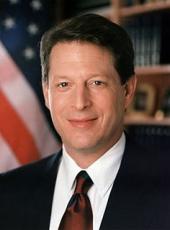 Address in Little Rock, Arkansas Accepting Election as Vice President of the United States
Thank you, President-elect Bill Clinton. [cheers]
For Tipper and me and our four children, this has been an extraordinary journey. I want to, first of all, thank Bill and Hillary and Chelsea, knowing of all the sacrifices they have made and the hardships they have endured. And I would like to thank the person who is most important in my life, Tipper Gore. [cheers and applause]
To our four -- [chants of "Tipper"] To our four children, Karenna, Kristin, Sarah, and Albert; to my parents, Albert and Pauline Gore; and to my brother-in-law, Frank Hunger, I can never express the thanks that I feel in my heart. This has been a time of discovery, a time of restored dreams and renewed hope, a time when the strength and promise of America has revealed itself poised to meet the challenges of a new day. None of this could have been possible for me without the people of the state of Tennessee, and I want to thank them from the bottom of my heart. [cheers and applause]
I also want to thank the wonderful men and women on the staff who have helped us secure this victory. And I want to say to all of you who have helped us reach this moment that I look forward to the high challenges of national office and I consider it a matter of tremendous honor and pride to work in behalf of Bill Clinton to be successful in leading this nation toward a new and brighter future.
Bill Clinton spoke sensibly and honestly to the American people. As the attacks against him became more and more desperate, he remained calm. He believed in the American people and kept faith that hope would indeed triumph over fear. Bill Clinton won because he was willing to lose. He refused to mislead voters. He stuck to his beliefs. He asked for your vote by challenging you to make America better. Where I come from, we have a name for that. It's called character. [cheers and applause]
Bill Clinton will govern this nation in the same way. He truly is a new generation of Democrat. He believes in the rights of people, but he believes in the responsibilities of citizens as well. Our government's policies must be changed. The promise of America depends upon a commitment that under freedom we will enable the strong to prosper, but we will not abandon those in need of help. While we give supreme value to the rights of the individual, we expect that freedom to be exercised with respect toward others and with decent restraint. We respect the values of community, and among them is our obligation to protect the environment in which we live. [applause]
We feel good tonight, having won an election. But think of how we're going to feel when we change a country. [cheers] There is a sense of excitement and possibility this evening. e have won and many of you will be able to tell your children about it one day. But if we change this country, if we restore it to greatness, then we will have given them something much greater than the memory of this evening. We will have restored the basic thread in the American dream, the responsibility of one generation to the next. We will have given them back their future.
This election is not simply a change of leaders, it is a change of generations. For the first time the executive office will be occupied by leaders born after World War II. [applause]
I don't want to overstate the dimensions of this difference. After all, neither Bill Clinton nor myself are as young as Teddy Roosevelt or John Kennedy when they took office, nor does that change of generations represent a difference of belief. We share, as did our predecessors, an unyielding commitment to the principles on which this country was established over two centuries ago. But we will bring a different perspective and a renewal of energy. We are the children of modern America, close to its desires and to its difficulties, charged with the exuberant optimism which so often characterizes a younger generation of leaders. And only the optimists, only those who believe that constructive changes within our powers can hope to achieve it, and we intend to accomplish that achievement.
Although this is not the first time we have witnessed the elevation of a new generation of leaders, it is the first time that both candidates have come from the South. [applause]
It is symbolically an expression of the reality that sectional wounds of the past are finally and irrevocably healed. We are one country now and merit, not geography will from this time forward be the only test for the highest offices our nation has. [applause]
And we pledge to you to work toward the day when gender and race will also be totally irrelevant to the selection of our leaders! [applause]
The deeper meaning of this election is our commitment to end the divisions in our nation. Those who helped us to win this victory represented an astonishing diversity of interests and opinions. They were willing to put aside those differences in pursuit of a common cause. Let us now bring the same spirit of accommodation which won this election to the far harder task of governing this nation. We all have a common stake in national growth, in justice, and in the strengthening of freedom. Surely if we could bridge our differences for the sake of an election we can put them aside on behalf of a far greater cause, the future of the American nation.
The election is a mandate for change. It is good to remember that this election also affirms certain fundamental things about our lives together as Americans. We are still participants in a great experiment, the sovereignty of the people to rule themselves, the power to create and to destroy governments of persons elected from among them, and the idea that governments exist in order that citizens may exercise their inherent rights to life, liberty and the pursuit of happiness. These are still the most radical political ideas ever expressed in the history of nations. And this year it was after all the American people who forced the debate to stay on the issues when others would wander. This year it was you, the people, who disciplined our politics, our politicians and everyone else to focus on the things that matter to you. And you have given us a great opportunity to help America move forward, to end the distress of the present and to renew this nation's voyage toward ever enlarging opportunity for all our people. And that's the journey we will attempt, not just Governor Clinton and I but all of those who supported us and those multitudes who may have voted for our opponents but who share our belief in America's great possibilities.
And so, to all of you I say welcome aboard the great ship USA. We're about to embark on a new journey together and it's time for us to go. [applause]
Albert Gore, Jr., Address in Little Rock, Arkansas Accepting Election as Vice President of the United States Online by Gerhard Peters and John T. Woolley, The American Presidency Project https://www.presidency.ucsb.edu/node/345917